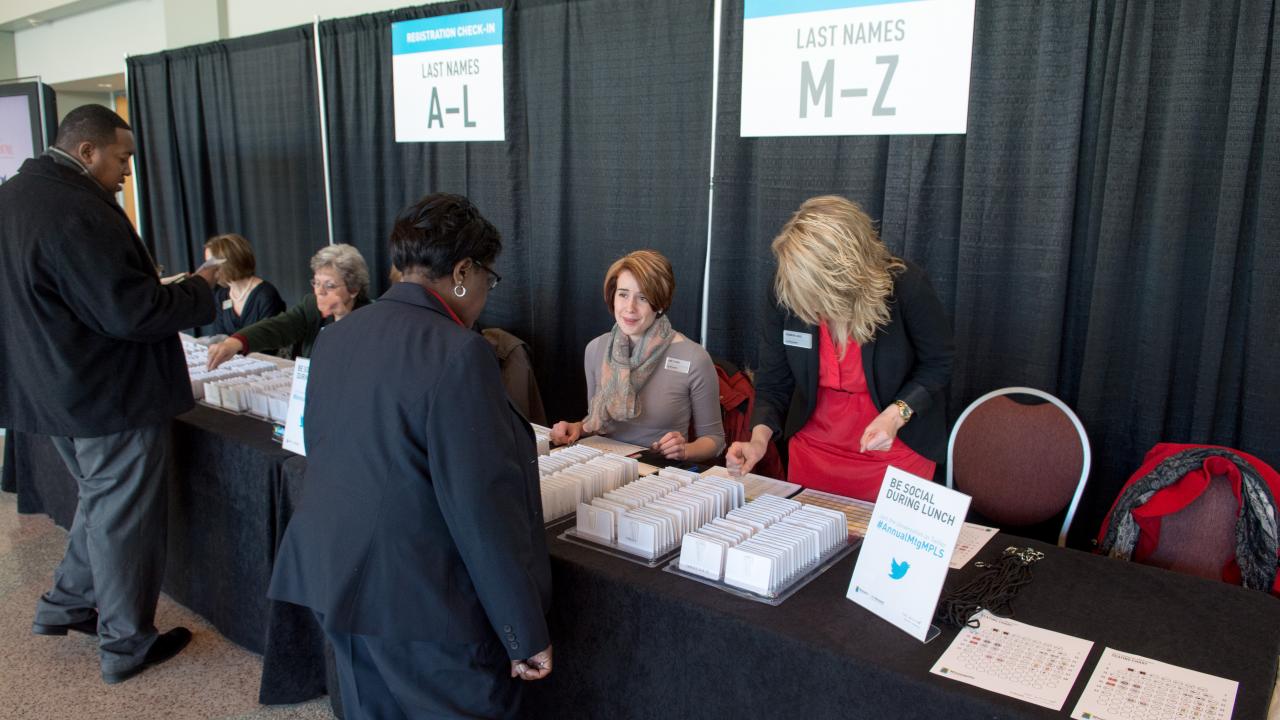 Meet Minneapolis Team
Staff List | Contact
Meet the Meet Minneapolis Team
General Information
250 Marquette Avenue South, Suite 1300
Minneapolis, MN 55401
612.767.8000
Fax: 612.767.8001
info@minneapolis.org
Meet Minneapolis Staff Directory
Executive Team
Melvin Tennant, CAE - President & CEO

Melvin oversees the day-to-day operations of Meet Minneapolis and iDSS, including the professional and support staff. Melvin serves as the voice of Meet Minneapolis through speaking engagements, civic activities and political council meetings. He has served as president and CEO of Meet Minneapolis since November 2007. Melvin also is the executive director of Sports Minneapolis.
Brent Foerster - Senior Vice President, Destination Sales

Brent is the senior vice president of Destination Sales. Joining Meet Minneapolis in May 2014, his focus is on sales and collaborating to drive more convention business to Minneapolis while strengthening relationships with the local hotel community. He oversees the Destination Sales teams at Meet Minneapolis, Sports Minneapolis and the Minneapolis Convention Center.
Madonna Carr, CMP - Vice President, Destination Services

Madonna is the vice president of Destination Services where she oversees the department including facilitating booking conventions by assisting meeting planners with logistical needs, building attendance and delivering quality experiences to attendees. Madonna has been with Meet Minneapolis since 1991. She also oversees Housing Services and Meeting Services Plus.
Bill Deef - Senior Vice President, Public Affairs

Bill and his department oversee the Minneapolis Sister Cities programs and work on other public affairs initiatives. Since 1987, Bill has made significant contributions to the Minnesota tourism industry—such as serving as a chair of the Washburn Academy of Hospitality and Tourism.
Courtney S. Ries - Vice President of Destination Branding & Strategy

As the vice president of Destination Branding & Strategy, Courtney oversees the marketing, public relations, partnership and visitor information departments. With her team, she is responsible for telling the story of Minneapolis and its offerings to potential visitors, meeting planners, media, locals and other stakeholders.
Donya L. Dawson - CEO Associate and Project Manager

Donya is the CEO associate and project manager supporting the CEO of Meet Minneapolis. She has several years' experience in Human Resources and working with executive-level leadership.She works closely with the CEO, executive leadership teams, city officials and board of directors. Donya has been with Meet Minneapolis since March 2015.
---
Finance & Human Capital
Debhora Guggisberg - Accounting Associate
Edi Hasan - Accounting Manager
Karel Havle - Director, Employee Experience and Operations
David Nguyen - IT Manager
Sylvia Olson – PHR, SHRM-CP - Employee Experience and Operations
Jesse Tran - IT Support Technician
---
Destination Sales
Maureen (Mo) Allen – Administrative Assistant, Sales
Marlene Bakke – Administrative Assistant, Sales
Janet Elkins – CMP - Sales Account Executive 612.767.8102
Stephanie Grimaldi – Manager, East Coast National Accounts 612.767.8134
Nathan Hermiston – Director, Destination Sales 612.767.8132
Anne Kloepper - Administrative Assistant, Sales
Angie Kufus – National Account Executive – MCC
Savannah Fargen - Sales Account Executive - MCC
Matt Meunier – Senior National Sports Account Executive
Sue Murray – National Account Executive 612.767.8034
Amy O'Meara - National Account Executive, East Coast Accounts
Natalie Ortiz - National Account Executive, East Coast Accounts
Kay Russell – CMP - Business Development Manager, Union Specialist
Tom Ruzsa - National Account Executive
Katie Smith, CMP – Director of Sales and Marketing – MCC
Sheila Tapia – Senior National Account Executive
Deb Taylor – Associate Director of Sales – MCC
Betty Williams, CMP – National Account Executive
Casey Kluver – Manager, Global Tourism Sales
Cheryl Offerman – Manager, Global Tourism Sales
Mandy Schuchman - Sales Account Executive
Emily Wilkens - Sales Account Associate
---
Sports Minneapolis
Matt Meunier – Senior National Sports Account Executive
Janet Elkins – CMP - Senior Sports Sales Account Executive
Dolores Karan – Manager, Destination Services & Sports Minneapolis Services
Ross Slovensky – Manager, Partnership Marketing
Megan Wahman - Manager, Marketing
Anne Kloepper - Administrative Assistant, Sales
---
Destination Services
Cindi Green – Administrative Assistant, Services
Susan Gosz, CMP – Senior Manager, Housing Services
Melissa Jetson - Manager, Destination Services & Events
Lataya Williams - Manager, Destination Services & Events
Dolores Karan – Manager, Destination Services & Sports Minneapolis Services
Tamara Spude, CMP – Director, Destination Services & Events
Judith Wright - Planner, Housing Services
---
Destination Branding and Strategy
Jill Anderson - Director, Brand Strategy
Kathy McCarthy - Director, Public Relations and Communications
Kristen Montag - Senior Manager, Public Relations and Communications
Amanda Smerlinski - Manager, Marketing
Megan Wahman - Manager, Marketing
Michael Hernandez – Director, Visitor Services
Nick Leiferman - Graphic Designer
Amber Gerardy-Robinson - Digital Content Strategist
Andy Holmaas - Manager, Social Media
Krysta Rzeszutek - Associate, Marketing and Public Relations
---
Partnership Marketing
Jenn Schaal - Director, Partnership Marketing
Emily Peterson – Manager, Partnership Marketing
Michael Rainville – Manager, Partnership Marketing
Ross Slovensky – Manager, Partnership Marketing
Shannon Lukes – Project Manager, Partnership
---
Public Affairs
Kevin Hanstad – Director, Market Research
Jake Juliot – Manager, Public Affairs (not Public Relations (Communications) - see Destination Branding & Strategy above)
Matthew Teichert - Project Manager, Market Research