At Meet Minneapolis, we believe in our shared passion to support the community of Minneapolis through doing work we know makes a difference. And when you're working alongside people who are passionate about their job and the mission of the organization—well, that makes working at Meet Minneapolis a whole lot of fun!
Ours is a culture of high collaboration. We recognize it's the unique contributions of all of us at Meet Minneapolis that drives our success, and we're committed to building a culture where everyone can thrive and find meaning in their work.
At Meet Minneapolis we are looking for people who love the city of Minneapolis and are team players who are passionate about making a difference. If that's you, learn more about Meet Minneapolis and check out our current openings. Become a part of our team at Meet Minneapolis!
What is the hiring process?
Freelance Work: Calling all writers
About the project: We pride ourselves on being the trusted resource for where to go, what to see and what to do in Minneapolis - the iconic Minneapolis landmarks, sites, experiences, annual festivals, attractions, parks, neighborhoods, people, and community gathering places and of course, where we love to eat and drink. To further our position as this trusted travel resource, we are looking for travel, lifestyle, food/drink, or arts/culture writers to help tell our story.

If you love Minneapolis as much as we do and want to help others have the best possible experience while they're here, please review the below Writer RFP and send in your proposal now!
RFP: Multiyear Leisure Travel Campaign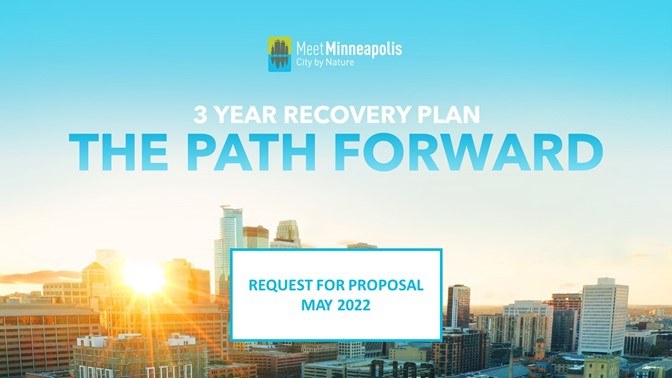 About the project: Meet Minneapolis is seeking a full-service agency that will work with our in-house marketing team to develop, create, and execute a multiyear leisure travel campaign for Minneapolis. The campaign will increase awareness of Minneapolis as a leisure travel destination, drive visitation of hospitality businesses and overnight hotel room nights and improve public perception and sentiment. The scope of work includes strategic planning, creative production, and media services that will help support our objectives. For this program of work, Meet Minneapolis is only considering agencies with offices in the Minneapolis-Saint Paul region.

The deadline to respond to this RFP (Request for Proposal) is on or before 5 p.m. CST on June 10, 2022. It is anticipated that the selected agency partner will begin work in July for campaign deployment in the early fall.
Download answers to agency-submitted questions about the RFP here