Plan A Trip
Nestled in the upper Midwest, Minneapolis is home to some of the region's most intriguing places. Whether you're visiting for a weekend or planning an extended stay, you'll find solace in the city's world class accommodations and ease of navigation.
Note: The content in this section will be updated at least once per year. Due to COVID-19 changes and restrictions, please check with individual businesses before making plans.

Worth The Drive
From pristine wilderness to picturesque river towns, some of the region's most intriguing place are an easy drive from Minneapolis.
Three historic river towns offer memorable shopping, dining and recreation within an hour of Minneapolis:
Nestled in the bluffs of the St. Croix River, one of America's wild and scenic waterways, Stillwater has a charming Main Street lined with antique shops, art galleries and romantic bed-and-breakfast inns.
Further upstream, the quaint city of Taylors Falls overlooks a steep gorge of bedrock, around which an idyllic state park and downhill ski area create a recreation haven.
Sixty miles south of Minneapolis, Red Wing (of Red Wing Shoes fame) bustles along the Mississippi River, offering measurable charm and Victorian ambiance, as well as unique shopping. All three cities offer historic and contemporary attractions ranging from river cruises to hot air balloon rides.
Minnesota's rugged North Shore region follows the western edge of Lake Superior, the world's largest freshwater lake and an unparalleled source of outdoor recreation and scenic beauty. Mountain biking and downhill skiing make Lutsen Mountain an all-season attraction, while fishing, sailing and kayaking are Lake Superior favorites. The 200-mile Superior Hiking Trail offers lodge-to-lodge hiking and cross-country skiing.
Further north, the historic Gunflint Trail leads to the Boundary Waters Canoe Area Wilderness (BWCAW), one of the largest and most heavily used wilderness areas in the country. This unique landscape creates a scenic border between the U.S. and Canada and offers 1,200 miles of canoe routes, some 2,000 campsites and hundreds of lakes and rivers. State parks within and around the metro get visitors back to nature quickly.
Approximate Driving Hours to Minneapolis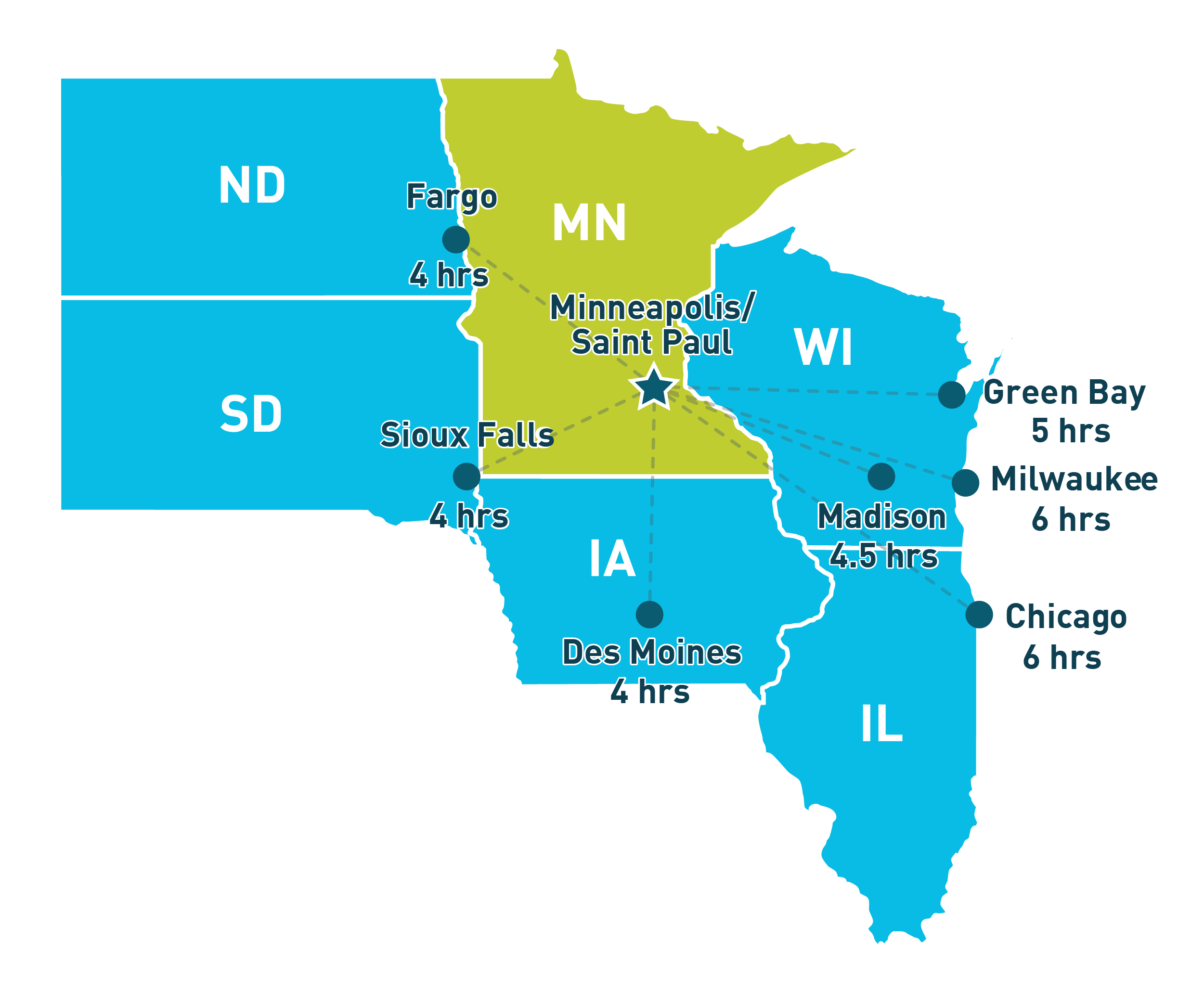 Places to Stay
Genuine hospitality and more than 44,900 hotel rooms make the Minneapolis/Saint Paul area an inviting place to stay. From executive suites to economy lodging, there's a room for every style.

Downtown:
Hotels in the city's vibrant core are comfortable, convenient and friendly. They're also steps from theater, entertainment, shopping and dining. More than 5,600 hotel rooms offer weather-proof access to the Minneapolis Convention Center and other destinations via the city's famous skyway system. Here are just a few of the cozy options available to you:
Upscale Offerings:
Grand Hotel Minneapolis - Hyatt – An oasis of casual elegance since 1915, the Grand Hotel has long been considered the city's finest social, business and athletic club. Pet-friendly policies and 140 boutique urban spaces make this hotel unique and worth a visit. Currently undergoing a renovation, the contemporary furnishings set it apart from other historic hotels.
Le Meridien Chambers Minneapolis – Like its Big Apple counterpart, the Minneapolis location of this sleek boutique hotel feels like a luxury residence, complete with original artworks in the highly refined interiors.
Loews Hotel Minneapolis – Rising 21 stories above First Avenue, the high-tech property reaches new heights in luxury accommodations. European style guest rooms display commissioned artworks, plasma TVs and spa-worthy amenities, while world-class cuisine feeds a sophisticated clientele.
Marquette Hotel – Posh details, including feather pillows and Egyptian cotton linens, bring first-class comfort to this renovated hotel, known for its deluxe oversized guest rooms and guaranteed five-star service. The Marquette also boasts a convenient, memorable location inside the distinctive IDS building, the tallest in Minneapolis.
Full-Service Favorites:
Hilton Minneapolis – The city's largest hotel was renovated in 2017 and is complete with a modern and sophisticated lobby, swimming pool, health club, restaurants and shops. It spans a full city block, equally accommodating business travelers, families and convention goers.
Hyatt Regency Minneapolis – The Hyatt's Nicollet Mall location affords first-class shopping and dining, while the top-of-the-line athletic club and swimming pool, renovated guest rooms and Prairie Kitchen & Bar, where seasonally inspired locally grown food is highlighted.
Renaissance Minneapolis Hotel, The Depot – The historic building draws visitors to the renovated Milwaukee Road Depot, a Riverfront District relic that also houses two hotels, a restaurant and a cocktail lounge.
Midtown Sophisticates:
Minneapolis Marriott City Center – Soaring 31 floors above downtown, this upscale hotel attached to City Center features bi-level suites with stunning views of downtown Minneapolis and a restaurant serving Midwestern fare.
Radisson Blu Minneapolis Downtown – The Radisson's spacious rooms and suites are complemented by a health club, 24-hour business center and concierge service, a FireLake Grill and convenient skyway access.
Noteworthy:
The Hewing Hotel –The Hewing Hotel, coined the local living room of the North Loop neighborhood, pairs historic timber and brick with high-end interiors. Dining at restaurant Tullibee will top off a stay at this authentic, cozy hotel.
W Minneapolis - The Foshay – The Foshay Tower, long the tallest skyscraper between Chicago and the west coast, experienced a makeover, becoming the W Minneapolis - The Foshay. The structure kept its art deco look with marble, terrazzo, etched glass and observation deck and gained 229 luxurious rooms.
The Saint Paul Hotel – Built in 1910, this historic gem pairs Old World class and first-class service on the edge of charming Rice Park, across from the Ordway Center for the Performing Arts and venerable Landmark Center in Saint Paul.
Winning Accommodations:
Mystic Lake Casino & Hotel – Located 30 minutes south of Minneapolis, the country's second-largest Native American gaming and entertainment facility successfully blends Las Vegas-style attractions and Midwestern hospitality.
Treasure Island Resort & Casino – This Caribbean-themed destination, situated in the limestone bluffs of southern Minnesota about an hour south of Minneapolis, features continuous gaming activity, live entertainment and a pool with waterfalls.
Metropolitan Accommodations:
Many of the area's more than 44,000 hotel rooms are located near Mall of America and the MSP International Airport, just minutes from downtown Minneapolis with nearby METRO Blue and Green Line access.
Intercontinental Minneapolis-St. Paul Airport Hotel – Connected to the MSP Airport, this hotel features two signature restaurants, a luxury spa, and event spaces. TSA access to Terminal 1-Lindbergh is available to those with carry-on luggage.
Minnesota at Glance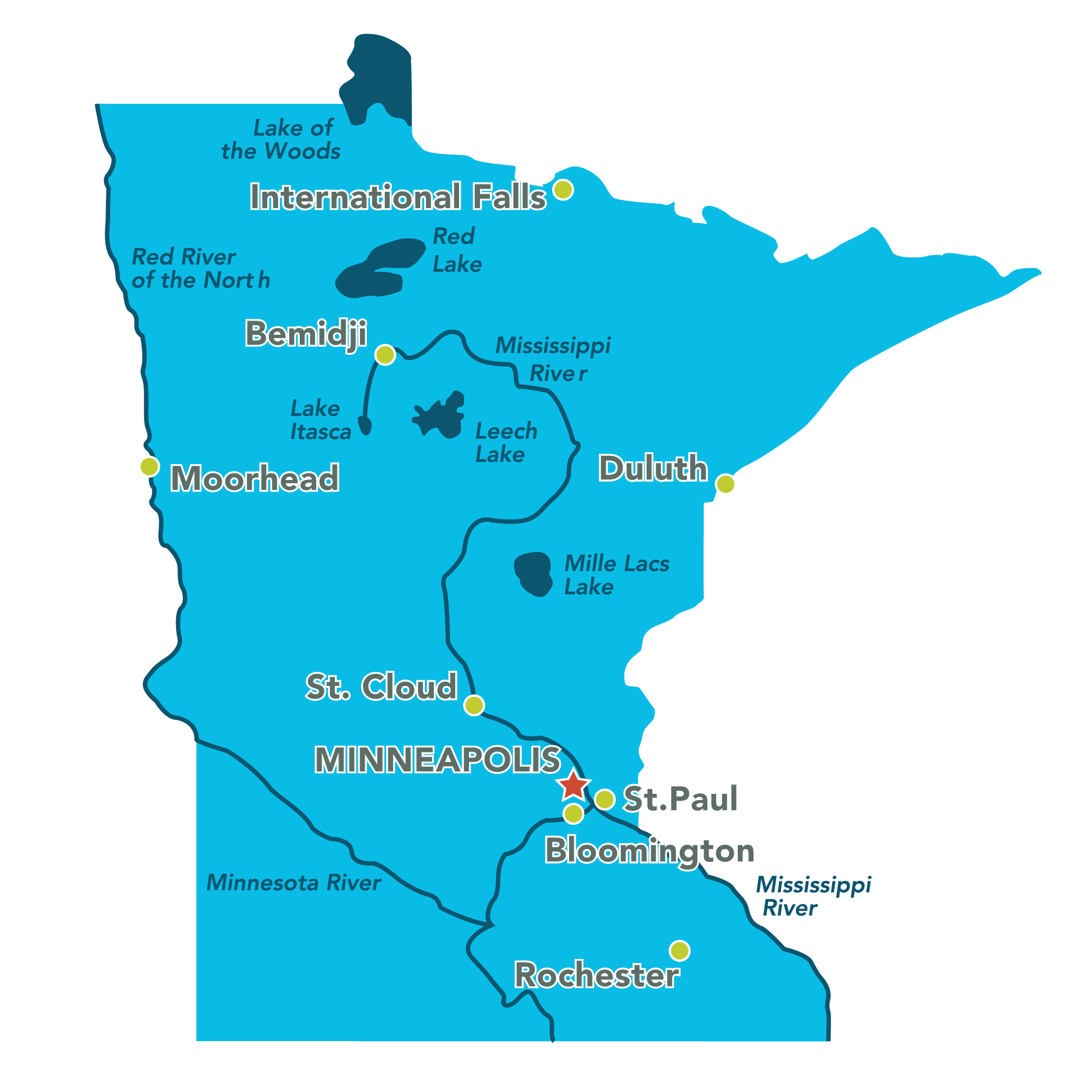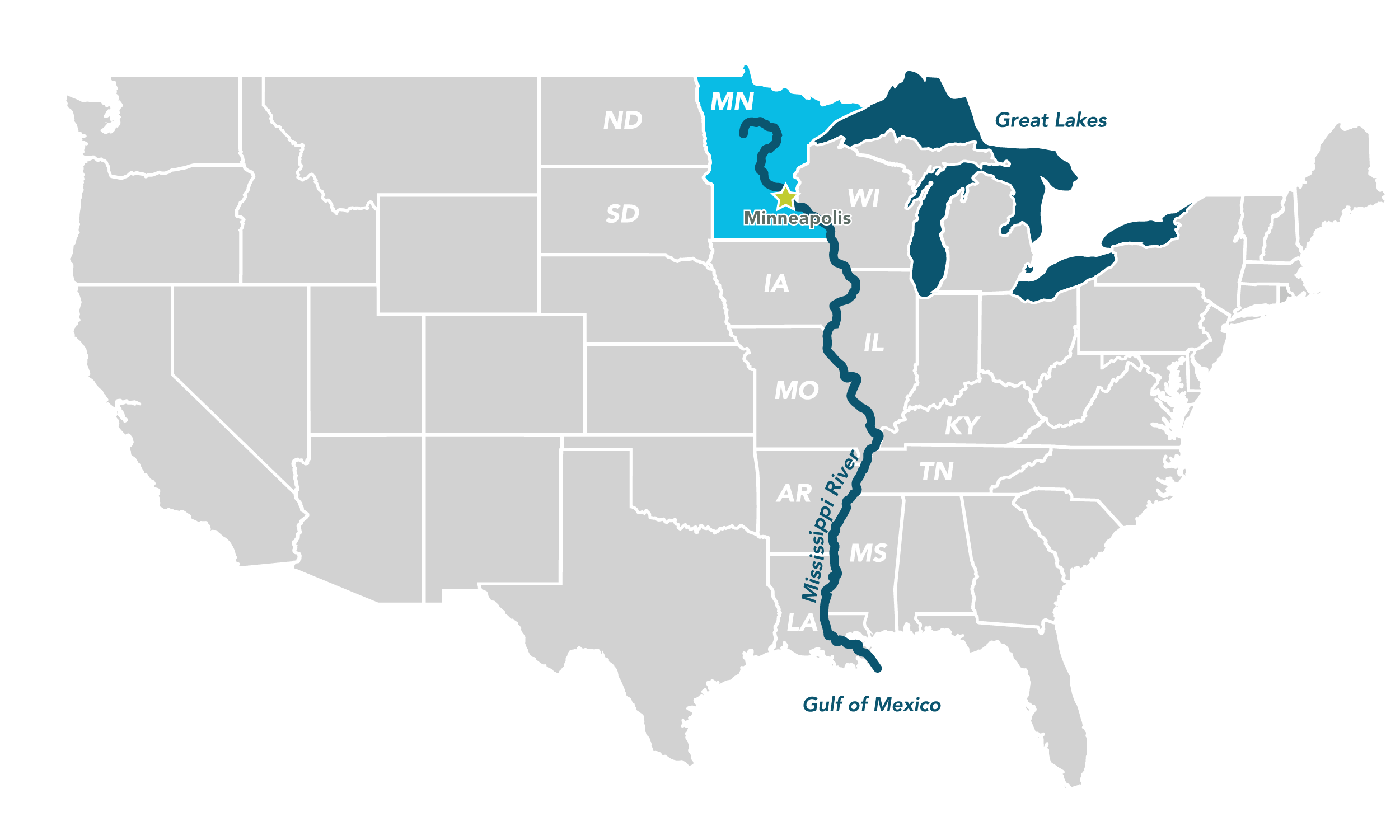 Minneapolis/St. Paul Area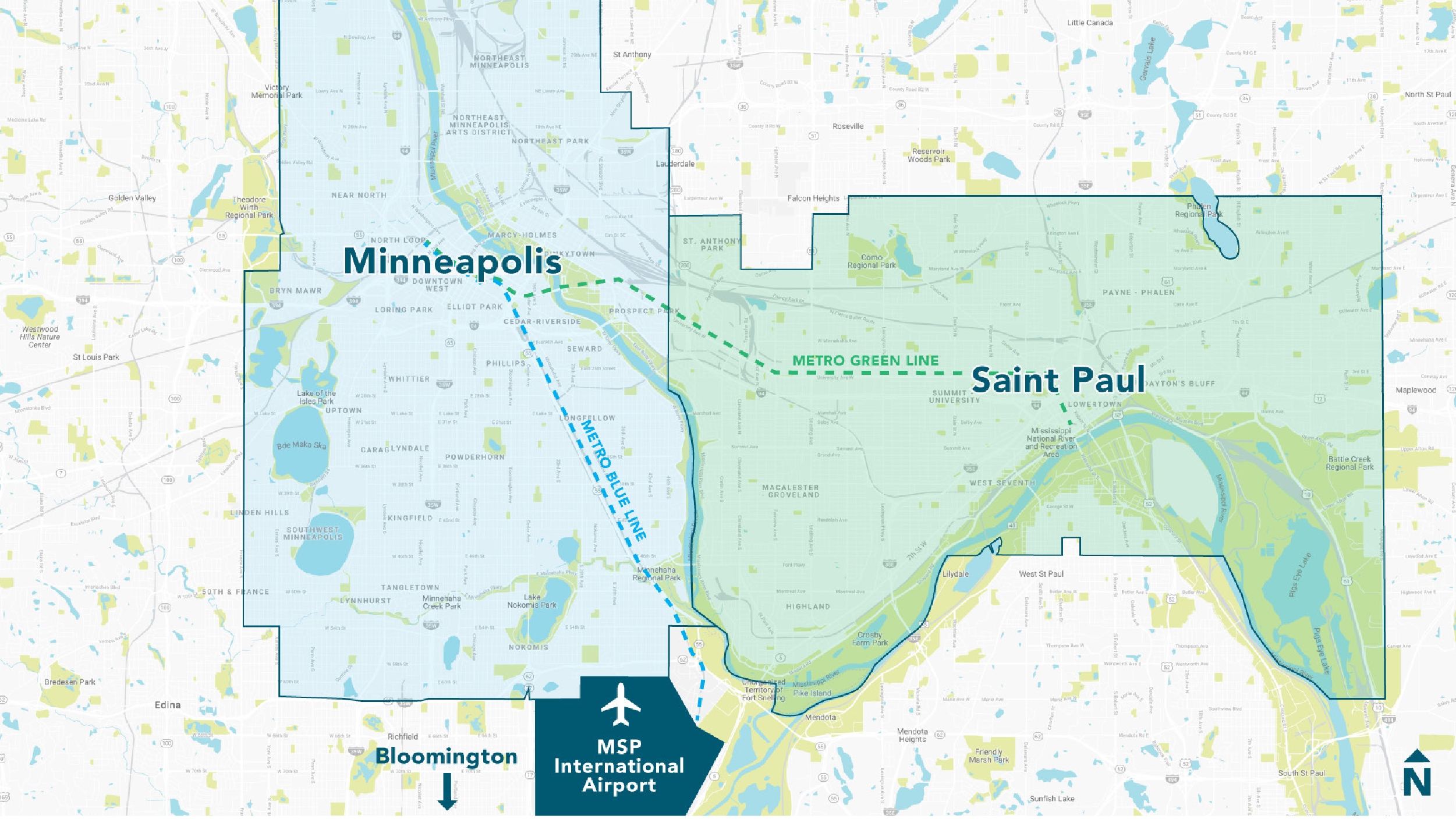 Transportation
Easy to get to and even easier to get around, Minneapolis is one of America's most accessible cities. Located between both coasts, Minneapolis is a destination that's central for everyone and a hub city. The Minneapolis-St. Paul International Airport is the 16th busiest airport in the U.S. and a Delta Air Lines hub. The city's highly lauded METRO Green and Blue line systems ensure the city is not only easy to fly in to, but easy to navigate.
Less than a three-hour flight from most U.S. cities and just minutes from downtown with access to the METRO Blue Line, the Minneapolis-St. Paul International Airport (MSP) is served by 13 commercial passenger airlines at two terminals. A hub of Delta Air Lines, MSP connects Minneapolis to nearly 800 cities in 120 countries. In addition, major freeways in all directions plus ample bus and train service, make getting around a snap!
Approximate Flight Times to Minneapolis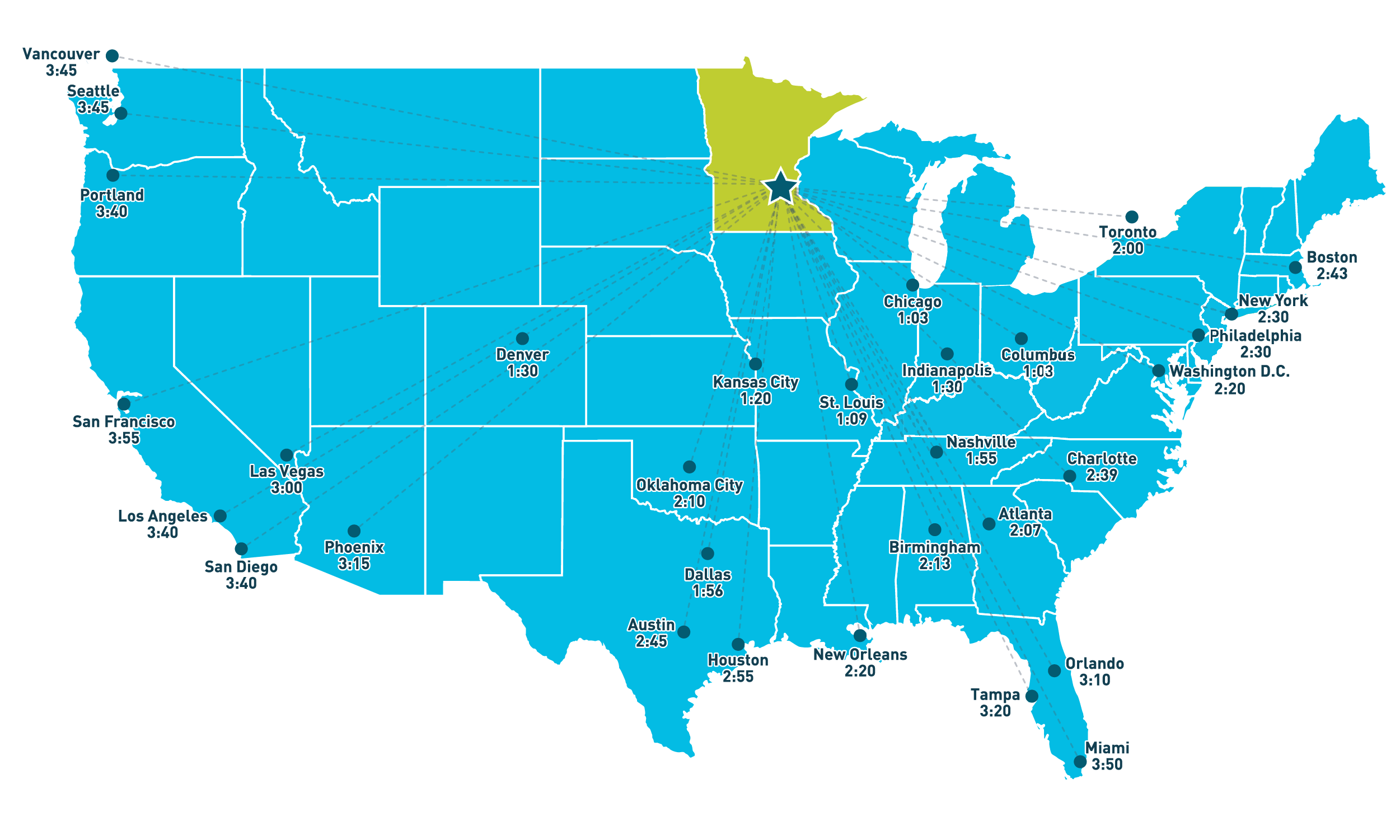 Getting Around
Board the Train: Metro Transit's METRO Blue Line connects downtown Minneapolis with the airport and Mall of America. Conveniently serving several stations, including Target Field and Nicollet, along the route, passengers can easily get to and from all of the area's popular destinations. The METRO Green Line connects visitors to Saint Paul. The route takes riders past the State Capitol to Union Depot where the Amtrak station is situated.
Ride the Bus: Metro Transit, which annually provides 70 million bus trips, offers a handy, low-cost way to get around. Fares range from $0.50 to $3.25, depending on time of day and route. Take a bus up and down Nicollet Mall for free.
Catch a Cab: Taxi service is available anywhere in the metro area. Catch a taxi at the Minneapolis Convention Center and any hotel, or call ahead for service. Uber is also available in Minneapolis.
Ride Sharing: Visitors and locals alike use Uber, Lyft, HourCar and Zipcar to get around the city. Another cheap alternative is Metro Transit buses, where on certain holidays such as Saint Patrick's Day and New Year's Eve, free rides are available.
Try the Skyway: Downtown Minneapolis has a unique skyway system, located one floor above ground, offering enclosed travel between buildings. More than 9 miles of glass-enclosed walkways connect hotels, shopping, sports and entertainment venues, restaurants and parking ramps, which means pedestrians can travel in climate-controlled bliss.
Parking: There are tens of thousands of parking spaces in downtown Minneapolis and 8,000 on-street spaces. Street parking requires change or a credit card for meters, which have varying rates, limits and time restrictions. Ramps and lots, which run $7 to $30 a day, provide convenient parking spaces. Mall of America offers ample free parking, as well.
Visitor Resources
Visitor Information: 1.888.676.MPLS (6757) or 1.612.767.8000
For more information or to request a visitor information packet, visit www.minneapolis.org
Visitors can check out the Meet Minneapolis Visitor Center on the corner of Nicollet and 5th Street.
Staff is available to answer questions, share visitor maps and resources about things to do in Minneapolis, City by Nature.
Media Resources
From fact-checking to interviews and b-roll to royalty-free photos, Meet Minneapolis provides a host of media resources. Visit the Media Section of this site for the latest local destination information, news releases and photos and videos of Minneapolis.