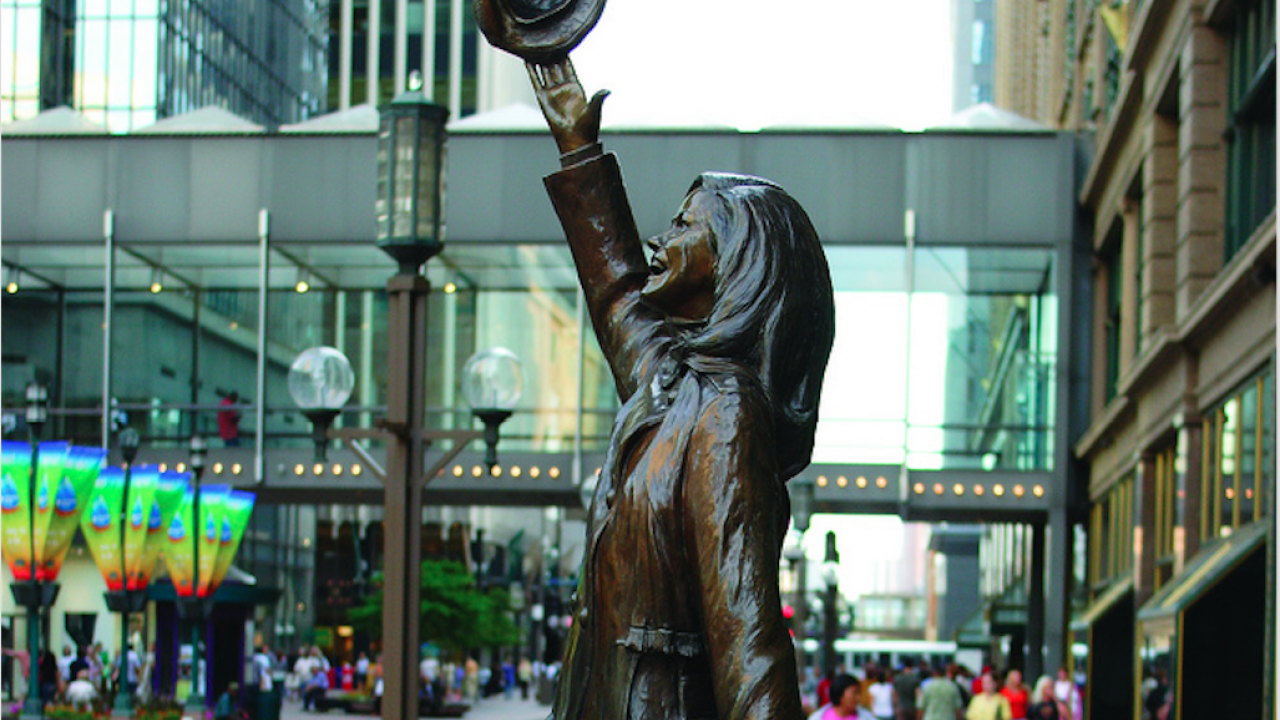 City By Nature Basics
Minneapolis is the perfect blend of natural beauty and urban sophistication. No other American city has a chain of lakes, the mighty Mississippi, and 200 miles of walking, biking and cross country ski trails within the city limits literally steps from the most vibrant arts and music scene outside NYC, the best shopping in the region, and museums among the finest in the nation.

From ski hills to shopping malls, muskie to Monet, biking to beef bourguignon, Minneapolis is the American city where natural and urban drama share a single stage.

The Basics

POPULATION
U.S. Census
Minneapolis: 410,939 (2015)
Hennepin County: 1,232,483 (2016)
Downtown: 40,864 (2017 estimate)
16th largest metro area

GEOGRAPHY
Latitude: 44° 58' 39''
North Longitude: 93° 15' 56''
West Area: 59 square miles or 37,516 acres
Land: 35,244 acres
Water: 2,324 acres
Lakes: 22
Elevation: 824 feet above sea level

TALLEST BUILDING
IDS Center: 57 stories, 775 feet

COLLEGES AND UNIVERSITIES
Public: 3 Private: 8

WEATHER
Average high temperature in January: 22° F
Average high temperature in July: 83° F
Overall: 45° F
Annual precipitation: 27.3 inches
Annual snowfall: 49.5 inches

SALES TAX
7.775% (downtown Minneapolis)
6.875% (elsewhere-statewide)
*There is no sales tax on apparel or shoes in Minnesota

LODGING TAX
13.4%
---
Fast Facts

MINNESOTA
Settled: 1858
Capitol: Saint Paul
State Bird: Common Loon
State Fish: Walleye Pike
State Flower: Pink and White Lady's Slipper
POPULATION
5,519,952 (2016 U.S. Census estimate)
Geography Area: 86,943 square miles
Water: 7,326 square miles of Minnesota are covered by water
LAKES
11,842 (22 within Minneapolis city limits)
ANNUAL VISITOR STATISTICS (METRO AREA)
2016: 32.5 million
2012: 27.9 million
2008: 17.9 million
2000: 11.1 million
1990: 4.5 million
MINNEAPOLIS HISTORIC NICKNAMES
Mill City
City of Lakes
---
Neighborhoods
Neighborhoods ranging from eclectic to ethnic and historic to hip create the colorful fabric of Minneapolis, where there's a place for every personality.
DOWNTOWN
Locals work and play in downtown Minneapolis. They live there, too, in artsy lofts and upscale condos – more than 40,000 people call downtown home. That's because this glittering metropolis, which overlooks the scenic Mississippi River, is easy to get to, easy to get around and easily one of the most vibrant, engaging cities in America. Hot restaurants, cool shops, festive events and diverse entertainment ranging from professional sports to Broadway shows keep downtown constantly buzzing. Safe, friendly and compact, downtown is a destination and a community in one.
DOWNTOWN CENTRAL
The city's glimmering steel and glass core spans more than 50 square blocks, encompassing the financial, retail and theater districts. Sidewalk cafes, window displays and outdoor concerts have people flocking to the streets, while the city's second-story skyway system links restaurants, stores, theaters, hotels and the Minneapolis Convention Center. Home to: Hennepin Theatre Disctrict, IDS Center, Nicollet Mall, Foshay Tower, Target Center
WAREHOUSE DISTRICT/NORTH LOOP
Flush with historic charm, as well as design firms, breweries and boutiques, the North Loop reflects the city's creative streak. Weathered brick buildings that served the previous century's industrial boom now house hip restaurants, shops and art galleries. Located on downtown's northwestern edge, the district is the epicenter of Minneapolis nightlife, offering music venues, comedy clubs, sports bars and brewpubs. Home to: Target Field, ACME Comedy Club, Fine Line Music Cafe
RIVERFRONT/MILL DISTRICT
Idyllic parks and pathways, landmark restaurants and historical attractions line the banks of the Mississippi River, which once fueled Minneapolis' flour milling boom and now defines downtown's eastern edge. Many milling era buildings have been reborn as housing and cultural venues, while concerts and festivals along historic cobblestone Main Street further enliven this ever-evolving neighborhood. Home to: Guthrie Theater, Mill City Museum, Gold Medal Park, St. Anthony Falls, Stone Arch Bridge, Mill Ruins Park, MacPhail Center for Music
LORING PARK AREA
Located on the southwestern edge of downtown Minneapolis, Loring Park revolves around its namesake green space. Its popular restaurants offer city skyline views and intimate theaters present original productions. An eye-catching suspension bridge connects Loring Park to the Walker Art Center and Minneapolis Sculpture Garden. Home to: Basilica of St. Mary, Walker Art Center, Minneapolis Sculpture Garden, Minneapolis Convention Center, Orchestra Hall, Peavey Plaza
NORTHEAST ("NORDEAST")
Ethnic churches and restaurants highlight this long established, newly imagined neighborhood, located just across the Mississippi River from downtown Minneapolis. New immigrant populations add flavor to the global dining scene, while artists living and working in the area's brick warehouses shape the city's visual arts scene including Northeast Minneapolis Arts Association's First Thursdays, where they offer an Open Studio and Gallery Tour held the first Thursday of each month. Dance clubs, tap rooms and polka lounges create a vibrant come-one come-all nightlife scene. Home to: Psycho Suzi's Motor Lounge, St. Anthony Main Theater, Our Lady of Lourdes Church, Northrup King Building, Ritz Theater, Northeast Arts District, Betty Danger's Country Club
UPTOWN
Decidedly urban and unabashedly hip, Uptown supplies trendy 20 and 30-somethings with cutting-edge cuisine, intoxicating nightlife, funky, high-end fashions, independent movie theaters and home accessories. Located immediately south of downtown Minneapolis, just steps away from the scenic Chain of Lakes, Uptown centers around the intersection of Hennepin Avenue and Lake Street, where coffee shops, restaurants and salon-spas abound. Home to: Uptown Theatre, Lagoon Theatre, Calhoun Square, Lake Calhoun, Midtown Greenway, Lake of the Isles
LINDEN HILLS
A modern village with a view of the downtown skyline, Linden Hills occupies an idyllic pocket of southwest Minneapolis between Lakes Calhoun and Harriet. Born as a resort community at the turn of the century, the area remains an escape from the everyday – a unique shopping and dining destination minutes from beaches, gardens, concerts and winding recreational paths. Home to: Grand Rounds National Scenic Byway, Chain of Lakes, Lyndale Park Rose Garden
LYN-LAKE
South of downtown and east of Uptown, Lyndale Avenue and Lake Street converge in this funky urban zone where originality reigns supreme. Flamenco music, authentic tapas, European-style brews and late-night bowling are among the diverse dining and nightlife options, while inventive entertainment includes multimedia arts performances and boundary-pushing local theater. Home to: Intermedia Art, Jungle Theater, Bryant Lake Bowl, Midtown Global Market
WHITTER
More than 50 ethnic restaurants, groceries and cafes form the urban buffet known as "Eat Street," a 17-block stretch of Nicollet Avenue running south from downtown Minneapolis. Asian flavors abound in noodle shops and authentic markets, while German, Greek, African, Mexican and Middle Eastern cuisine are among the flavors available. Home to: Eat Street, Children's Theatre Company, Minneapolis Institute of Arts, Minneapolis College of Art and Design (MCAD)
UNIVERSITY OF MINNESOTA/DINKYTOWN
East of downtown, the University of Minnesota straddles the Mississippi River, supporting dining, shopping and entertainment on the two banks. The Cedar-Riverside neighborhood offers multicultural restaurants, shops and theater along the river's West Bank. On the East Bank, Dinkytown epitomizes the urban university experience, with bookstores, music shops and energetic eateries and nightlife. A covered pedestrian bridge spans the river and unites the campus. Home to: Weisman Art Museum, Mixed Blood Theatre, Theatre in the Round, TCF Bank Stadium
50TH AND FRANCE (EDINA)
50th Street and France Avenue intersect in the posh community of Edina, where classy restaurants, upscale gift shops, esteemed art galleries and designer boutiques thrive amidst cobblestone streets and elegant street lighting. Home to: Edina Cinema, the Edina Art Fair, Red Cow, Salut
---
Famous Minnesotans
Many public figures who have made huge splashes on the national scene in politics, art, music and movies hail from the land of 10,000 lakes. Throughout Minnesota's rich history, an abundance of people have stood out as stars among us, including actors, musicians, politicians, entrepreneurs, cartoonists, radio stars, writers and pro-wrestlers.
THE ENTERTAINERS
Prince Rogers Nelson was born in Minneapolis on June 7, 1958, and passed away on April 21, 2016. He was as an international recording star, musician and actor whose fame rose in the early 1980s with the release of "Purple Rain," which was filmed at Minneapolis' First Avenue. The "Minneapolis sound" was truly pioneered by Prince's hybrid mixture of funk, rock, pop, R&B and New Wave. It has influenced many other musicians.
Bob Dylan, born Robert Zimmerman in Duluth in 1941, and raised in Hibbing, Minn., attended a year at the University of Minnesota in Minneapolis, then dropped out, assumed the name Bob Dylan, and continues to perform today. A mural depicting Dylan in several stages of his career was painted by muralist Eduardo Kobra on a building on 5th Street near Hennepin Avenue in downtown Minneapolis in 2015.
Hailing from Minneapolis, Louis Perry "Louie" Anderson (born March 24, 1953) is an American stand-up comedian. Anderson created the cartoon series Life with Louie, has written three books, and was the initial host of the second revival of the game show Family Feud, from 1999 to 2002.
T.R. Knight, known to his fans as George O'Malley on the Emmy-winning "Grey's Anatomy," is a Stillwater, MN native. For many years, he was a member of the Guthrie Theater's acting company.
"Six Feet Under," "Dirty Sexy Money," and "Parenthood" star Peter Krause, grew up in Alexandria, west of Minneapolis.
Josh Hartnett, the heart-throb movie star of films such as The Black Dahlia and Pearl Harbor, grew up in Saint Paul and lived in Minneapolis for a number of years more recently.
Actor Jessica Lange, winner of an Academy Award and Tony Award, was born in Cloquet, Minn., and once owned a home in Stillwater, Minn., a suburb east of Saint Paul.
Melissa Peterman, a product of the Brave New Workshop, wrapped a successful run on the TV show "Reba" in 2007. She's also known for her memorable prostitute role in the movie Fargo.
Joel and Ethan Coen, writers/directors/producers of such movies as Fargo, No Country for Old Men, The Big Lebowski, A Serious Man, Burn After Reading and True Grit, grew up in the Minneapolis suburb St. Louis Park and filmed Fargo and A Serious Man in the area.
GREAT MINNESOTA AUTHORS
F. Scott Fitzgerald author of "The Great Gatsby," is one of many literary geniuses to grow up in Saint Paul.
Attending the same high school as the Coen brothers and former "Saturday Night Live" comedian, and now Senator Al Franken, three-time Pulitzer Prize winner Thomas Friedman is a prolific author, columnist and expert in Middle East affairs for the New York Times.
Garrison Keillor, the well-known humorist whose weekly radio show, "A Prairie Home Companion," inspired Robert Altman's last film of the same name hails from Anoka, just north of Minneapolis. He still contributes to Minnesota Public Radio and owns an independent bookstore called Common Good Books in Saint Paul.
Charles Schulz, the cartoonist who drew "Peanuts" for nearly 50 years was born in Minneapolis and lived in Saint Paul through his young adulthood.
A NEW BREED OF POLITICIANS
Even before Arnold took over California, Minnesota began producing Hollywood stars-turned-politicians.
From feather boa in the wrestling ring to glasses and suits as governor of the state, Jesse "The Body" Ventura raised Minnesota's profile by unexpectedly beating two high-profile candidates to become the state's 38th governor.
An Emmy Award–winning comedian, actor, author, screenwriter, political commentator, radio host and "Saturday Night Live" alumni, Al Franken grew up in St. Louis Park and is currently a Minneapolis resident. Noted for his liberal social and political views, Franken won Minnesota's United States Senate seat in 2008.
OTHER FAMOUS MINNESOTA-BRED NAMES IN THE WORLD OF GOVERNMENT AND POLITICS:
Warren Burger, Supreme Court Chief Justice
Hubert H. Humphrey, Vice President of the United States
Paul Wellstone, U.S. Senator
Alexander Ramsey, second Governor of Minnesota; U.S. Senator
Walter Mondale, Vice President of the United States; U.S. Senator
OTHER WELL-KNOWN PERSONALITIES WHO HAIL FROM MINNESOTA OR LIVE HERE CURRENTLY
Loni Anderson, Actress
Richard Dean Anderson, Actor
The Andrews Sisters, Vocal Group
James Arness, Actor
Jessica Biel, Actress
Nate Berkus, Interior Designer / Author / TV Personality
Surya Bonaly, Figure Skater & Coach
Kelly Carlson, Actress
Eddie Cochran, Musician
Rachael Leigh Cook, Actress
James Denton, Actor
Judy Garland, Singer / Actress
J. Paul Getty, Businessman
Terry Gilliam, Screenwriter / Actor
Genevieve Gorder, Interior Designer / TV Host
Peter Graves, Actor
Jeffrey Hatcher, Playwright / Screenwriter / Actor
John Hawkes, Actor
Garrett Hedlund, Actor / Model / Singer
Tippi Hedren, Actress / Model
Ernie Hudson, Actor / Playwright
Sinclair Lewis, Writer
Garrison Keillor, Author / Radio Personality
Linda Kelsey, Actress
Kelly Lynch, Actress
John Madden, NFL Player / Coach / Sportscaster
Roger Maris, Baseball Player
E.G. Marshall, Actor
Frances McDormand, Actress
Noel Neill, Actress
Chan Poling (The Suburbs), Musician
Chris Pratt, Actor
Marion Ross, Actress
Winona Ryder, Actress
Richard W. Sears (of Sears & Roebuck), Businessman
Jane Russell, Actress
Seann William Scott, Actor
Brian Setzer, Musician
Miriam Shor, Actress
Kevin Sorbo, Actor
Cheryl Tiegs, Model
Analeigh Tipton, Actress / Model / Figure Skater
Lea Thompson, Actress
Ann Tyler, Novelist
Vince Vaughn, Actor
Bobby Vee, Musician
Lindsay Vonn, Olympic Ski Racer
Steve Zahn, Actor
More names are listed on our online media kit at http://www.minneapolis.org/media/media-kit/
---
Minneapolis Icons
Visitors will find lots of must-sees in Minneapolis. Here is a quick guide to the top 10 icons that represent the city's diverse offerings.
SPOONBRIDGE AND CHERRY
This has been Minneapolis' signature sculpture since its completion by Claes Oldenburg and Coosje Van Bruggen in 1988. The spoon tips the scale at 5,800 pounds and the cherry weighs 1,200 pounds! The Minneapolis Sculpture Garden, where the Spoonbridge and Cherry resides, is currently being renovated and expanded from 11-acres to 19-acres and is one of the largest sculpture gardens of its kind.It will have more than 56 works of art after the expansion. It is located across the street from the renowned Walker Art Center, which was renovated and reopened in June 2017.

FIRST AVENUE & 7TH STREET ENTRY
Featured in "Purple Rain," this Minneapolis classic is still one of the hottest clubs in town. Stop in and rock out to musical stylings from major national acts and local emerging artists. It was named number five in the ClubTop100 Worldwide Rankings by Pollstar, January 2013, and third best large music club by Rolling Stone, April 2013.

FREDERICK R. WEISMAN ART MUSEUM
Housed in a striking stainless steel building, the Frank Gehry-designed Weisman is a unique museum experience. A teaching museum for the University of Minnesota and the community, its collection features early 20th-century American artists such as Georgia O'Keefe, Alfred Maurer and Marsden Hartley.

BDE MAKA SKA (Formerly known as Lake Calhoun)
Part of the Chain of Lakes, Bde Maka Ska is a popular site for windsurfing, swimming, sailing and canoeing. More than three miles of trails for walking, jogging, biking and in-line skating encircle the lake with the unique Minneapolis skyline as its urban backdrop. The popular lake is also part of the 52-mile Grand Rounds National Scenic Byway. Bde Maka Ska is the lake's original Dakota name, meaning "White Earth Lake".

STONE ARCH BRIDGE
Enjoy the roaring St. Anthony Falls with a stroll across the Stone Arch Bridge – the only one of its kind to span the Mississippi River. As part of the St. Anthony Falls Heritage Trail, this pedestrian crossing is the oldest mainline railroad bridge in the Northwest. Chronicling Minneapolis' milling history are the nearby Mill Ruins Park and Mill City Museum.

FLAGSHIP TARGET STORE
This two-story retail hot spot lies in the heart of downtown action, along with Target Corporation's world headquarters. With a unique escalator for shopping carts, this flagship retail experience shouldn't be missed.

UPTOWN THEATRE SIGN
Just south of downtown, Uptown is the center of Minneapolis' hip energy, and includes off-beat shopping, late-night dining, vibrant nightlife and up-and-coming music. Just steps from the Chain of Lakes, Uptown has everything an urban neighborhood should and then some. You'll know you've entered Uptown when you see the iconic Uptown Theatre sign towering over the neighborhood.

GUTHRIE THEATER
The stunning Jean Nouvel-designed riverfront home for the world-renowned theater company opened in July 2006 and has earned numerous design awards. With three theaters, 11 bars and lobby space and the Endless Bridge offering breathtaking views of the surrounding area, the bold blue building has laid the groundwork for continued growth in the Mill District.

MARY TYLER MOORE STATUE
Stop for a photo with the bronze statue at its temporary location the new Minneapolis Visitor Information on Nicollet and 5th Street. The statue originally sat on the corner of 7th Street and Nicollet near where the "Mary Tyler Moore Show" credits were filmed. The show's setting was in Minneapolis.

SKYWAYS
The skyway system is one of our most striking assets. One floor above ground, this nine-mile system links shopping, restaurants, entertainment and more through enclosed elevated walkways. It connects more than 80 blocks of downtown Minneapolis in climate-controlled bliss. The 84th skyway over Third Avenue from Accenture to Ameriprise opened Dec. 29, 2011. The skyway expanded further when the
new connection was made to U.S. Bank Stadium in July 2016.
---
Community & Business
Minneapolis combines the bustle of a big city with the intimacy of neighborhood life. Big enough to attract world class theater, sports teams and businesses, yet small enough to avoid the crime and overcrowding of bigger, denser cities, this city by the Mississippi has it all.
Why? Well, start with employment. Target, 3M, United Health Group and Best Buy are just a few examples of the Fortune 500 companies which, along with strong local businesses, bring a low rate of unemployment and a high tax base to the area. The good public schools and many options for higher education (including the University of Minnesota) mean an educated, skilled workforce, resulting in good business in Minneapolis.
Companies from nearly every U.S. industry provide the local economy with a strong base, representing manufacturing, health care, publishing and many others. There are 25 Fortune 1000 companies in Minnesota as of 2015. Wide-reaching public facilities and investment in transportation and infrastructure have yielded a city that's good for business.
And business is good for the city. Companies here, both big and small, have a tradition of giving back to the communities that help them succeed. Private funding and corporate philanthropy help keep Minneapolis vibrant and exciting. One example: A large portion of five major venues in Minneapolis (Central Library, Guthrie Theater, Walker Art Center, Minneapolis Institute of Art and Children's Theater Company) were funded by the generous giving of businesses and individuals throughout the city.
LOCALLY GROWN GOODS

It might surprise you, but a lot of products you use every day were developed right here in Minnesota. The land of 10,000 lakes is also the land of 10,000 innovators!

POWERHOUSE BUSINESSES

With 18 Fortune 500 companies (2017), Minnesota's business community thrives globally.

> Aveda beauty and wellness products

> Betty Crocker baking goods

> Bisquick

> Bundt cake pan

> Caribou Coffee

> Dairy Queen ice cream treats

> Green Giant vegetables

> Honey Crisp apples

> indoor shopping mall (Southdale Center)

> Jucy Lucy burgers

> Magnetic Poetry

> Milky Way, 3 Musketeers and Mars bars

> Minnetonka Moccasins

> Wearable pacemaker

> Polaris snowmobiles

> Post-it notes

> Rollerblades

> Wet/dry sandpaper

> Scotch Tape

> SPAM

> Toastmaster toaster

> Tonka trucks

> Toro

> General Mills

> Wheaties cereal

> Red Wing Shoes

> Zubaz

> UnitedHealth Group (6)

> Target (38)

> Best Buy (71)

> CHS (84)

> 3M (93)

> U.S. Bancorp (131)

> SuperValu (160)

> General Mills (161)

> Ecolab (206)
> C.H. Robinson Worldwide (208)
> Land O'Lakes (215)

> Ameriprise Financial (232)

> Xcel Energy (257)
> Hormel Foods (304)

> Mosiac (316)

> Thrivent Financial (318)

> St. Jude Medical (465)

> Patterson Cos. Inc. (466)

(Forbes, 2017)
---
Visitor Resources
Visitor Information: 1.888.676.MPLS (6757) or 1.612.767.8000
For more information or to request a visitor information packet, visit www.minneapolis.org.
Visitors can check out the new Minneapolis Visitor Information on Nicollet. The new visitor center and store on the corner of Nicollet and 5th Street includes: Shop: Minneapolis artistic retail by Love from Minneapolis, Move: resources for transit, commuting and getting around the city, Find: help with questions about what to do, where to go and how to get the most out of a visit to Minneapolis, City by Nature. The iconic Mary Tyler Moore statue has moved into Minneapolis Visitor Information on Nicollet. Fans, visitors and locals now can stop for photos inside during daily store hours.
The iconic Mary Tyler Moore statue is located in Minneapolis Visitor Information until fall 2017, when it will return to Nicollet Mall after the street renovation is complete. Stopping for photos with Mary and tossing your hat in the air is a must-do in Minneapolis.
Visitors can also check out the Visitor Information Center inside the Minneapolis Convention Center to pick up city maps, attraction brochures, discount attraction tickets and getting answers to questions about Minneapolis from the concierge team.
MEDIA RESOURCES
From fact-checking to interviews and b-roll to photos, Meet Minneapolis provides a host of media resources. Visit the Media Section of this site for the latest local destination information, news releases and photos of Minneapolis.
---
Seasons
The beauty and sophistication of Minneapolis is augmented by its striking seasonal variety. Whether nestled by a crackling fire sipping wine or snowboarding at Theodore Wirth Park; strolling through the Walker Art Center's world-class sculpture garden or stopping to smell the flowers at Lake Harriet's rose gardens; watching movies under the stars at one of Minneapolis' city parks or playing in the water at one of the city's 22 lakes; apple picking in crisp autumn air or admiring the colorful fall foliage; visitors and residents alike will enjoy the abundance of activities each season brings.
SPRING
(April through May): Spring in Minnesota varies widely and weather may be glorious or erratic and visitors should pack a heavy jacket. April shows the first true signs of spring when snow melts and gentle showers abound. By May, flowers have pushed their way out of hibernation, trees blossom, gardens are planted and the city bursts into life.
SUMMER
(June through August): The city sizzles with temperatures in the mid-eighties and high humidity levels make it the perfect season to hang out at one of Minnesota's 10,000 lakes! Downtown restaurants have sidewalk seating and the city is alive with bikers, joggers, sunbathers and festivals. Shorts and sandals are the standard uniform and the abundance of lakes make bathing suits and beach towels a must.
FALL
(September through late November): As the air turns crisp and leaves turn to deep golds, oranges and reds, fall is easily one of the most beautiful times in Minneapolis. Visitors can enjoy striking autumn colors and lively outdoor activities in mild temperatures by packing a sweater or a light jacket. Autumn foliage peaks late-September on Minnesota's North Shore and slowly spreads throughout the state and into the cities by mid-October, making the transition from summer to winter a long and leisurely one.
WINTER
(Late November through March): Snuggled under a white blanket of snow, winter is our coldest season and though vegetation may be hibernating, the city is not. During our winter season lakes are alive with skaters, our landscape is full of snowmen and snowshoers, and downtown bustles with shoppers and diners. Minneapolis has the country's largest network of enclosed, climate-controlled skyways; however, a winter coat, gloves, hat, scarf and boots are necessary so you can get out and take part in one of our many active winter sports and festivals, like the City of Lakes Loppet.
---
History & Heritage
Minneapolis wasn't built in a day. This dynamic, prosperous city is the current incarnation of its unique past – a history impacted by the region's natural beauty, its original indigenous and immigrant residents and its fluid relationship with the mighty Mississippi River.
1600-1850 - CHARTING THE WATERS
Minneapolis was born on the Mississippi, on land the Sioux and Ojibwe people had long called home. Around 1680, Father Louis Hennepin christened scenic St. Anthony Falls, which, centuries later, would give the burgeoning city enormous industrial power. The Louisiana Purchase in 1803 and the construction of Fort Snelling in the 1820s ushered more Europeans into this pristine region for trading, trapping and settlement.
1850-1930 - FLOUR POWER;
Minneapolis grew beside the Mississippi River where St. Anthony Falls fueled the lucrative flour milling industry. From the 1880s to the 1930s, flour production made Minneapolis the milling capital of the world, and established modern corporate giants such as Cargill, General Mills and Pillsbury. Tourists and artists also flocked to the only waterfall on the river, spanned in 1883 by the landmark Stone Arch Bridge, which remains today.
1930-TODAY - COMING OF AGE
A progressive city claiming many commercial, political, medical and cultural firsts, Minneapolis continues to make history, the city has one of the most stable economic bases in the country and includes global leaders Medtronic, Best Buy and 3M within its broad, successful business community.
PRESENT DAY - INCREASINGLY DIVERSE
Minneapolis has always been empowered by its people, including native residents, pioneers, immigrants and transplants from around the world. Many Lakota Sioux and Ojibwe names – Minnehaha, Minnetonka, Nokomis – attest to the continued presence of Minnesota's first residents. The cultural influences of the city's first settlers – Scandinavian, Irish, German, Italian, French-Canadian, Greek, Polish, Jewish and people of many nationalities – can be seen in neighborhood churches, businesses, architecture and events. A massive influx of Scandinavians in the late 1800s had a well-known and lasting impact on area culture. Today the Minneapolis-Saint Paul area boasts the largest Hmong and Somali populations in the country as well as other diverse ethnic groups. This includes recent immigrant groups such as the Karen and Liberians, whom hold large populations in Saint Paul and Brooklyn Park, respectively.
HONORING THE PAST - EXCEPTIONALLY ACTIVE
Minneapolis' history is an interactive experience. From museums and landmarks to excursions and parks, fun and engaging opportunities immerse residents and visitors in the city's past. Rightfully, Minneapolis never lost touch with its source, preserving and developing the Mississippi riverfront to combine restaurants, nightclubs, galleries and shops with historic buildings and natural wonders.
---
Going Green
Minneapolis has gone green with more than 80 green rooftops. The Central Library, the Target Center, a handful of underground parking garages and the lawn-bowling green at Brit's Pub are just a few located in downtown. One of the oldest examples is the Hennepin County Government Center's north plaza which is a park area above a cafeteria and office space. A 5,800-square foot roof at City Hall includes plantings and solar panels.
MALL OF AMERICA
> There is no heating system in the mall; it relies on the heat from lighting, skylights and the masses of people. It is 70 degrees Fahrenheit 365 days a year.
> Leftover food from restaurants is picked up daily by a local hog farmer.
TARGET FIELD
> The ballpark is the second LEED-Silver-certified Major League Baseball field in the country.
> The nearby Hennepin Energy Recovery Center (HERC) provides heat for the ballpark with captured waste energy.
> Nearly 20 percent of Target Field was built with recycled content.
GOLD MEDAL PARK
> Gold Medal Park encompasses 7.5 acres in the heart of Minneapolis' Riverfront Mill District. The park includes close to 300 mature trees, all hand-picked and between 6 and 12 feet in diameter. The species include maples, lindens, hackberries, oaks and catalpas.
MINNEAPOLIS CENTRAL LIBRARY
> The 18,560-square-foot green roof atop the Minneapolis Central Library creates a model for other downtown buildings and developments and promotes a clean, sustainable city.
> Low-growing prairie plants reduce cooling and heating loads and improves downtown air quality.
MINNEAPOLIS CONVENTION CENTER
> HVAC and lighting systems are monitored around the clock to save energy.
> 2,623 rooftop solar panels produce 750,000 kWh of renewable electricity per year, offsetting 539 metric tons of carbon dioxide emissions annually.
> Each year more than 180 tons of cardboard and 50 tons of cans & bottles are recycled.
> Each year more than 130 tons of organics are composted or provided as "food to hogs.