11 Women Chefs Dominating the Minneapolis Food Scene
Minneapolis restaurants are brimming with female talent, from James Beard finalists to other nationally acclaimed chefs.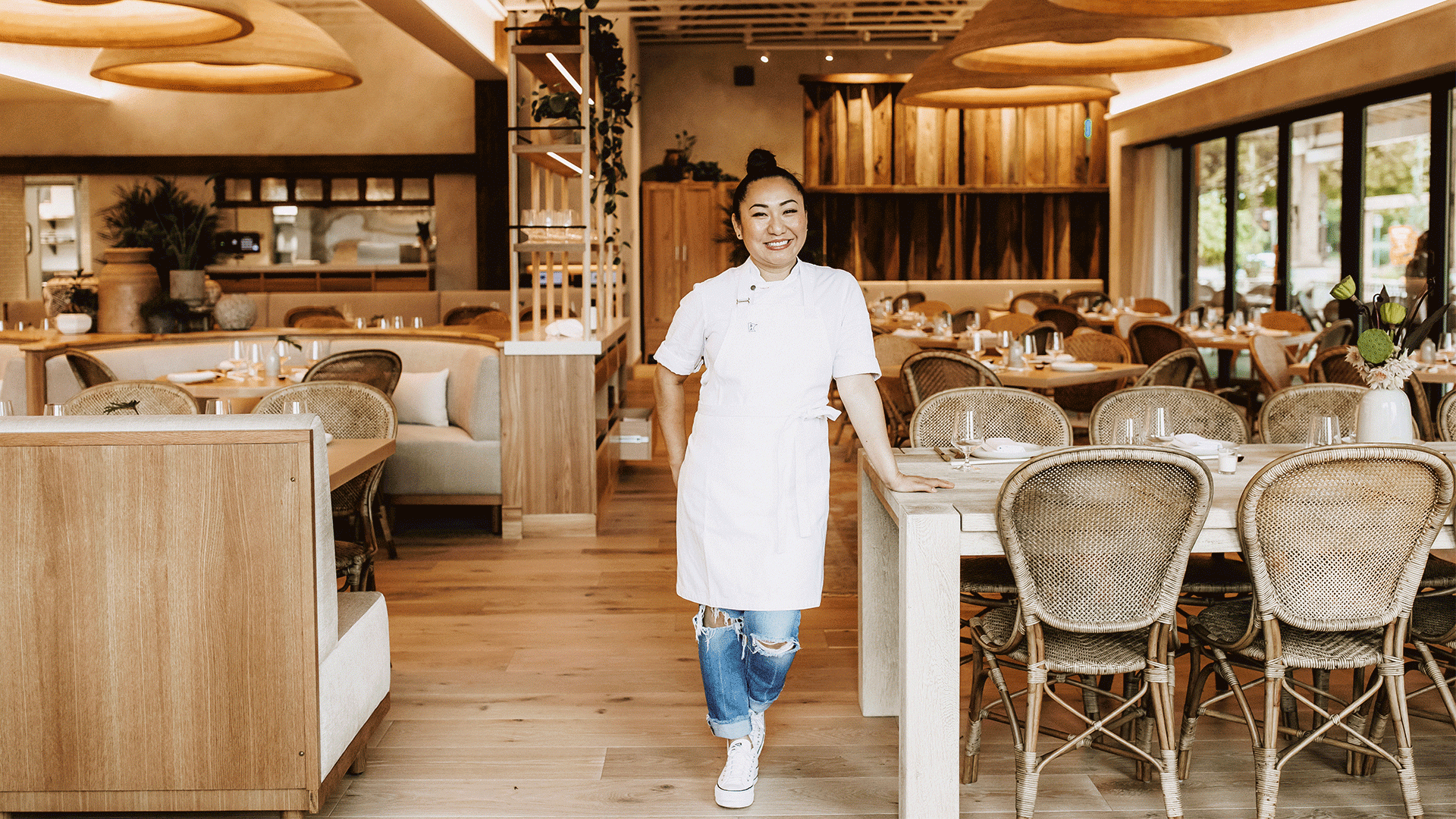 Our chefs aren't just cooks — they're designers, creators and artists. Our food scene has been defined by some of the incredible women chefs that have set the precedent for quality, taste and experience when it comes to dining in Minneapolis. Read up on these top female chefs and make your reservations pronto.
Ann Kim
Young Joni, Pizzeria Lola, Hello Pizza & Sooki & Mimi
Owner of Young Joni, Pizzeria Lola and Hello Pizza, Ann Kim has taken the Minneapolis pizza scene by storm. With the success of Pizzeria Lola and Hello Pizza, Kim decided to open a third space with more of a Korean influence, Young Joni. With her chewy, airy style of crust and toppings like her classic fennel sausage, sweet potatoes, preserved lemon, truffle, beef short ribs and nori, she re-imagines the art of pizza making. Recently she switched directions by opening Sooki & Mimi, a Mexican, Korean fusion that was on the New York Times list of American's favorite restaurants in 2021, and was featured in Netflix's "Chef's Table: Pizza" in 2022 . Even more testament to her success, Ann was named a semifinalist by James Beard Foundation for the 2018 & 2019 Best Chef: Midwest Award.
Shawn Mckenzie
Pastry chef Shawn Mckenzie has been making her mark on the Minneapolis' café and dining scene for a few years now. McKenzie came to the Minneapolis from Portland to develop the pastry program at Burch Steak. She then moved on to work at Penny's an artisanal coffee shop where her Middle Eastern flavored pastries became the main draw. When the Linden Hills Penny's location closed, Mckenzie took over the former space and opened the first Café Cerés and then another in the Armatage neighborhood soonafter. Her brilliance didn't stop there, she and good friend Chef Daniel Del Prado opened Cardmom at the Walker Art Center. McKenzie is a finalist for the 2023 James Beard Foundation's Outstanding Pastry Chef or Baker award.
Ann Ahmed
Khâluna, Lat14 & Gai Noi (coming soon)
When Ann Ahmed immigrated from Laos to Minneapolis to be closer to relatives, she would spend hours cooking alongside her grandmother in the kitchen and soaking up her grandmother's hospitality wisdom. This seeded her desire to open a restaurant. Ahmed ran a catering business out of her home with friends during college, and by age 25 she opened Lemon Grass Thai in Brooklyn Park, which she just closed to turn her attention to new ventures. Ahmed opened Khâluna (Lao for "please") late in 2021, and will open Gai Noi (named after a short grained rice used to make sticky rice) in Loring Park this summer. Khâluna transports visitors across the ocean with its colorful array of food and dreamy interior. The soft and beachy atmosphere and Lao dishes that Khâluna is known for provides a vacation right in South Minneapolis. Ann Ahmed filled the menu with her precise and imaginative Laotian cuisine, which contributed to her nomination as a semifinalist for James Beard Foundation award of Best Chef: Midwest.
Wendy Puckett
Wendy Puckett has been a chef for 30 years and has been serving up tasty soul food at Wendy's House of Soul in North Minneapolis since 2019. Her restaurant is known for her famous "Soulrolls," which first started as a way to trick her kids into eating vegetables. They're hand rolled fresh daily, feature a gluten-free egg roll wrap, and are filled with Wendy's homemade recipes. Puckett has worked with her sisters at Soulicious Catering in Minneapolis for many years, and pays it forward at her restaurant. She cooks up free meals for kids and if a customer doesn't have the cash, their meal is covered.

Christina Nguyen
Christina Nguyen always had an entrepreneurial interest, starting her own business when she was still in high school. She grew up cooking and always had a passion for good food, so she wanted to combine her knack for business with her creativity in the kitchen. Nguyen wanted to offer something that no one else was offering. That's when the Hola Arepa food truck was born. It didn't take long for people to start talking, and soon she had lines of people waiting for her Latin-style sandwiches. The success of the food truck led Nguyen to open a brick and mortar. She also opened the popular Northeast restaurant, Hai Hai, that focuses on Vietnamese street food, which is where her background lies. Nguyen was selected as a semifinalist for the 2023 James Beard Foundation's Best Chef: Midwest Award, which she was also nominated for in 2018, 2019, and 2020.
Carrie McCabe-Johnston
Nightingale, Tilt Pinball Bar, Mortimer's
Chef and owner of Nightingale, co-owner of Tilt Pinball Bar, Mortimer's and Dusty's, Carrie McCabe-Johnston brings some of the best late night food to the Minneapolis restaurant scene. She aims to make Nightingale a restaurant that works for both the casual burger and beer as well as the dressier date night outing. She blends a laid back vibe with upscale taste, and it doesn't hurt that the entire menu at Nightingale is available until 1 a.m. She brings the same approach to Tilt Pinball Bar, serving hot dogs with unique toppings like kimchi, melted gruyere and black olive mayo. She and her husband also took over Mortimer's and Dusty's, which they aim to keep as local neighborhood joints with their own added flare.

Diane Moua
Pasty Chef Diane Moua has worked at some of the best restaurants in Minneapolis, most recently with Bellecour Bakery. She attended school at Le Cordon Bleu where she became an expert at pastries and cakes. Interning under James Beard award-winning Chef Tim McKee at the four-star restaurant La Belle Vie, she eventually went on to help create dessert menus for top restaurants in Minneapolis such as, 112 Eatery and Bar La Grassa. Moua has created her own style of baking — simple with a purposeful balance of flavors that keeps people coming back for more — and plans to open her first solo venture soon that pays homage to her Hmong roots. Moua has been nominated for the James Beard Foundation's Outstanding Pastry Chef award multiple times.
Erica Strait
A graduate of both the Institute of Integrative Nutrition as well as culinary school in New York, Erica Strait has always aimed to combine her passion for health and cooking. After working in New York for a while and eventually making her way to Minneapolis to work under Chef Brenda Langton, she decided it was time to start a place of her own. Living in New York, falafel was a regular part of her diet. After moving to Minneapolis, she realized that the type of falafel she wanted just wasn't available. So she decided to create it herself. She started selling her falafel made from fresh, wholesome ingredients at local farmers markets, and they were a hit. She took the next step and started a food truck, and eventually added a small restaurant, as well.
Katherine Pardue and Lisa Neumann
Katherine Pardue and Lisa Neumann are the owners and chefs at Hark Cafe. The two friends began cooking together when Katherine (who is vegan) was diagnosed with celiac (Lisa was already a vegan)— and the two felt determined to create food that they both could eat and that was delicious. They're tenacious and tried many, many versions of each item until they were satisfied. Their frustrations and determination led to some absolutely outstanding dishes. Katherine's Sicilian heritage and creole/cajun influence from Louisiana, combined with Lisa's skills as a baker, have resulted in an array of appetizers, entrees, soups and salads, brunch items, bakery treats and pastries, even New York style bagels, and they all pair really well with their recently launched cocktail program.
Alexandra Motz
Alexandra Motz is the executive pastry chef at the trendy, talk-of-the-town restaurant, Spoon and Stable, located in the Warehouse District. Motz has been all over the Twin Cities restaurant scene working with other local chefs at La Belle Vie, Burch Steak, 112 Eatery, and Union Restaurant and Rooftop. Under the direction of Spoon and Stable's original pastry chef Diane Moua, she grew into her current role and now creates some of the most beautiful and artistic plated desserts in the city.

Lisa Carlson and Carrie Summer
Lisa Carlson and Carrie Summer are long-time staples in the Minneapolis food scene. Not only did they brought the city their famous Indian spiced donuts and BBQ flavors, but they've had a significant influence on shaping the Minneapolis cooking community. Notably, they helped pioneer the local Food Truck scene and elevated the art of BBQ smoking techniques, while simultaneously championing women chefs in the region. They sit on the advisory committees of the James Beard Foundation Women's Executive Leadership and the Women Chefs and Restaurateurs organization. They also appeared on the Food Network's "Beat Bobby Flay" and Carlson even went head-to-head against the celebrity chef. After all their success the two chefs are now focusing on private events for their Chef Shack Ranch Minneapolis location, serving up tasty street food dishes, catering style.
More Articles You'll Like: