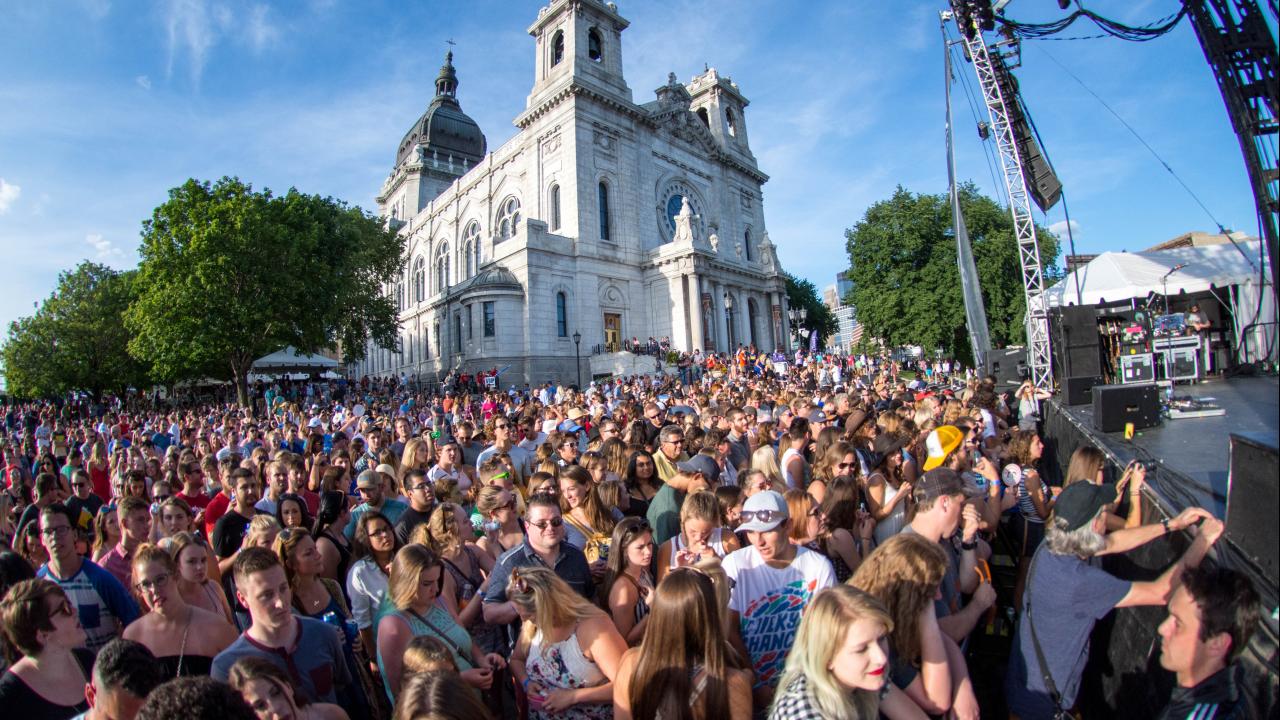 Food and Hotels near the Basilica Block Party
Mark your calendars for the Basilica Block Party on July 7 & 8! The two-day music festival is held on the lovely front steps of the Basilica of St. Mary. To satisfy your way-finding needs, we've compiled a list of all the best food and hotels within walking distance of the Basilica. All you have to do is book your stay, and allow our list help you do the walking.
Where to Find our Favorite Food Near the Party
Fuel up at The Bird! This new, trendy spot combines healthy eats with incredible flavor. Try their nutritious smoothies and fresh squeezed juice, or go for their quinoa pancakes for something heartier. Looking to get the party started early? They offer bottomless bloody marys and mimosas with breakfast and lunch.
Put this foodie hot spot on your list! The trendy, urban eatery has both a café for a fabulous sit-down dinner, and a bar for hanging out with a couple of craft cocktails. Indulge in upscale American comfort food and wash it down with a cold beverage.
Incredibly fresh seafood and a bit of southern charm make 4Bells an award-winning Minneapolis restaurant. They overnight their seafood directly from the coasts and serve local fish from Minnesota rivers and lakes. The quality cannot be beat. Prefer to stay on land? Try their amazing fried chicken! For a quick bite, head to their walk-up window in the back alley for some incredible southern food and a few beers.
A trip to Minneapolis just wouldn't be the same without experiencing our incredible craft beer scene. Luckily, Lakes and Legends is only a few blocks away so you can dive right in whenever the mood strikes. The beer is incredible, the space is beautiful, and they even offer games. It's the perfect hangout spot to relax and have a couple brews before the block party!
Another great Minneapolis brewery, Sisyphus, offers several unique flavors. Try their Banana Boss, Peanut Butter Stout or Is That A Cucumber In Your Pils? They often have food trucks, or you can bring in your own food! Perhaps 4Bells fried chicken…?
A summer favorite, Butcher and the Boar is the perfect spot to sit outside, have a few drinks and indulge in some top-notch eats. Head out to their beer garden for one of the best patios downtown. Be sure to try one of their sausages and for a little extra fun, get their brat + beer + shot deal for only $12.
---
Find a Hotel Near the Action
Stay at the Hyatt Regency for a contemporary feel with a prime downtown location! Catch views of the Minneapolis skyline and Loring Park. Less than a mile from the Basilica.
The Millennium Minneapolis is a luxury hotel that's both elegant and inviting. Located on Nicollet Mall, it's just blocks from Loring Park and the Basilica of St. Mary.
Superb service, top amenities and a beautiful interior are just a few of the perks of staying at the Hilton. Less than a mile from the Basilica.
Have a memorable experience at Hotel Ivy, located in the historic Ivy Tower building. Beautiful décor, luxurious rooms, a fitness club and a spa will make your stay unforgettable. Less than a mile from the Basilica.
With over 200 contemporary and original artworks, Le Meridian Chambers aims to bring the community together through art. They've partnered with the Walker Art Center to provide their guests with free access to the museum. Half mile from the Basilica.
Connected to the breathtaking Foshay Tower, W Minneapolis The Foshay provides luxury accommodations in a beautiful, historic setting. Less than a mile from the Basilica.
---
Book your Hotel