Minneapolis Convention Center Recognized for Achievement of Sustainability
MCC Earns Gold Certification for Events Industry Council Sustainable Event Standards
Minneapolis (April 20, 2023) – Today, the Minneapolis Convention Center (MCC) announced that it has achieved Gold Level certification for the Events Industry Council (EIC) Sustainable Event Standards.

The EIC Sustainable Event Standards are specific standards for environmental and social responsibility within the events industry. Created by the EIC Sustainability Committee in partnership with industry professionals and leading sustainability practitioners, the requirements provide event planners and suppliers with prescriptive actions for producing and delivering sustainable events.

"This is great news for the Minneapolis Convention Center and all of us working to make Minneapolis the sustainable destination choice for meeting and event planners," said Jeff Johnson, MCC Executive Director. "Achieving this not only recognizes our industry-leading sustainability efforts, but also provides a roadmap for measuring and improving our sustainable event programs on an ongoing basis."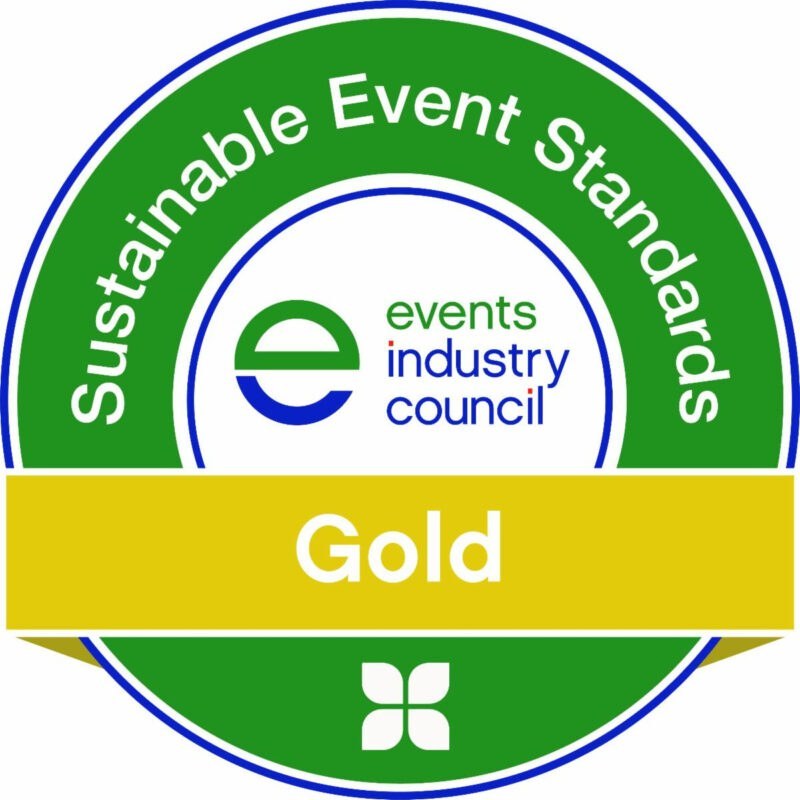 In addition to its EIC certification, previous sustainability recognition for the MCC includes:

Leader in Sustainability by the EIC
LEED v4 Certification for Existing Building Operations and Maintenance
Silver certification under the Sustainable SITES Initiative rating system for achievement in landscape sustainability for the redesigned MCC Plaza – the nation's first SITES certified project to be located at a convention center and the first ever SITES certified project in the Upper Midwest
The MCC is a proud and proven industry leader in sustainability. Highlights include:

A stormwater catchment system that annually prevents up to 5 million gallons of rainwater runoff from entering the Mississippi River by redirecting it to an underground storage system used for the facility's irrigation
More than 2,600 solar panels on the MCC's rooftop which supply 5% of the 100% renewable energy used – the other remaining 95% comes from Xcel Energy's locally sourced wind and solar energy
The 2.5-acre MCC Plaza, downtown Minneapolis' most sustainable public green space, built on top of an underground parking deck and features an urban meadow planted with native tree, wildflower and prairie grass species to create downtown's largest pollinator refuge
"We are delighted to see a major facility such as Minneapolis Convention Center continue its commitment to sustainability," said Amy Calvert, EIC CEO. "This certification demonstrates a strong commitment to the environmentally and socially responsible practices that are needed to support long-term sustainability in our industry."

The EIC Sustainable Event Standards specify performance criteria in the areas of organizational management, marketing, communications and engagement, climate action, water management, materials and circularity, supply chain management, diversity, equity and inclusion, accessibility and social impact.

BPA iCompli Sustainability, a division of BPA Worldwide, a nonprofit international auditing organization headquartered in Shelton, Conn., developed the certification protocols for EIC Sustainable Event Standards and performed the independent third-party certification of the MCC's compliance with the Venue standard.

"Our certification to the event sustainability standards created by EIC, and now adopted by the Minneapolis Convention Center, continues our long-standing commitment to promote transparency in the events industry," noted Richard Murphy, President and CEO of BPA Worldwide.

For more information on the MCC's sustainability initiatives, visit www.minneapolis.org/minneapolis-convention-center/about/sustainability/.

###

ABOUT THE MINNEAPOLIS CONVENTION CENTER
The Minneapolis Convention Center (MCC) is owned by the City of Minneapolis and marketed through Meet Minneapolis. The 1.6 million square foot facility features 475,000 square feet of exhibit space, a 3,400 fixed-seat auditorium, 87 meeting rooms and two ballrooms. The MCC works to serve its constituencies and stakeholders as the face of Minneapolis to visitors and has been GBAC STAR, LEED, SITES and EIC certified. Learn more about the MCC
here
.
ABOUT THE EVENTS INDUSTRY COUNCIL

The Events Industry Council's more than 30 member organizations represent over 103,500 individuals and 19,500 firms and properties involved in the events industry. The Events Industry Council's vision is to be the global champion for event professionals and event industry excellence. It promotes high standards and professionalism in the events industry with the Certified Meeting Professional (CMP) program and signature program activities. The CMP credential is recognized globally as the badge of excellence in the events industry. The qualifications for certification are based on professional experience, education and a rigorous exam. The four signature programs – Sustainability and Social Impact, Accepted Practices Exchange (APEX), Knowledge and Leadership – represent the key initiatives, assets, services and products for the Events Industry Council. Learn more at
www.eventscouncil.org
.
ABOUT BPA ICOMPLI SUSTAINABILITY
BPA iCompli Sustainability, a division of BPA Worldwide, is a not-for-profit auditing organization established in 1931 to audit audience metrics for publishers, advertisers and their agencies. Today, BPA's audit services have expanded to include external assurance of government and industry standards and independent verification of technology and service claims. BPA iCompli Sustainability provides third-party certification to Events Industry Council's (EIC) Sustainable Events Standards (SES), sustainability framework services, and verification of sustainability data including GHG emissions, waste diversion, water withdrawal, safety performance and more. Learn more at
www.bpaww.com
.
MEDIA CONTACT
Kevin Kurtt, PR Manager, o 612-767-8118, c 952-288-9319,
KevinK@minneapolis.org
Kathy McCarthy, Senior PR Director, o 612-767-8048, c 612-508-9720, KathyM@minneapolis.org