Medtronic Twin Cities Marathon Guide
It's time for the Medtronic Twin Cities Marathon! Known as the "Most Beautiful Urban Marathon in America®" this is a can't miss event for many runners. The 26.2 mile race is one of the top 10 largest marathons in the United States. Whether you're there to participate or just cheer on the runners, marathon weekend in the Twin Cities is full of fun events and spectacular fall seasonal views. We've put together all the things you need to know to make it a memorable experience!
General Race Information

When: Weekend of September 30 - October 1, 2023
Events:

What's the Marathon Route?

The Medtronic Twin Cities Marathon starts at U.S. Bank stadium in Minneapolis and ends in St. Paul at the Minnesota State Capitol. The scenic course winds its way through downtown districts, along Twin Cities parkways, neighborhoods and popular Minneapolis lakes (including Lake of the Isles, Bde Maka Ska, Lake Harriet, and Lake Nokomis) then runs along the banks of the Mississippi river, giving runners and spectators a gorgeous view of the fall colors.

*Note: Course map is subject to change and may be updated a few days before the Marathon.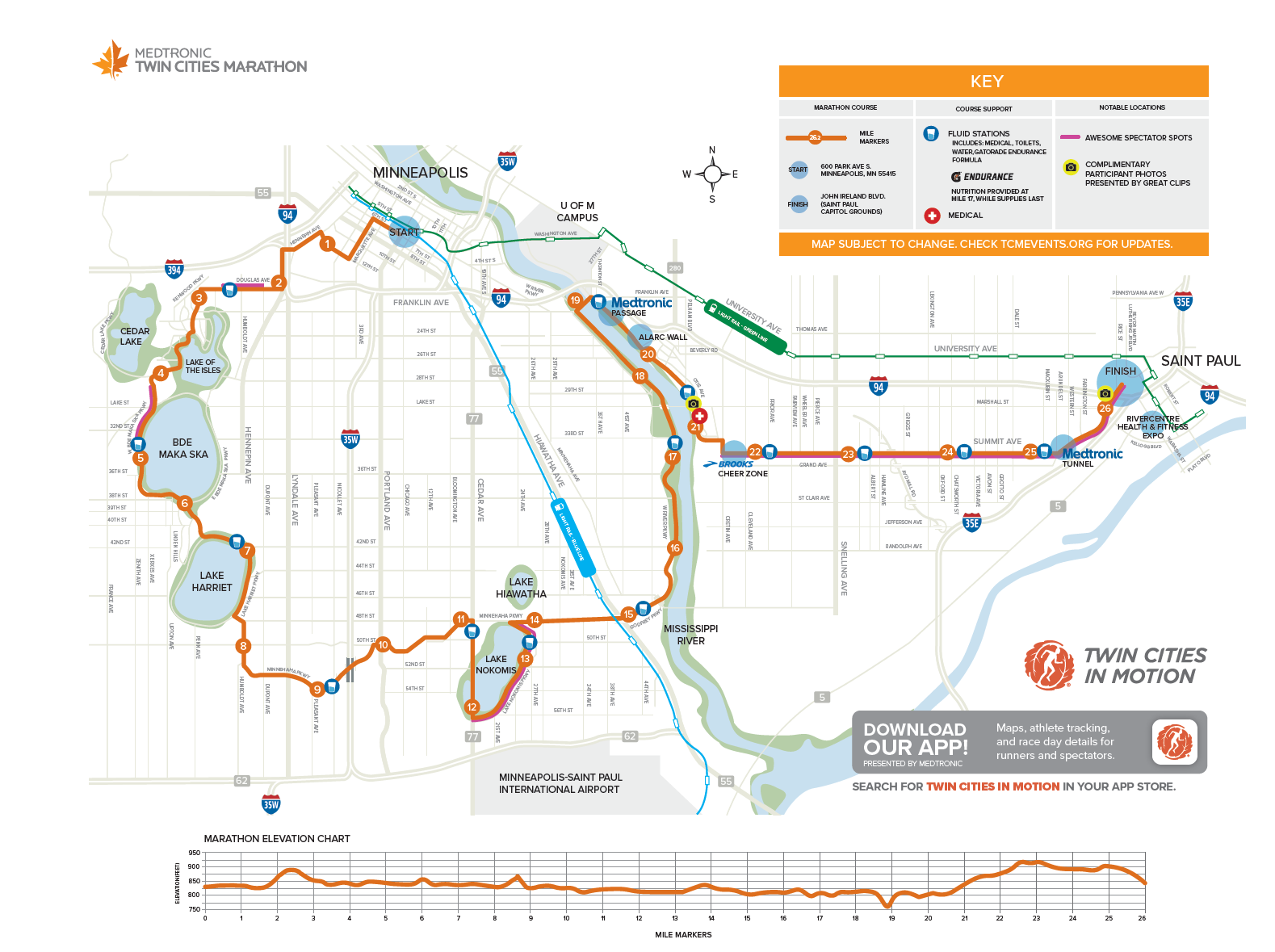 How to Track the Runners

Download the Marathon Weekend App free on iTunes and Google Play for participant tracking and more. Once in the app, just search the name of the runner you want to track!
How to Get Around/Parking Information

The METRO Green Line gets you to both the start of the marathon and the finish line. Begin at U.S. Bank Stadium Station and end at Capitol/Rice Street Station.

Parking along the course will most likely be within Minneapolis neighborhoods and on the street, but be sure to lookout for road closures around the area.
Where to Carbo Load

Maybe you're prepping for the race or are just really hungry. Either way we've got a few stops for you to load up on those carbs pre-race day.
Best Places to Watch the Marathon

Food Spots Along the Route
Want to grab a bite before meeting the racers at the finish line? We have few places you should check out nearby the race route:

Breakfast/Brunch
Hell's Kitchen: Downtown Minneapolis restaurant serving local favorites for breakfast, lunch, dinner.
Where: Near the Start Line, Downtown Minneapolis
Urban Eatery: Hip spot with lake views serving fresh & locally sourced menu items.
Where: Near Mile Marker 4 & 5, Bde Maka Ska
Hot Plate: Quirky, family-friendly spot offering artisanal twists on hearty American breakfast fare.
Where: Near Mile Marker 12, Lake Nokomis
Mel-O-Glaze: Neighborhood bakeshop known for their glazed donuts & other sweet treats.
Where: Near Mile Marker 14, Lake Nokomis
Lunch

Cardamom: Restaurant overlooking the Minneapolis Sculpture Garden that introduces visitors to delicious cuisine influenced by the Aegean and Mediterranean seas.
Where: Near Mile Marker 1 & 2, Loring Park
Wakame Sushi: Casual Japanese sushi & Thai eatery.
Where: Near Mile Marker 4 & 5, Bde Maka Ska
Martina: Popular restaurant that puts a modern spin on Argentinian food & craft cocktails.
Where: Near Mile Marker 6, Lake Harriet
Naviya's Thai Kitchen: A neighborhood gem with creative takes on classic Thai cuisine
Where: Near Mile Marker 6, Lake Harriet
Tilia: Sophisticated neighborhood bistro offering creative New American plates, brunch & craft beers.
Where: Near Mile Marker 6, Lake Harriet
Italian Eatery: Conveniently located eatery nestled amidst the lakes of South Minneapolis that offers modern Italian food, wine & cocktails.
Where: Near Mile Marker 11, Lake Nokomis
Fat Lorenzo: Neighborhood Italian joint offering pizza, pasta, hoagies & gelato.
Where: Near Mile Marker 12, Lake Nokomis
Fun Ways to See Minneapolis During Marathon Weekend