Seward
Small Town Vibes in the Big City
One of Minneapolis' oldest neighborhoods, Seward has a small town feel, surrounded by the big city. It is simultaneously hip and laid back, boasting vibrant arts, great restaurants, and plenty of fun. Bordered by the natural beauty of the Mississippi River with miles of scenic bike trails, Seward is a well-known destination for those who choose to bike, scooter, or even walk from Downtown.
Things to Do
World-class, first-run plays can be seen at the internationally acclaimed Playwrights' Center where visitors are welcome year round to a series of free readings and workshops through the their PlayLabs festival, one of the nation's most comprehensive play development programs.
Ready for retro fun? Memory Lanes offers a state-of-the-art facility with 30 bowling lanes, a full-service bar and restaurant featuring pizzas, sandwiches, burgers, tacos, and other favorites along with a full bar, live music, 29 LCD screens, two outdoor sand volleyball courts, darts, and arcade games. For live music, head to Cabooze, featuring music artists ranging from up-and-coming, buzz-worthy acts to groups on nostalgia tours.
Looking to get active? Visitors can enjoy cycling, running, or walking along the Mississippi River's scenic East River Road that forms Seward's eastern border. To work up a sweat with community, Solcana Fitness offers queer-friendly, social-justice minded, feminist workouts designed for folks of all fitness levels and backgrounds. Visitors to the area can check online for a drop in schedule.
For a peaceful cool down, Common Ground Meditation Center offers a number of mindfulness classes, retreats, courses, workshops and lectures, all open to the public with drop-in options, as does Big River Yoga, a locally owned studio offering studio classes, outdoor classes, online sessions, and massages.
Where to Eat and Drink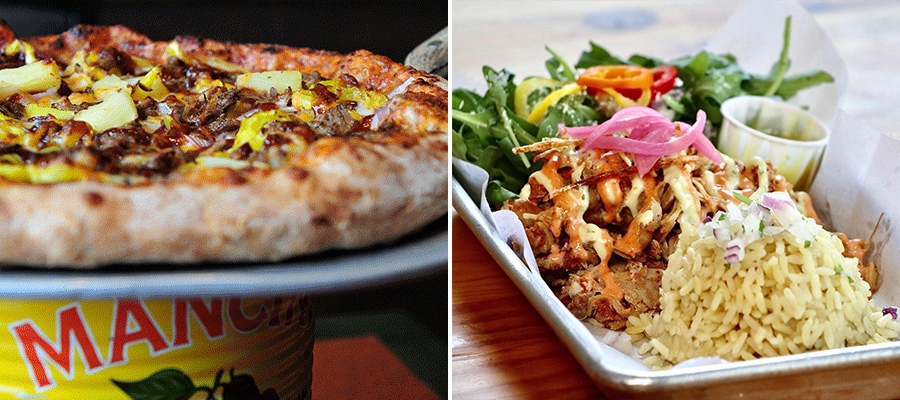 Café Racer Kitchen serves up Colombian street food for all, accommodating any special dietary needs. Café Racer also offers free-of-cost Break Bread meals for neighbors in need, making it a treasure to the community.
Franklin Avenue, Seward's main drag, features Pizza Luce, Minneapolis' most original pizza parlor, serving up great pies and an astonishing signature Artichoke Dip (a must have pre-pizza teaser). For a true old timey neighborhood happy hour, Tracy's Saloon down the street boasts a scratch kitchen that redefines bar food. Strike up a conversation with the local regulars and get a true neighborhood feel.

Where to Shop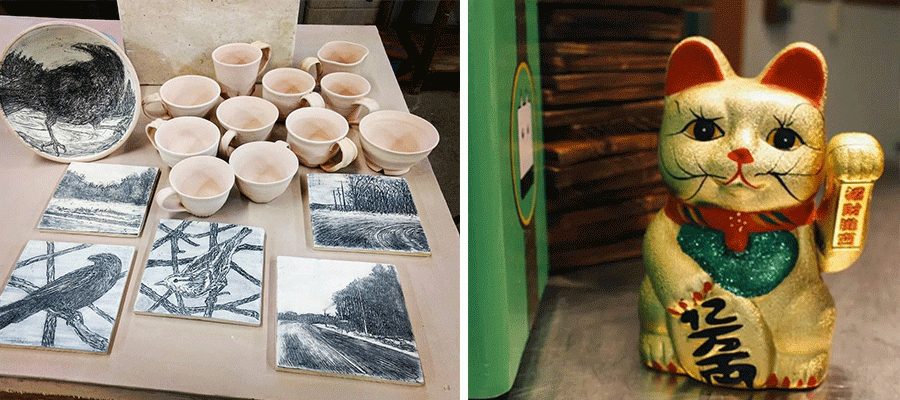 Northern Clay Center is a place both to shop and to do! With its curated sales gallery, a visit can yield a purchase of high-end, original ceramic art at prices that are sure to please. While browsing the store, guests can also take in one of several annual exhibits featuring a complete range of work in clay. Any visit is enhanced by taking a class or enjoying a guided tour of the artists' studios. Galleries are open 7 days a week! (For even more creativity, check out the list of classes at Twin Cities Maker—a community hub for woodworking, metalworking, 3D printing, leather crafts, and laser cutting.)
Perhaps the best known shopping destination in the 'hood is United Noodles, a 15,000 square foot pan-Asian grocery store chocked full of any product imaginable from China, Japan, Korea, Thailand, India, and more! United Noodle's best kept secret? The to-die for ramen, BBQ pork, and specialties from the attached Unideli. Of course any trip to Seward should begin or end by stopping in flagship of the neighborhood, the Seward Community Co-op. This member-owned enterprise is the real McCoy, featuring exceptional locally sourced grocery, cheese, bakery, produce, deli and homemade prepared foods, as well as unique home and gift selections.
Getting to and Around Seward
(Starting Point: Meet Minneapolis Visitor Center)

From downtown it is possible to bike, run, scooter or walk to East River Road for a healthy trek. The Blue Line Franklin Avenue Station is the most convenient stop, although the neighborhood is spread out, so be prepared to walk quite a few blocks – or catch a amply available ride shares. Bus lines include the 2, 9, 22 and 67.
Public Transit Routes:
Metro Blue Line
Route 2
Route 9
Route 22
Route 67