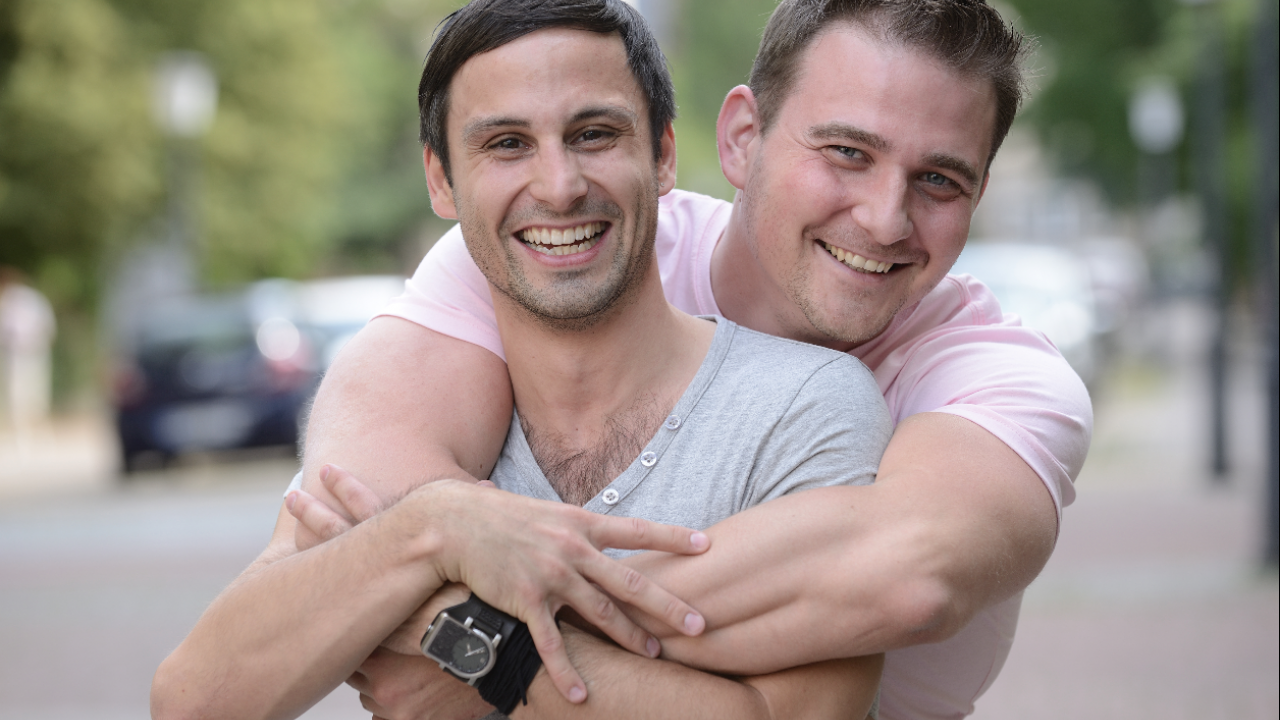 Same-Sex Marriage
Marriage is a beautiful thing. It's more than the photos, the clothes, the rings. It's about what marriage stands for. The unbreakable bond between two people. Two words, "I do," spoken as eternal promise to stand by the one you truly love and face the twists and turns of life together. Marriage, in essence, is the joining of two lives.
For so long, this ceremonious act was only available to the matrimony of a man and a woman. But now this formal symbol of unwavering dedication and affection is open for all in Minnesota.
Same-sex marriage is legal in Minnesota, and surely you'll have questions on how to go about planning a wedding. The good news is, everyone has these questions, and we've been answering them with unmatched professional class for over 14 years. Read on to see how we can help you plan your special day.
---
Our Services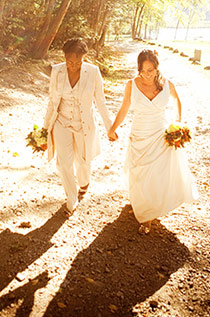 No matter where, when and how your wedding occurs, everyone has to plan the wedding. Planning is the great equalizer, because everybody feels the same stress when the hotel doesn't have enough rooms and the caterer bailed out last minute. There's a lot that goes into planning a wedding, and first-time couples can sometimes feel overwhelmed with all the logistics.
Fortunately, you don't have to feel that stress anymore. We can find everything for you. And we do it for free.
Free? Yes, free. Our job is to make weddings happen in Minneapolis, so you benefit from our years and years of insider expertise for no charge. We take the services you need, send them out to local businesses, they compete for you and your business, and we come back with the best prices you won't find anywhere else. Look at what services we can find for you:
Entertainers/Booking Agents
Hotels and Venues
Florists
Formalwear
Caterers
Photographers
Professional Driving Services
Event Planning / Wedding Planner
Decoration / Equipment Rental
Salon / Spas
Did you even realize you needed all these services just for a wedding? Most people are usually surprised, but that's why we're here to help. All you have to do is fill out our free Wedding Services Consultation Form.
It takes a couple minutes to fill out, but won't it be worth it when you can let someone else do all the heavy lifting of planning the logistics of your wedding? Hundreds of satisfied couples who have filled out this very form agree, and you'll find that a couple minutes now will save you countless hours down the road.
---
Meet the Couples
On August 1st, 2013 history was made as the first same-sex couples married at midnight in Minneapolis. Find out more about the couples and this historic event here.
---
Testimonials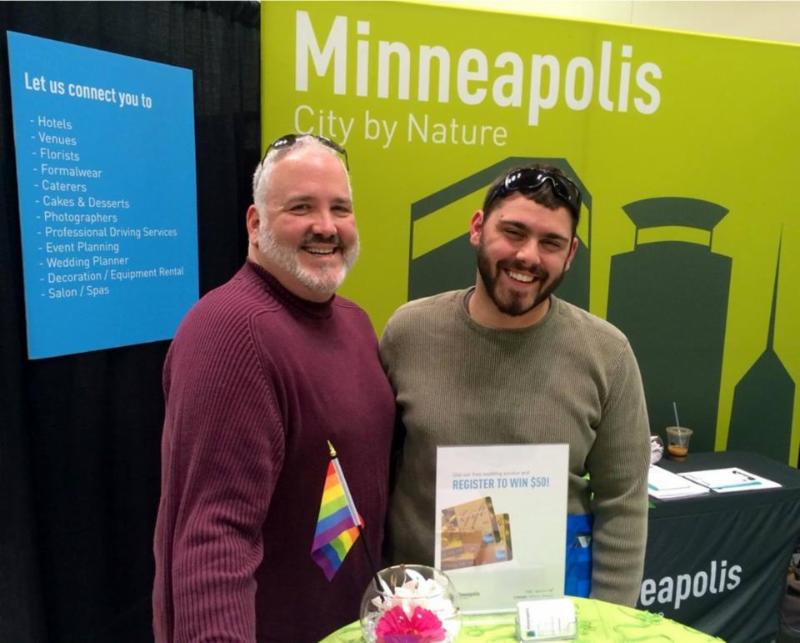 As a same-sex couple, we never thought growing up that we'd be able to wed the person we loved - so when our home state embraced marriage last year, we found ourselves at a bit of a loss. Where in the world does a person start with the process of planning a wedding?
Amidst the many accommodating and friendly folks at the Wedding Fair, Janet Elkins with Meet Minneapolis, the Convention and Visitors Association was a particularly helpful and competent representative of the quality of your members. We look forward to working with her.

Again, thanks for an enlightening and enjoyable afternoon. We would recommend attending The Wedding Fair to anyone planning their own event, regardless of whether they are same-sex, or not. They won't be disappointed!

-Kevin O. and Mark W.
----------
I just wanted to let you know that Beth and I did get married this past weekend (Sat., Jan. 18) in Minneapolis. Thank you for all of your help and suggestions. We had our ceremony and dinner celebration at The Marin. Tara there is very helpful. It was a great location. We stayed at The Grand Hotel and it was also a great location. We were so pleased. Love really is the law in Minnesota and it was evident by how much so many people embraced our marriage. Thanks again!

-Cynthia & Beth N.-K.
---
Things To Know
Minneapolis is excited to finally host your same-sex marriage, as we have always been one of the most heralded LGBT communities in the nation. Here are some frequently-asked questions that you'll find useful:
When can I get married?
The bill went in to effect in Minnesota on August 1, 2013. Marriage license applications for same-sex couples are available in Hennepin, Washington and Ramsey counties. A marriage license obtained in one county is good anywhere in Minnesota. Check with your local service center for additional details. After applying for a marriage license, you must wait the mandatory five (5) days.
How do I apply for a marriage license?
The Hennepin County marriage license webpage has everything you need in terms of information on how to apply for a marriage license. They address how to apply, what to bring, the fee and any additional information that you'll find helpful.
Where can I file my marriage license?
Once you fill out your mariage license, you can go to any one of the following service centers in Hennepin County:
Brookdale Service Center
6125 Shingle Creek Parkway
Brooklyn Center, MN 55430
Hours: M-F (9 a.m. to 6 p.m.), Saturday (9 a.m. to 2 p.m.)
Government Center Service Center
300 South 6th St
A Level, Suite A025
Minneapolis, MN 55487
Hours: M-F (7:30 a.m. to 4:30 p.m.)
Maple Grove Service Center
9325 Upland Lane North
Maple Grove, MN 55369
Hours: Monday (8 a.m. to 7 p.m.) Tu-Th (8 a.m. to 5 p.m.) Friday (8 a.m. to 4 p.m.)
Midtown Exchange Service Center Lower Level (Greenway)
2929 Chicago Ave S
Minneapolis, MN 55407
Hours: M-F (9 a.m. to 6 p.m.)
Ridgedale Service Center
12601 Ridgedale Drive
Minnetonka, MN 55343
Hours: M-F (9 a.m. to 6 p.m.) Saturday (9 a.m. to 2 p.m.)
Southdale Service Center
7009 York Avenue South
Edina, MN 55435
Hours: M-F (9 a.m. to 6 p.m.) Saturday (9 a.m. to 2 p.m.)
University of Minnesota Service Center
Coffman Memorial Union
Ground floor near the Great Hall
300 Washington Ave SE
Minneapolis, MN 55455-0110
Hours: Wednesday (10 a.m. to 2 p.m.)
Can I get married in Minneapolis if I don't live here?
Of course. Anyone from any state or country can come to Minneapolis to be wed.
Can my spouse and I get married in Minneapolis if we were already married somewhere else?
No. However, while you are unable to be remarried to the same person, your marriage license from another state or country will be legally recognized as valid in Minnesota. You can have a ceremony and celebration, but you can't apply for a second marriage license.
Are there any differences in the marriage process between same-sex and opposite-sex couples?
No. The process is the same between the two marriages.
Can we choose to be domestic partners instead of getting married?
Yes, you can still choose to be domestic partners. However, domestic partners receive a smaller set of rights than married couples.
Where can we get married?
Anywhere. And, we've got a list of unique venues that we're sure you'll love.
Updated 7/1/2015