All the Things to do at Midtown Global Market
One of the most unique things to do in Minneapolis is to explore the bustling stalls of food and crafts at Midtown Global Market. Located right in the heart of the East Lake Street neighborhood, the market is a vibrant reflection of Lake Street's cultural diversity and draws over 1.5 million visitors each year. You don't need to travel far to enjoy the flavors, sounds and art of over 20 different cultures.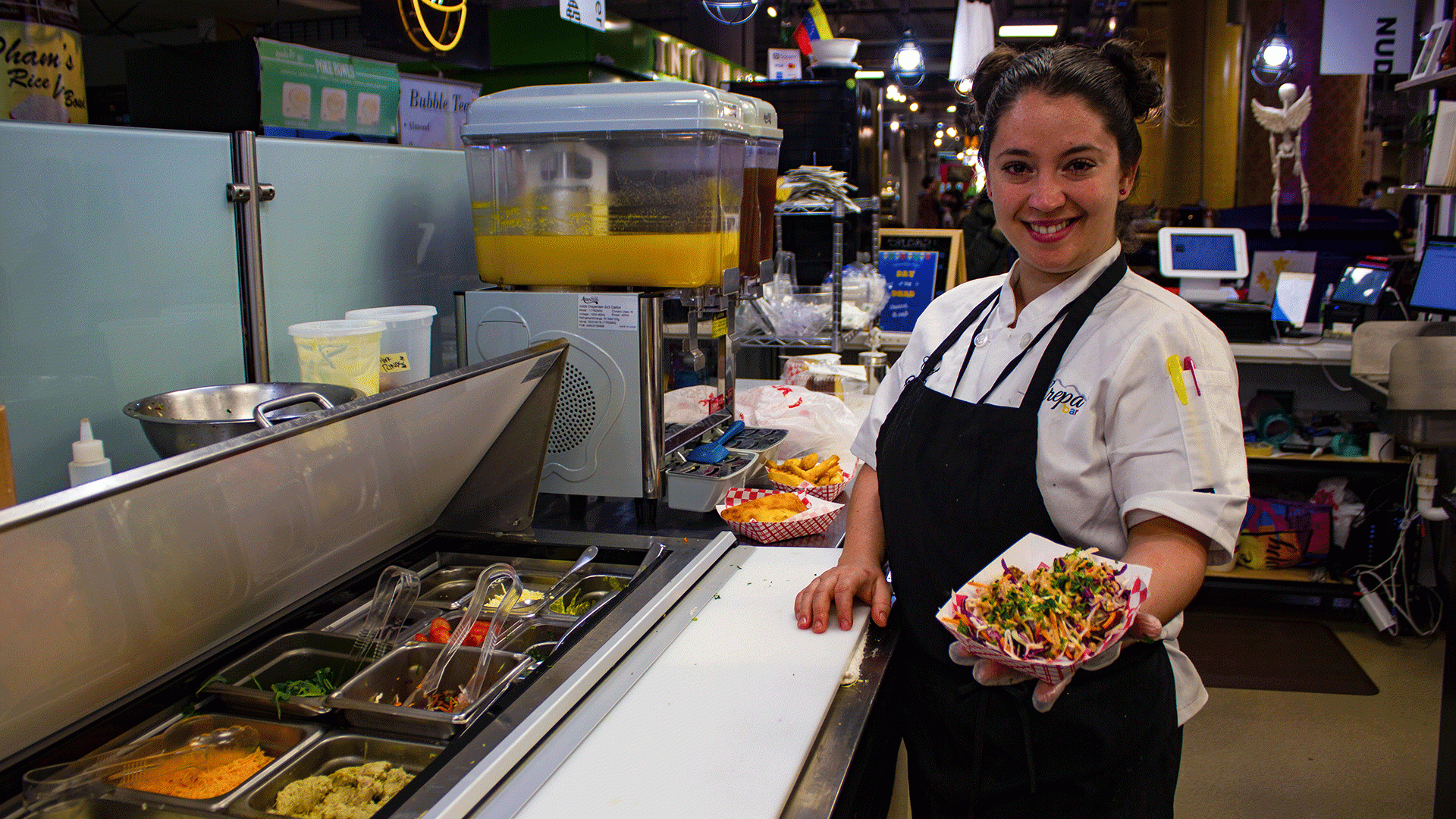 It all started with the vacant Sears building and a passion for community...
It was the early 2000s…and the old Sears building on Lake Street had been vacant for almost a decade. The City of Minneapolis searched for a use of the space and considered tearing it down, but neighbors and local business owners convinced city officials to save the historic site and make it into something to reflect the diversity and energy of Lake Street and Midtown, not a big-name retailer that would drive business away from locals. Midtown Global Market took shape through the intense efforts of a wide range of people – entrepreneurs, community organizations, the City of Minneapolis and donors – to become what it is today: a vibrant economic and cultural center and global experience home to over 45 businesses.

Wondering what exactly there is to do inside of Midtown Global Market? So. Much.
1. Embark on a world-wide culinary food tour

With 17 food stalls serving up food from all over the world, you'll likely find something you haven't tried before. Maybe you're in the mood for sushi or other Asian flavors? In that case, try Intown Sushi or Pham's Rice Bowl. Or maybe Venezuelan cuisine will satisfy your cravings. Arepa Bar has some of the best arepas, empanadas and tropical juices in town. Moroccan Flavors is known for their authentic Moroccan sandwiches, Mediterranean salads and tagine, a stew-like dish cooked in the traditional ceramic tagine cookware. If you're in the mood for flavors closer to home, we recommend Soul to Soul Smoke House. They serve up fall-off-the-bone-tender meats and have 25 years' experience of satisfying customers with soul-soothing cooking.
2. Shop 'till you drop
Like the food scene inside the market, you can find arts, crafts and goods sourced directly from the hands of artisans from multiple different countries. Dar Medina carries traditionally crafted Moroccan home goods, rugs, textile and leather goods. You will find East African clothing, jewelry and accessories at Zahra Fashion, Tibet Arts & Gifts introduces shoppers to art pieces from the Himalayas, and the Art Shoppe is a collective of local Minnesota artists that make a variety of creations. There are also two food markets inside. You can find high quality groceries – like sauces, grains and spices – from East Africa and the Middle East at Oasis Market & Deli, or you could order a sandwich or kabob from their deli. And at the Produce Exchange, you can shop farmer's market style for natural and organic groceries, seasonal produce specialties, refreshments and fruits and veggies sourced both locally and globally.
3. Get your brows done
Yes, you read that right. In between eating and shopping or before you go, wander over to Leila's Brow Art – an affordable salon specializing in the threading technique, where cotton thread is used to remove stray eyebrow hairs. Most say it's easy and painless!
4. Grab an ethical cup of coffee
The hustle and bustle of the market can be a lot to take in. If you need a pick-me up, Mapps Coffee & Tea has a cozy coffee-shop atmosphere perfect for relaxing or people-watching while enjoying the aroma of the coffee-roaster and your cup of joe. Their coffee is globally sourced, organic and Fair Trade and is roasted in-house at Midtown Global Market. The pastries on the menu are delicious, too!
5. Learn about Indigenous food systems
North American Traditional Indigenous Food Systems (NĀTIFS), founded by James Beard award winners The Sioux Chef, addresses economic and health crises affecting Native communities by re-establishing Native foodways. The organization runs the Indigenous Food Lab inside the Midtown Global Market, a professional Indigenous kitchen, training center, market and kitchen. Shop the market, which has everything from Red Lake Nation wild rice and frozen bison, to handmade beaded earrings and soaps made from native plants, then order something to eat! Indigenous Food Lab only uses foods indigenous to North America, so no flour, dairy, pork, chicken, white sugar, or anything brought by colonizers. Try the tacos, the Indigenous grain bowl, or čhoǧ íŋyapi, something like an open-faced corn sandwich.
6. Get your groove on
Bring your dancing shoes for bi-monthly Sunday morning salsa lessons (11 am-noon) with Rene Thompson of Rene's Latin Dance & Music Studio! Classes are beginner-friendly, free and, most importantly, a lot of fun. Upcoming class dates are scheduled through the end of the year.
7. Listen to live music
Most Fridays from 5 to 7 pm and Saturdays from noon to 2 pm, Midtown Global Market hosts live music at its Center Stage featuring local musicians and songwriters. Visit any of the numerous food vendors around to make it a dinner and a show.
8. Bring the kids to a Family Friday
A couple of times a month, Midtown Global Market hosts Family Fridays. Each one focuses on an upcoming holiday or features a new guest, like a storyteller, choir, author or musician. They're usually from 5 to 7 pm and feature free entertainment, food, crafts and more. Make sure to check their website for specific programming dates before you go.
9. Attend a themed event
Midtown Global Market frequently hosts fun events to celebrate cultural holidays, like Dia De Los Muertos, Kwanzaa, Diwali and lots more. Also keep an eye out for holiday markets in the colder months, trick-or-treating throughout the market for Halloween, Juneteenth celebrations and annual events like Midtown Global Market's chili cookoff. Each event is family friendly and usually free. Upcoming events are posted on Midtown Global Market's website and Facebook page.
How to Get There & Parking
Midtown Global Market is open Monday-Saturday, 10 am to 8 pm, and 11 am to 6 pm on Sunday. Each vendor might have varied hours, so check the directory before you to go make sure the vendors you have your eye on are open.
From downtown, getting to Midtown Global Market by car takes between 15 and 25 minutes. Metered street parking is available by the market, but customers can park for free in the ramp on 10th street for one hour. Just show your parking ticket to any vendor inside and get a free 1-hour parking voucher.
Midtown Global Market is also easy to get to on public transit. A variety of Metro Transit buses run from downtown to points along Lake Street, including Route 4, Route 5, Route 9, Route 14, and the Light Rail Blue Line. Then, you can hop on Route 21, which travels east and west and runs every 6-9 minutes, to the market.