Where to Find the Best Fall Foods in Minneapolis
One of the best things about fall in Minneapolis? The food. Some of these flavors only make an appearance during this time of year, and we're taking advantage. Think pumpkin, apple, chai, squash, and even poached pears. From cozy comfort foods to sweet treats, here are our favorite fall menu items in Minneapolis.
Last updated on 10/21/22. This page will be updated as seasonal menu items are released.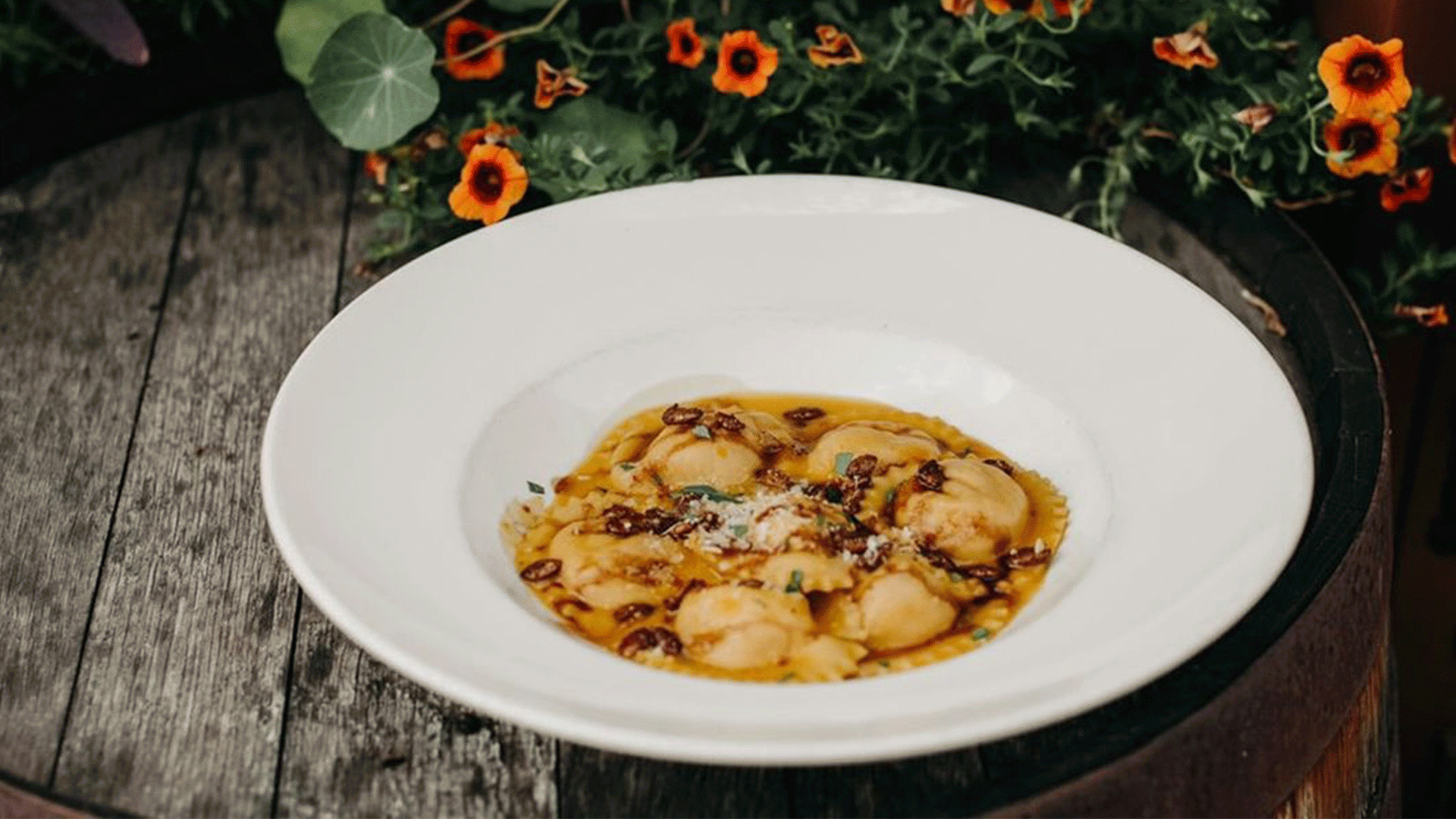 Petit Pan Squash Risotto from Barbette
Barbette has all of the cozy vibes we're looking for this fall. We couldn't pass up the petit pan squash risotto, complete with sunburst squash, baby zucchini, spinach, preserved lemon, ricotta salata. Order it with a side of their perfectly-cooked fries and you won't be sorry.
Wild rice is native to Minnesota and is an important social and cultural component for Native American tribes and rural Minnesota communities. Minnesotans find a number of uses for the hearty grain - we put it in soups, in brats, in casseroles, and in our salads. Hazel's, a great neighborhood joint in Northeast Minneapolis, has found a way to make it work in gumbo. The wild rice gumbo at Hazel's offers Minnesota twist on this Creole favorite. Andouille, chicken, shrimp, and wild rice with just a little kick.
Squash Ravioli from ie
You will be happy with anything you order at ie, but be sure to give the fall menu a try. The squash ravoili is a classic, made with farmhouse butter, olive wood aged balsamic and spiced pepitas. We like to eat family style here, so order up the heritage duroc pork chop and the mushroom cappelletti (don't for get a side of the Calabrian cauliflower) to go with the ravioli.
Just Peachy Pizza from Pizza Luce
Peaches on a pizza? This one from Pizza Luce is topped with sweet, juicy, and succulent chunks of ripe peaches, slightly crispy pork belly, sliced red onion, arugula and goat cheese topped with mozzarella and served over our sweet and slightly spicy Sassy Peach sauce.
Poached Pears & Blood Orange Pear Chantilly from Edwards Dessert Kitchen
Edwards Dessert Kitchen is one of the ultimate dessert destinations in Minneapolis. The menu is constantly changing and we're particularly excited about the fall line up (hello, pumpkin sage cheesecake!). The gorgeous poached pears & blood orange pear Chantilly almost looks too good to eat - but you should eat it. Trust us.
Caramel Apple Cheesecake Donut from Glam Doll Donuts
Glam Doll is the place to go for creative donut concoctions, and their fall specials are no different. The caramel apple cheesecake donut is what really caught our eye. A donut filled with vanilla cheesecake, vanilla icing, and baked apples. They also have a pumpkin chair flavor that looks as good as it sounds.
The wild ice cream creations at Bebe Zito are always fun and delicious and this fall season line-up doesn't disappoint. Our must-try is the Pumpkin Becky, a roasted pumpkin base with cafe miel sauce drizzled throughout, ginger molasses cookie dough chunks, topped with additional miel sauce and pecans. Other concoctions this year include Grand Theft Autumn, a sweet cream base with cinnamon apple crisp mix-ins, topped with homemade butterscotch.

As the season changes so does the menu, so lookout for more festive flavors announced on their Instagram page.

The Butcher's Tale is loved for its hand-crafted sausages and slow-fired long rib; an array of the region's best bourbons and brown spirits. This fall they're mixing up Pumpkin Sours - a perfect drink to enjoy at the cozy bar or on the heated patio. If pumpkin is not your thing, try the spiked apple cider or banana bread old fashioned.

The Get Down Coffee Co. is not just a coffee shop. It's a coffee company, roasting and selling its own coffee with a goal to build its own roasting facility in North Minneapolis within five years. Their staple drinks are top notch, and their seasonal beverages offer a different spin on the classic fall flavors. The Sweet Potato C.R.E.AM. Latte blends espresso, sweet potato flavors, and steamed milk and is topped off with pecans.

Another seasonal drink on our list to try: their Brown Sugar Banana Cream Latte and One in a Million Chai (think a chai tea latte but with tiramisu syrup, whipped cream, and crushed almonds).
Wild Grind Coffee uses sustainably and ethically sourced, high quality beans –– small batch roasted to perfection –– to create bold, new brews. This fall they've got a Hocus Pocus-themed drink on the menu. The Hockie Pockie Mochie is a mocha made with dark chocolate, spiced pumpkin puree, and a touch of cloves. It's only available through October, so don't wait!
We love having access to waffles for breakfast, lunch, and dinner. Black Coffee and Waffle Bar is serving up maple lattes, made with pure maple syrup and house made almond syrup, this fall. While you're there, grab yourself an apple strudel waffle.
More Articles You'll Like: