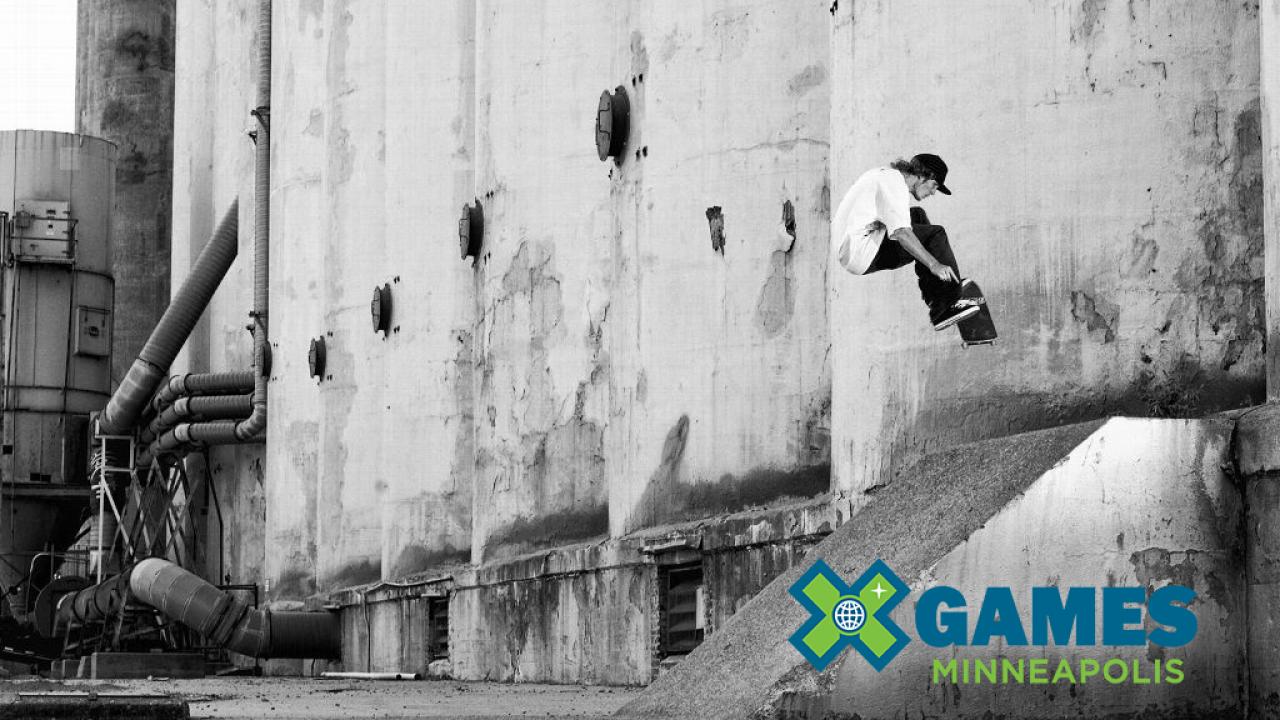 How to Explore Minneapolis during the Summer X Games
X Games Minneapolis is back for more action on July 19-22, 2018. Thousands will gather at U.S. Bank Stadium, Medtronic Plaza, Downtown East Commons and the Mall of America to watch the best action sports competitions in the world featuring skateboarding, BMX and motocross. Heading to Minneapolis next year to get in on the X Games action? Stay tuned for an updated X Games schedule and a list of suggested things to do in our city.
Check out the X Games 2017 highlights from US Bank Stadium
Plan your X Games Weekend (2017 Schedule)
Thursday—Don't Miss the Skateboard Vert Final
Athletes perform tricks on their skateboards in a vert ramp—a half pipe shaped like a U. This event is held outside on the Downtown East Commons and is free to the general public.
Athlete to watch—Bob Burnquist, an X Games legend and has the most medals in the event's history, with 30. He's the only athlete to compete in all summer x-games events and is the current gold medalist in the Big Air competition.
If you have time—Take the light rail to the Mall of America to see the Harley-Davidson Flat Track Racing. Motorcycle racers compete against one another on an oval dirt track on twin-engine motorcycles at speeds reaching up to 100mph. Should be interesting.
X Games kickoff party—Prof, Aesop Rock and deM atlas play the official kickoff party at First Avenue. Get your tickets.
Nearby attractions—Obviously, you'll be celebrating the X Games at the kickoff party at First Ave. If you are walking, biking, or skating, there are a couple of cool places to stop along the way. Erik the Red's is across the street from U.S. Bank Stadium. Stop here first to plan your route over one of the 30 beers they have on tap. Gluek's Restaurant and Bar is a great dinner option—think bratwurst, pot roast, stroganoff—you know the good stuck that sticks to your ribs. It's been around since the 1930's and is unapologetically old school. The hidden patio is located near the rear of the restaurant.
Friday—Don't Miss the Moto X Free Style
Riders perform routines on motorcycles on a course consisting of multiple jumps of varying lengths and angles. A panel of judges assigns each contestant a score based on a 100-point scale, looking for difficult tricks and variations over jumps.
Athlete to watch—Clinton Moore. The Australian is best known for his 360 combos.
Live music—A Day to Remember
Nearby attractions—One of Minneapolis' trendiest neighborhoods, home to amazing restaurants and bars. It's also home to two restaurants that are both known for their amazing chicken wings. Start at the Monte Carlo and score a spot on their huge patio. Order the Monte Carlo Wings—dry rubbed with a great Asian flavor. Some of the best wings in the city.
End the night at Runyon's—the vibe is relaxed and the beer is always flowing - you will leave a happy camper. Northwest Downtown has a ton of great breweries to check out. Inbound Brewing, Fulton, and Modist Brewing are all within walking distance to Target Field, have outdoor patios, rotating food trucks, and above all delicious and innovative beers! Take a peek at our all-encompassing Minnesota Brewery Map!
Saturday—Skateboard Street Final
Competition street skateboarding is conducted in skateparks designed to replicate real-world environments. Tricks are performed on benches, stairs and rails alongside traditional skatepark elements like vert ramps.
Athlete to watch—Minnesota native Alec Majerus is looking to medal for the first time ever in this event.
Live Music—Flume
Nearby attractions—Start your day at Hell's Kitchen. You'll want to order the lemon-ricotta hotcakes or anything you can smother in their homemade peanut butter. Before you leave, head up the stairs to Angel Food Bakery & Bar and grab a donut and coffee for the short walk to the stadium.
End the night at Brit's Pub. Brit's is a traditional English pub boasting three unique outdoor areas including a large lawn bowling green on the rooftop. Excellent people watching in a unique environment.
Sunday—Dave Mirra's BMX Park Best Trick
Introduced just last year, this event honors the memory of X Games legend Dave Mirra. Athletes complete tricks on BMX bikes in a park shaped like a bowl.
Athlete to watch—Kyle Baldock, a multiple X Games medalist, is competing in multiple events this year.
Live music—Atmosphere
Nearby Attractions—Reminisce about the stunts, tricks and flips you've witnessed over a beer at Day Block Brewpub. Located two blocks away from the stadium, this place has it all: delicious beers on tap to keep you happy, live music to keep you entertained, and stellar snacks to keep you full. We like to order a bacon flight to go with our beer flight. Just putting it out there. After a beer or two enjoy a gorgeous walk across the stone arch bridge and check out Vic's Restaurant, Tugg's Tavern, or the Aster Café. All restaurants are right on the river and have insane views of the city.