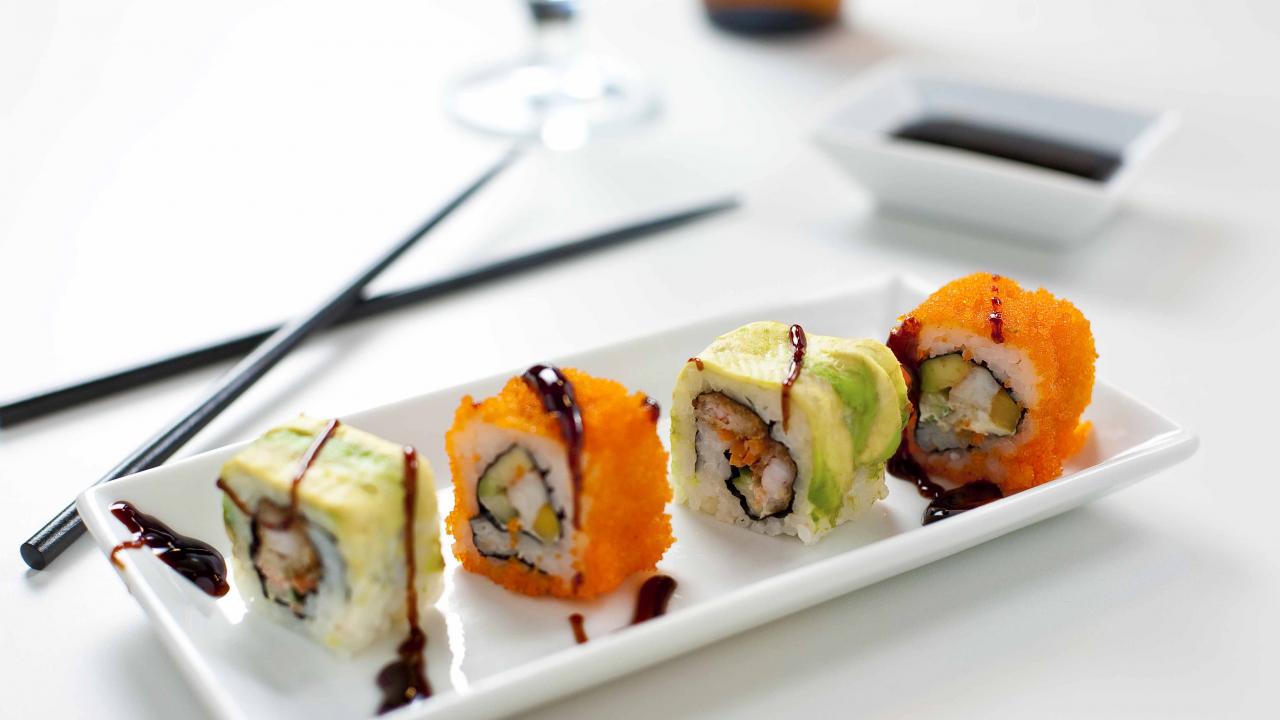 Best Sushi Spots in Uptown Minneapolis
Sushi. You either love it or you hate it. We love it, and if you do too then you know that sometimes the craving strikes. But where can you go to get really good sushi? We'll tell you.
We've compiled the top 10 must-try sushi spots in Uptown. With the Uptown Art Fair right around the corner (August 4-6, 2017), there's no better time to explore the Uptown sushi scene!
Did you know that Fuji Ya was the first Japanese restaurant in Minnesota? Now they're known for their fresh ingredients and incredible flavor. Check out their happy hour Tuesday-Thursday from 5-7pm and 9pm-close, Friday from 5-7pm and Sunday from 8pm-close. It's one of the most extensive happy hour menus you'll find!
Sushi…wait for it…burrito! SotaRol introduced us to the sushi burrito and we're hooked. They call it a "sotarito" and it's filled with your choice of meat or veggies, rice, sauce and tons of flavor. Move over, Chipotle. You have some competition. They also have rice bowls, salads, ramen and traditional sushi rolls. Order to go if you're having a sushi craving on the run.
Located within the Calhoun Square shopping center, Sushi Tango is the place to be! This lively restaurant and bar is the perfect spot to start with dinner and drinks and stick around for the energy that ensues after dark. You can even satisfy your late night cravings – the kitchen is open until 1am.
Chino Latino offers a mix of Latin and Asian cuisine with an extensive menu that will keep you coming back to try more. They offer both small and large dishes meant for sharing so you can taste your way through a variety of cultures. Get there between 4:30 and 7pm Tuesday through Saturday for incredible happy hour deals on both food and drink. Plus, they have plenty of vegetarian and gluten free options. This multi-level restaurant is another spot to check out after dark. An awesome crowd, great vibe and even better drinks. What more do you need?
Sushi, fried rice, noodles…Origami has it all! Satisfy your craving with an incredible array of fresh sushi and sashimi options or be a little bold and order a specialty roll. Try the spicy salmon for a burst of flavor or the broccolini for something different. Take your Sunday Funday to Origami and enjoy happy hour all day!
With over 50 specialty sushi rolls, Kiku Bistro is sure to please your taste buds. They also offer stir fry, teriyaki and tempura. Since there's so much to try, we recommend getting a few things to share. Be sure to stop by on Saturday or Sunday for their all-day happy hour!
Come here if you're hungry. Like, really hungry. This all-you-can-eat spot offers sashimi, hibachi, sushi, teriyaki, tempura, noodles and specialty entrees. For $25.99, you get a full dinner buffet and a pretty awesome deal.
Wakame is known for its top-notch sushi and fabulous outdoor patio just blocks from Lake Calhoun. Take a stroll around the lake and then head here for amazing Japanese cuisine. Their sushi is some of the best in town! For the best deal, order the sushi/sashimi combo which comes with miso soup and a house salad. Grab a glass of wine or a cocktail and bask in the sun on their patio.
Stella's knows fish. Head here for fresh and flavorful sushi and sashimi and a variety of seafood options. Be sure to head up to their amazing rooftop to have a drink and enjoy beautiful views of the city. If you're looking for a little fun, stick around at night when Stella's turns into a dance bar. Enjoy live acoustic music on one end and a DJ on the other.
While Moto-i doesn't have your typical sushi rolls, they do have incredible Japanese food including ramen, steamed buns, sashimi and fried rice. Come for the food, but stick around for one of the best rooftops in Minneapolis.