Best Places for Wine in Minneapolis
Sure, we've got plenty of breweries to suit your fancy, but wine is just as important to us in Minneapolis! From local wineries to wine bars and cafes, this city is waiting to fill your glass.
Food writer and founder of Madison in Minneapolis, Madison Bessinger is a wine lover and has traveled to several cities and countries for wine. She lists Minneapolis as a city for some of her favorite restaurants and wine bars. These are her recommendations for the best places for wine in Minneapolis.

For a Vast Selection of Italian Wines: Terzo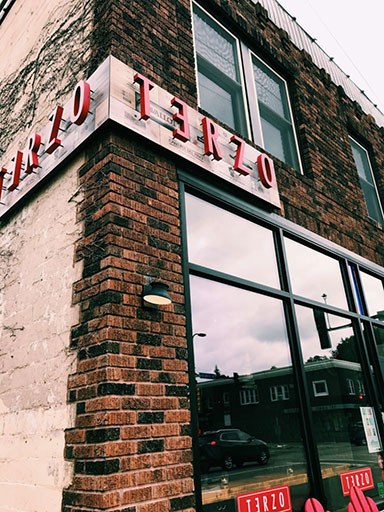 Terzo is a quint wine bar and restaurant situated in South Minneapolis. The staff is incredibly knowledgeable about the wine, making it easy to explain your preferences and even try something new or outside your comfort zone. The food at Terzo is refined and upscale, but never pretentious. It's a great place to take visitors who appreciate quality wine in a cozy atmosphere.
The Tasting Room has a clean and sleek vibe, with a cozy fireplace and comfortable seating. Owner Nico was born and raised in Burgundy, Champagne, and Provence – some of the most well-known wine destinations. The bar has a few options for tastings, which pairs great with some of the food on their menu filled with small plates/tapas.
Sake, a Japanese rice wine, comes in several different flavors and varieties. If you're into sake, Kado No Mise in North Loop is the perfect option for you. You can order a glass, carafe, or bottle, and the menu provides thorough descriptions of each selection the restaurant offers. If you're ready to splurge, Kado No Mise also has "premium" bottles of sake. Kado No Mise serves simply but beautifully made sushi, true to what you'd find if you were in Japan. The atmosphere is sophisticated and clean, and they have a good happy hour. They are open for lunch and dinner.

Bojae's is a unique wine bar on 50th and France in Edina. It's a great spot to meet friends, split a bottle of wine, and devour their ham and cheese sandwich (it's my favorite!) The inside is cozy, with large windows up front that let in a lot of sunlight. They have over 30 wines available, and you can order them as a half-glass, glass, flight, or bottle. Their happy hour is 4-6PM Sunday - Thursday. Enjoy!

Everyone seems to be raving about natural wine these days. What makes wine natural? The term is broadly used to describe wine with no additives (chemicals, sulfur, filtering, etc.), making them less manipulated or changed from their natural state. Bar Brava, a restaurant and wine bar in North Minneapolis, has dozens of natural wines of all varieties available to diners. Before visiting Bar Brava, check online to see if they have any special events or pop ups - you are likely to be delighted and surprised.

Family owned, small and unique, and some of the best natural wine selections in the city – Henry & Son is your place! Come here to find the perfect bottle for a dinner party or date night in. They also have a wine club, which I highly recommend.
For the Best Wine Experience: Demi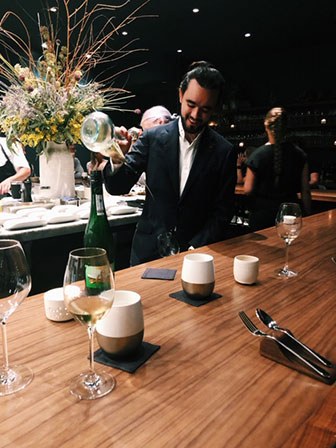 Demi is an unforgettable dining experience – one of the best we have in the Twin Cities. You walk into Demi and you can immediately feel how special the place is to the entire staff and guests who were there before you. I have been fortunate enough to go twice, and each experience was completely different but equally as incredible. Coming here is an investment that requires planning (reservations sell out quickly), and I suggest doing the "full" experience because of this. Spend the money on the top tasting menu and add-on the cocktail experience to start. As for wine pairings, I recommend doing a mix of top pairings (the reserve wines) and standard pairings across your party. This allows you to try more unique wines throughout the night.