"Travel fuels every industry in America."
"Travel fuels every industry in America."
Chris Nassetta, CEO of Hilton Hotels and the new national chair of U.S. Travel, recently made that statement. It is precise in conveying the importance of our industry. However, all too often, demonstrating the impact of travel and tourism can be difficult because of the diversity and dispersion of our industry's components.
The auto industry, or other forms of manufacturing, can tangibly report on its production down to the unit. The individual businesses that make up the travel and tourism industry are much more diverse in size, scope and areas of focus.
To help elected officials understand our industry's impact and challenges, we participated in "Destination Capitol Hill." The legislative blitz, where "travel fuels every industry in America" was the mantra, included Courtney Ries of Meet Minneapolis and Lauren Bennett McGinty of Explore Minnesota Tourism among the approximately 250 travel and tourism professionals who attended numerous appointments with legislators and/or their staff.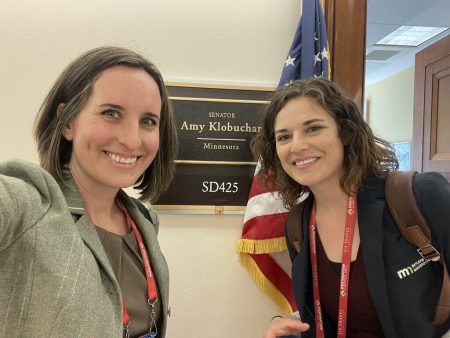 Destination Capitol Hill was one the several travel and tourism-related events that comprised Spring Meetings Week for U.S. Travel. During this gathering of industry professionals, Nassetta addressed the group and expressed his perennial optimism in the overall recovery of our industry, albeit an uneven one. This is based on dealing with past challenges such as the Savings & Loan Crisis of the 1980s, 9/11, and the 2007-08 recession. He expects a slowing economy but is not as worried about workforce issues since they existed prior to the pandemic.
During the board meeting, U.S. Travel CEO Geoff Freeman also restated the organization's current priorities:
Establish Travel As Essential and Responsible
The Destination Capitol Hill event was a major initiative to advance the relevance of our industry. In short, no other industry can advance without travel.
Shape Solutions to Operational Challenges
With the well-publicized air traffic stops seen in recent months, federal legislators are keenly aware of the need to expedite air traffic technology and increase the number of air traffic controllers.
Advance Seamless and Secure Travel
The TSA Pre-check and Global Entry programs are used by many American travelers. It would seem logical that these two tools would be linked. That is not the case, because these two programs are administered by different federal agencies. Better coordination is a priority.
Our local community over-indexes in its air service offerings. That motivates us to pay particular attention to these U.S. Travel areas of focus. Delta Air Lines is our largest carrier with direct service to 115 destinations. Our overall nonstop international service includes Amsterdam, Belize City, Cabo San Lucas, Cancun, London, Mexico City, Paris, Puerto Vallarta, Seoul, and others. Our Tokyo service has also resumed. Plus, we have more coverage to Canada than any other U.S. city.
We will continue to work with our partner organizations to make sure we can expedite our recovery and ensure traveler satisfaction.