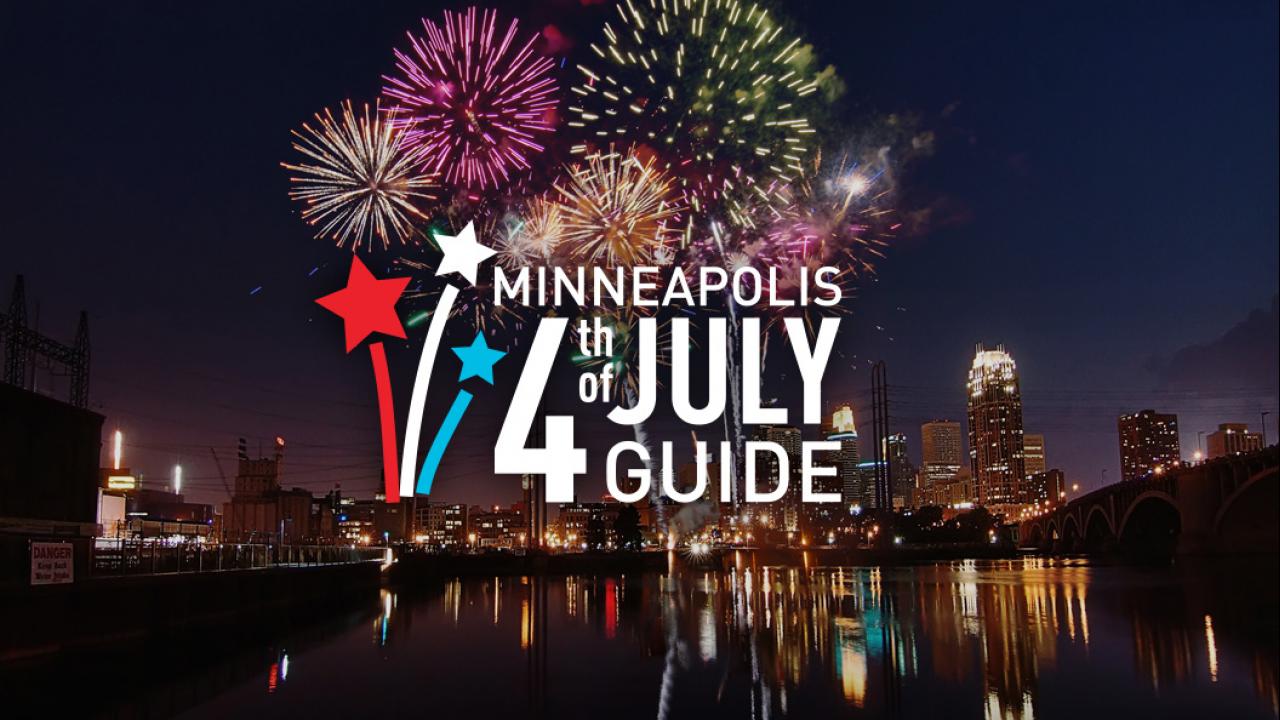 Minneapolis 4th of July Guide
Consider this the be-all end-all of everything that is, was and will be for your 4th of July in Minneapolis. We guarantee that if you read this comprehensive, expert-compiled list that you'll have a day worthy of your name being etched into the history books next to the country's most patriotically-awesome people. Click the options below for everything that is 4th of July in Minneapolis.
Places to Watch Fireworks | Events in Minneapolis | Social Sharing | Events Outside Minneapolis
-Red, White & Boom!
6:30am: TC Half Marathon, Historic Main Street TC Half Marathon REGISTER HERE>>>
6-10pm: Family Activities, Live Music and Food Vendors at Father Hennepin Bandshell and Mill Ruins Park
10pm: Fireworks, Minneapolis Riverfront District
Visit here for more info
-MN Twins vs. Athletics
1pm: The Minnesota Twins take on the Oakland Athletics at home. Millitary Discount Day.
Visit here for more info
---
Apple Valley: Freedom Days
8am: Freedom Days 2 and 5 Mile Run REGISTER HERE >>>
1pm: Freedom Days Parade
5pm-11pm: Amusement Carnival
5pm-11pm: Pre-Fireworks Party (Music, Dancing, Games)
10pm: Fireworks
Visit here for more info.
Blaine: Fireworks Extravaganza

Dusk: Fireworks, National Sports Center at 10pm
Bloomington: Summer Fete
Bloomington's Summer Fete happens every year on July 3 at Normandale Lake Park. The 84th Street region will kick off with the Kids' Carnival Area at 5 p.m. featuring more inflatable attractions than ever before with a few specialty attractions! The 84th Street Kids' stage, celebrating its seventh big year, will once again feature the best in family entertainment. Top off the evening with the annual Summer Fete fireworks display.
Visit here for more info.
Chanhassen: 4th of July Celebration
7:00am: Adult Fishing Contest
9:00am: 3 on 3 Basketball Tournament
10:00am: Classic Car Show, Taste of Chanhassen, Rotary Beer and Wine Garden, Carnival Rides
11:00am: Sand Sculpture Contest, Medallion Hunt, Kids Fishing Contest
11:45pm: Live Music featuring American Bootleg
2:30pm: Parade Downtown
6:00pm: Chanhassen Redbirds Baseball Game
10:00pm: Fireworks
(All events occur at Lake Ann and downtown Chanhassen)
Eagan: July 4th Funfest
10:00am: Stars & Stripes Parade
Noon – Festival Grounds Open
1:00pm- 5:00pm: Beyond the Yello Ribbon Car Show
1:00pm- 8th Annual Brain Freeze Contest
2:00pm- Blood Drive
4:00pm- Bingo
6:00pm - Texas Hold'em Tournament (Free Entry)
8:00pm – Stage Entertainment The Brian Kinney Band
10:00pm: Fireworks
Midnight: Funfest Closing
Visit here for more info.
Eden Prairie: 4th of July Hometown Celebration
9am: Optimists 5k Run
3pm: Kiddie Parade, Face Painting
3pm-7pm: Canoeing
4pm-7pm: BMX Demonstrations, K-9 Demonstrations, Splash Pad Grand Opening
7:30pm: AM Rotary Golf Ball Drop
10pm: Fireworks
Edina: Independence Day Parade & Fireworks
From youth groups marching to seniors dancing, the Edina 4th of July Parade offers excitement for all ages. Parade begins behind Edina City Hall, 4801 W 50th St, Edina, MN, and ends at the US Bank parking lot at 50th St and Halifax Ave. Live music at Roseland Park followed by fireworks at 10pm.
Visit here for more info.
Excelsior: Lake Minnetonka 4th of July Celebration
7:30 am - Firecracker Runs (1 mile, 5K & 10K)
9:00 am - Sand Sculpture Contest
11:00 am - Water Street Kids' Parade and Popsicle Social
4:00 pm - Brothers & Others Band Performance
5:30 pm - FireFly Forest Band Performance
7:30 pm - Ornery Bastards Band Performance
9:55 pm - The National Anthem performed by Kate Raddatz
Dusk - The best fireworks on Lake Minnetonka!
INSIDER TIP: "Watch the fireworks out on Lake Minnetonka and you can see the fireworks from Excelsior , Wayzata, Mound and Lafayette Club from any direction." -Ruth
Vist here for more info.
Fort Snelling: Independence Day Celebration
10am-5pm: Celebrate the nation's independence as people did in the early 1800's – cannon salutes, patriotic speeches, theatrical presentation put on by the fort's soldiers, military dress parade, patriotic and military fife and drum music, historic games.
* Adults $11, seniors/ college students $9, children ages 6-17 $6, children under 5 free
Lakeville: Pan-O-Prog
Monday July 4th at 7:00pm: Join us for a spectacular aerial fireworks display and entertainment including live music by the band The Git Backs, inflatables, temporary tattoos, clowns and concessions. Lawn chairs or blankets suggested to sit on the football practice field and surrounding areas.
Visit here for more info.
Mystic Lake: Rock and Rockets
Junk FM and Martin Zellar will perform before the night sky lights up with a musically-choreographed fireworks show.
Fireworks at 10:00pm
INSIDER TIP: "All guests are welcome to bring lawn chairs or blankets. Coolers, picnic baskets and outside food and beverages are not permitted." - Amanda
Visit here for more info.
Richfield: 4th of July
July 2nd: Family Night
July 3rd: Carshow at 10am
July 3rd: Street Dance at 6pm
July 4th: Parade at 1pm
July 4th: Fireworks at 10pm
Please visit here for more info.
INSIDER TIP: "Head to Veterans Park. The best place to view the parade is by walking up by the park's hilly areas. It is cool and shady by the trees, yet you get to enjoy the nice up-close view. Lots of people don't know about that area so there's a nice and cool breeze that hits you." -Hassan
St. Louis Park: July 4th Fireworks Celebration
7-9:30pm: Performance by Stevie and the Rockers, Aquila Park
10pm: Fireworks, Aquila Park
White Bear Lake: 4th of July Fireworks, Flyover & Music at Memorial Beach
July 4th
8:00pm: Music by Shoreview Northern Lights Variety Band
8:30pm: Flyover
10:00pm: Firework display over White Bear Lake
Visit here for more info
---
Have any great photos or ideas on how to spend the 4th of July in Minneapolis? Share them with us by using the #askMPLS when tagging photos or ideas!