Taste Your Way Through the Minneapolis Cultural Districts
Minneapolis' rich cultural districts are the gateways to learning more about the food, culture, and traditions of the many communities that make up our city—looking for a bite to eat? This list is just the tip of the iceberg for the countless dining options in the seven districts.
By Natalia Mendez
38th Street Restaurants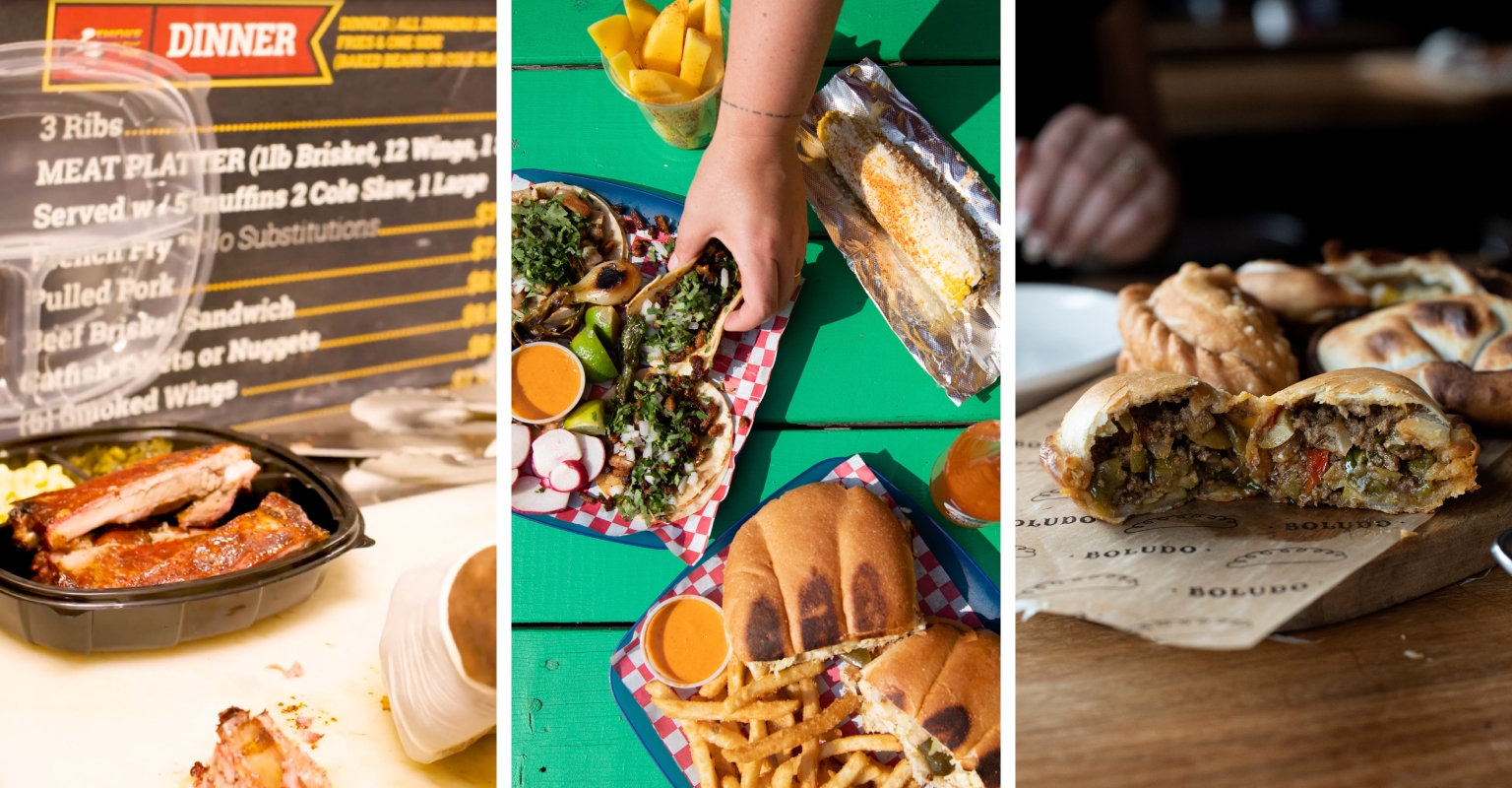 Smoke in the Pit
For over 25 years, Smoke in the Pit has brought high-quality barbequed and smoked meats to South Minneapolis. From tender brisket to perfectly-lacquered ribs to smoky wings and crispy breaded catfish, their savory mains do not miss. Add sides like collard greens, macaroni and cheese, candied yams, or their signature fried spaghetti for additional southern flavor.

Tacos El Kevin
No-frills Tacos El Kevin serves up cost-effective and satisfying Mexican food on a bustling corner. Enjoy tacos piled high with cilantro and onions and your choice of meats, hearty tortas, and burritos. Don't skip on snacks like shaved ice raspados and the beloved street corn treats, elotes.

Boludo
Argentinian Chef Facundo De Fraia is known for bringing signature diamond-shaped pizzas with puffy crusts embellished with delicate, flaky salt and a sweet sauce to Minneapolis. With toppings sure to satisfy both vegetarians and omnivores alike, Boludo's flavors are savory on pizza like the Campo (chorizo, mushroom, onion, and mozzarella), funky on the Peras (pear, gorgonzola, pine nuts, and dill), and even sweet on the traditional Margarita (fresh mozzarella and basil.) Grab a few empanadas, perfect pockets of pastry filled with meats and veggies, on the side, too!
Cedar Ave S.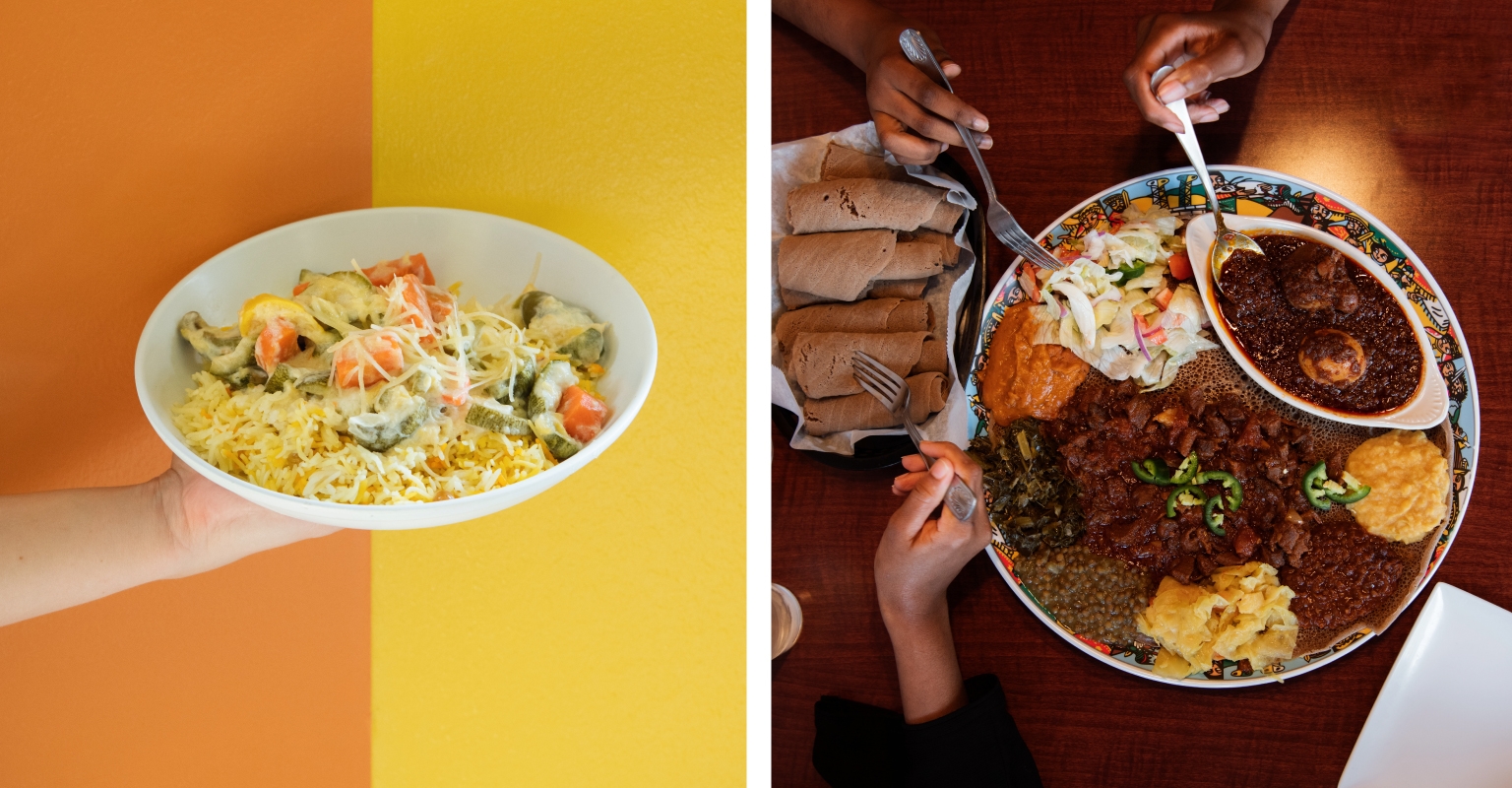 Afro Deli

Stop by Afro Deli for fresh African, Mediterranean, and American flavors and variety to suit many diets – including those who eat halal. There's a little something for everyone, from falafel to lamb or chicken gyros to Somali steak sandwiches, wraps, and more! Their signature "Fantastic" dishes – a bed of vibrant yellow Somali rice topped with chicken or veggies draped in silky cream sauce – are a sensory delight—sides like sticky sweet plantains and crispy, savory sambusas round the menu. As a bonus, CEO and founder Abdirahman Kahin was named the National Small Business Person of the Year in 2023.

Red Sea Ethiopian

Minneapolis' first Ethiopian restaurant has been serving authentic Ethiopian and Eritrean fare since 1990. Red Sea is cozy, features a full bar with a happy hour that stretches until 7 pm and often has live music and DJs to add another sensory layer to an already delicious experience. Vegetarians have plentiful options, and for hungry groups, check out their "feasty" combos that can be served omnivorous or veggie-only.

Hard Times

This West Bank cost-effective staple is brimming with vegetarian and vegan fare and ample portions. You're as likely to see south Minneapolis punks dining as you would encounter students writing term papers at this worker-owned cafe that stays open until midnight, seven days a week. Although they have satisfying and nutritious soups, salads, and sandwiches, Hard Times' big draw is breakfast served all day whenever a pancake craving strikes.
Central Ave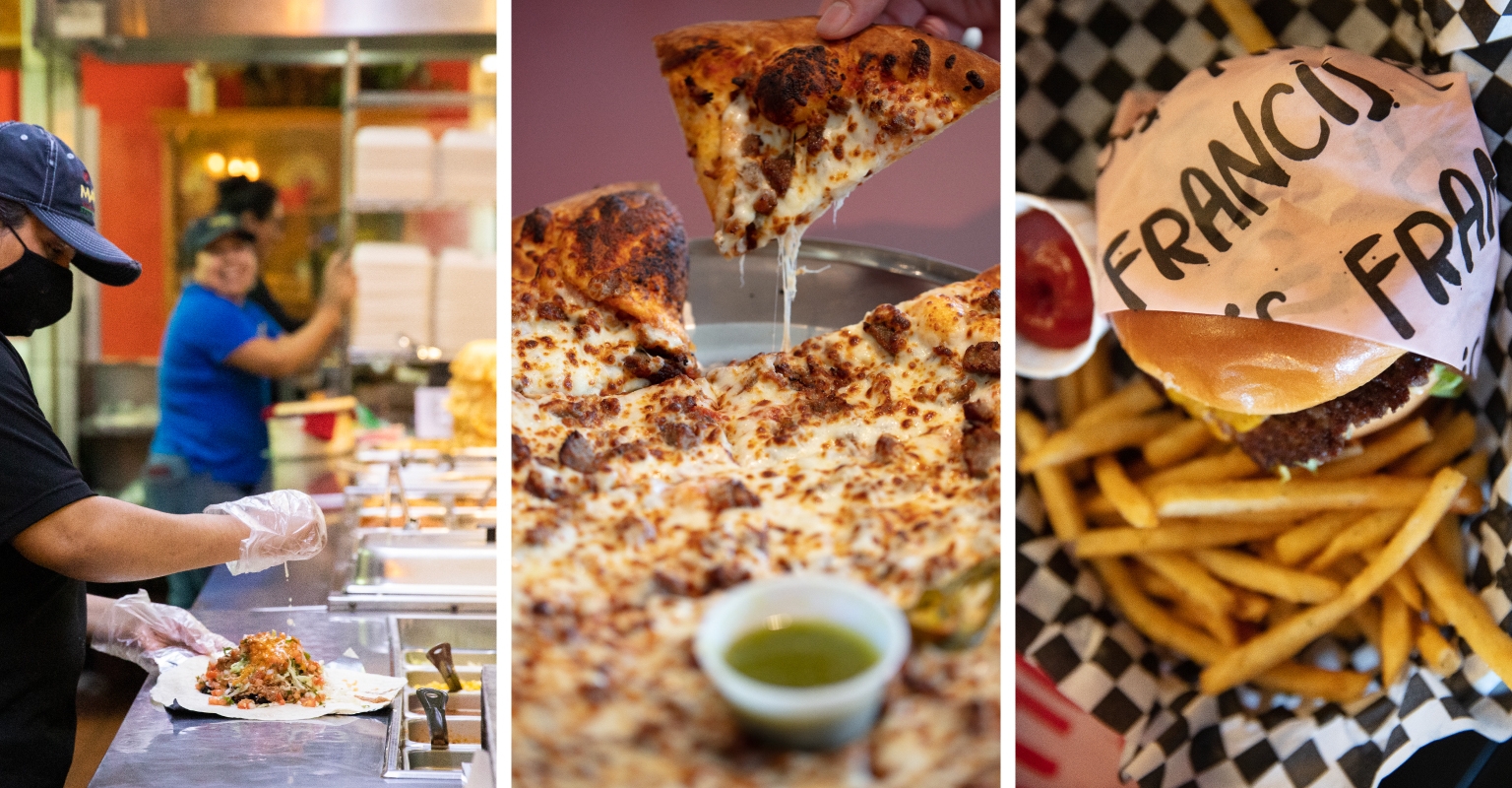 Maya
Get your Mexican food fix at Maya on vibrant Central Ave. Cheery paint and the scent of rich corn tortillas greet diners upon entry. Walk through the efficient line to select your food options – tamales, tacos, sizable burritos, and much more – and dress your meal at their impressive salsa bar. If you're dining in, post up in the moodily-lit back bar to slurp a refreshing margarita.

Football Pizza
Owned by the Azizi brothers, Football Pizza serves up their aptly named pies with thin, crispy crusts and classic toppings and brings the flavors of Afghanistan along, too. Not feeling pizza? There are gyros, lamb tikka, or juicy chicken kebabs and plentiful sandwiches, salads, and sides to choose from, all of them halal. Douse them in Football Pizza's signature herby green sauce for a punch of acid and heat to round out each bite.

Francis
For a vegan experience that will have die-hard beef burger lovers questioning their loyalty to the traditional patty, check out Francis. Their menu also includes juicy, crispy vegan fried "chicken" sandwiches, dressed-up fries, and a wedge salad with blue cheese crumbles that makes you whisper, "Is this really vegan!?" The laid-back atmosphere and fancy, glitter-dusted cocktails are just the icing on the cake.
East Lake Street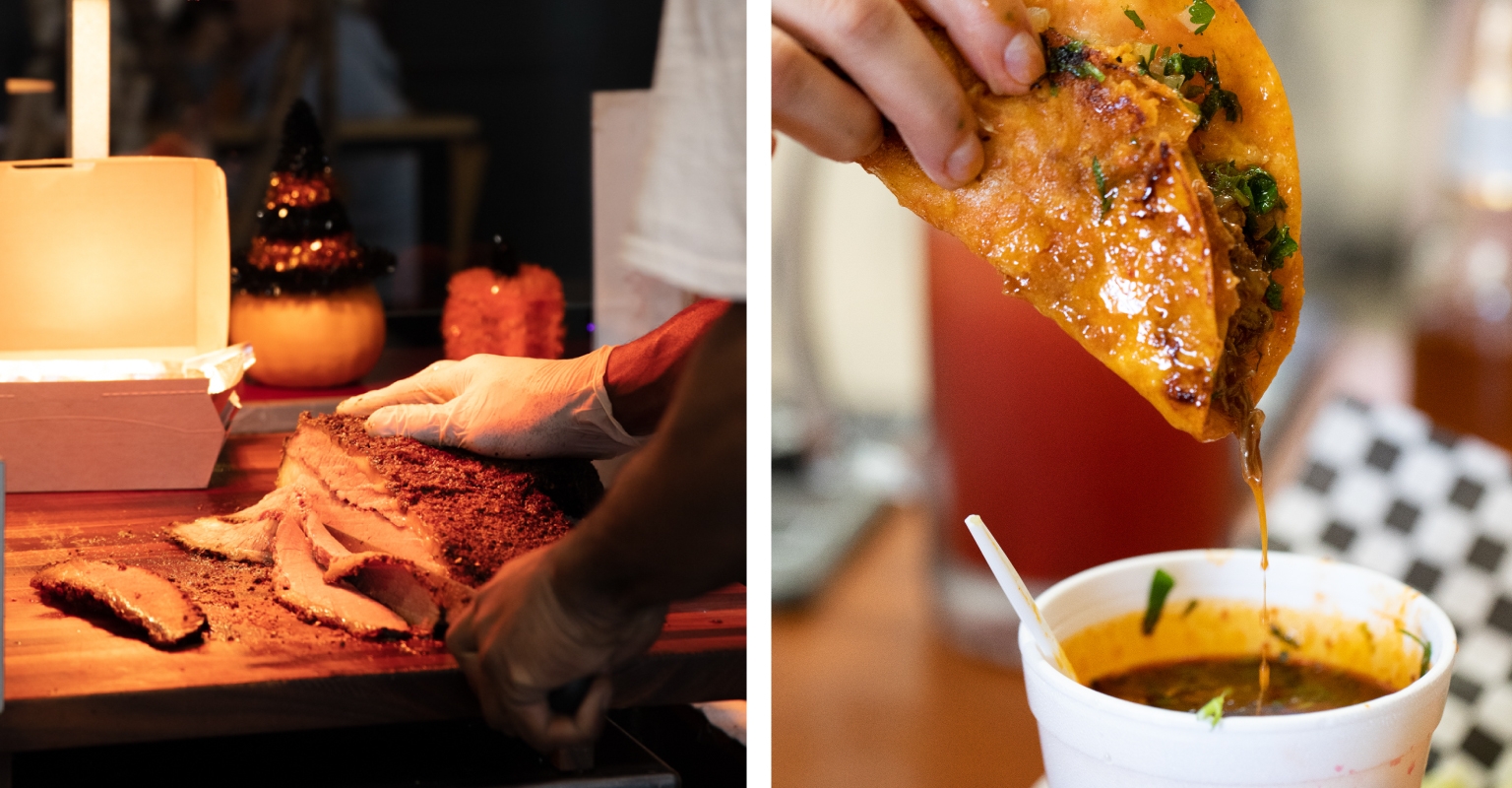 Taqueria el Primo 2
Unpretentious Taqueria el Primo 2 features the classic meaty tacos and stuffed-to-the-gills burritos, but the sure crowd favorite is their quesabirria tacos. Blaze orange tortillas from the birria oozing with cheese are served with a styrofoam cup of rich red broth for dipping, slurping, and the bliss that comes with the umami blast that this dish provides.

Soul to Soul Smokehouse
Inside the buzzing Midtown Global Market, two brothers run Soul to Soul, keeping their family recipes and flavors alive. Juicy brisket, smoked-then-fried "Millionaire Wings," and sandwiches featuring buttery brioche buns piled high with meats are standouts at Soul to Soul, and grab sides like the greens and black-eyed peas, both recipes from their mom.
Hufan
Upon entering homey Hufan, you are greeted with a handful of mixed-and-matched armchairs. They are the perfect match for comforting Somali dishes at any time of the day. Breakfast options include fuul, spiced beans, alone or inside an omelette. Goat stew and rice, curried chicken, and sweet, fragrant Somali tea are all crowd-pleasers.
Franklin Ave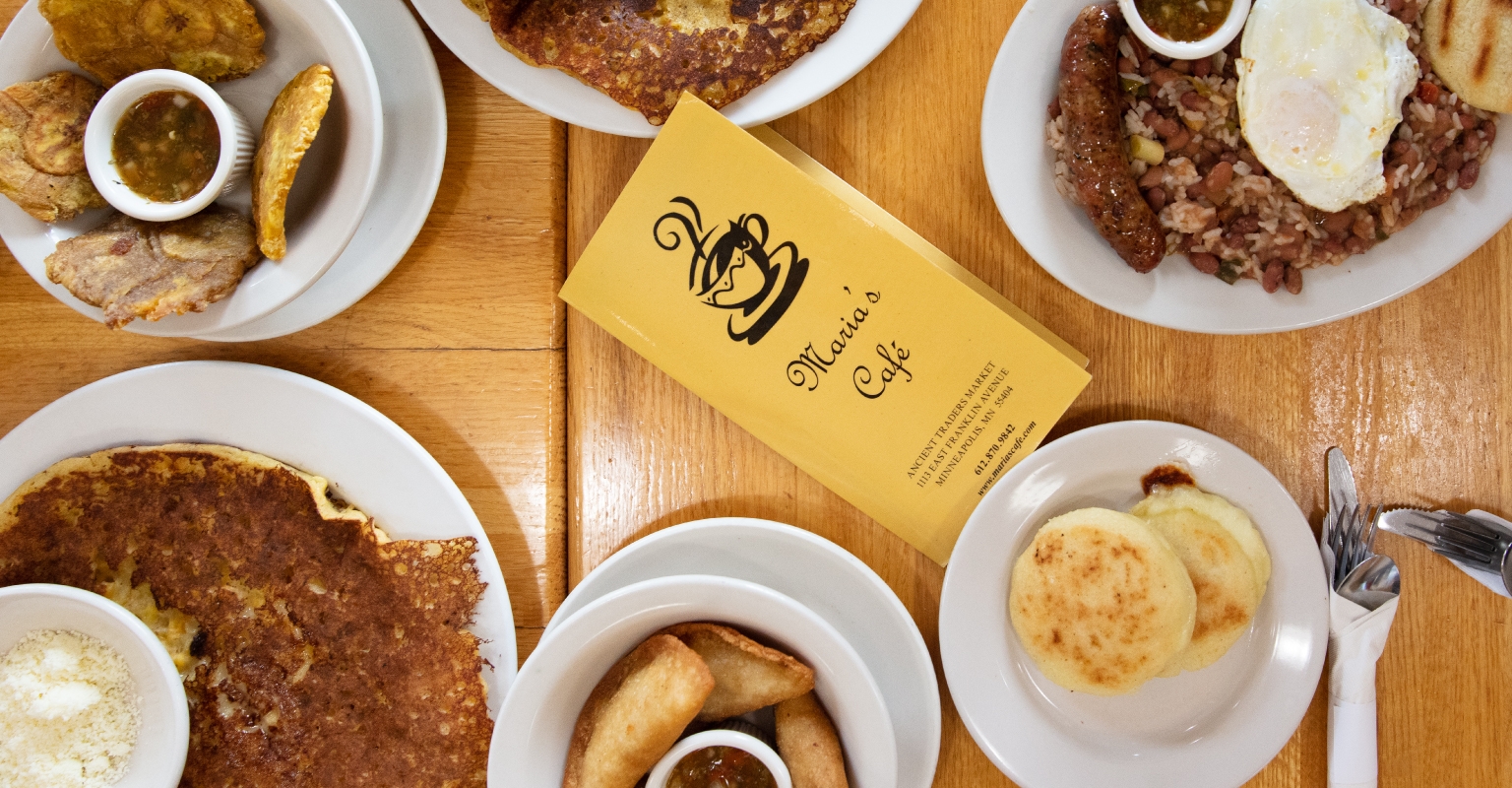 Maria's Cafe
Brightly-lit Maria's gets any day started cheerily. Diners can find arepas, empanadas, and traditional Columbian breakfast options alongside classic American diner breakfast dishes. A standout on the menu is the large, plate-sized pancakes with flavors like ripe plantain, raisin and walnut, and the exquisite Cachapas Venezolanas, lightly sweet corn cakes crowned with salty crumbles of cotija cheese.

Daily Cairo Grill
Daily Cairo Grill serves up East African and Mediterranean food located in an unassuming-looking strip mall. There's often a long line out the door, but it moves quickly, and the food is well worth the wait. Their sambusas are raved about for their low cost, quality, and flavor. Try the suqaar or goat meat served on a pile of thick spaghetti for a more filling meal.
Lowry Ave N.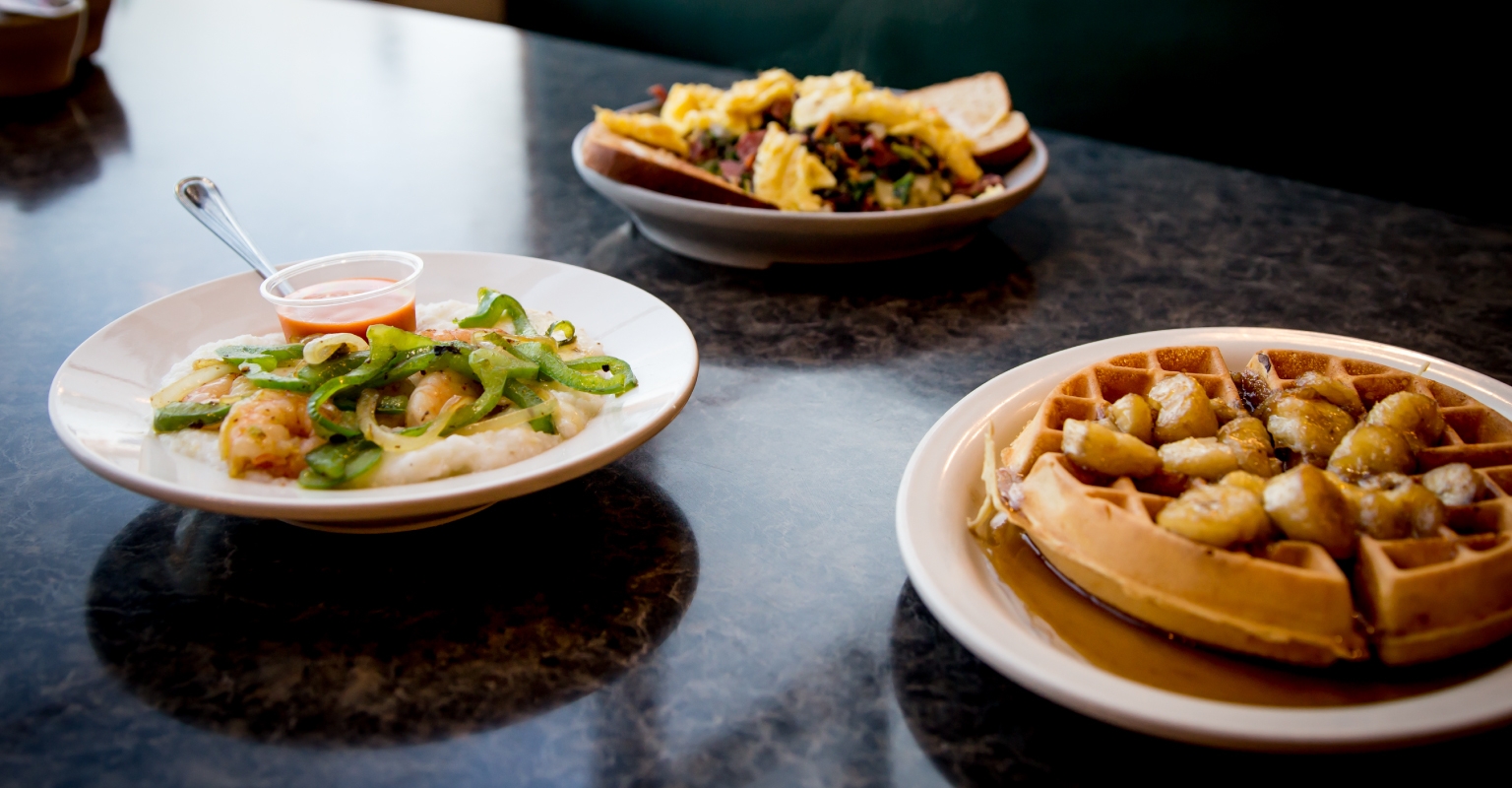 Lowry Cafe
Charming Lowry Cafe serves up generous portions for breakfast and lunch. Succulent, sweet shrimp are served on a bed of cheesy grits, and there are countless omelette options and breakfast skillet choices are plentiful, too. Looking for lunch? Burgers, wraps, soups, and salads will quickly fix your hunger. Simply looking for a quick coffee or latte? They have a cozy coffee bar to get you caffeinated for the day ahead.

Good Deal

Located inside an Asian grocery store, the prepared food section and hot bar at Good Deal is fantastic for a takeout meal when not you're not looking to cook. Egg rolls, steamed buns, roast pork, laab salads, and Hmong-style sausage are just a few of the umami-rich bites found at Good Deal.
West Broadway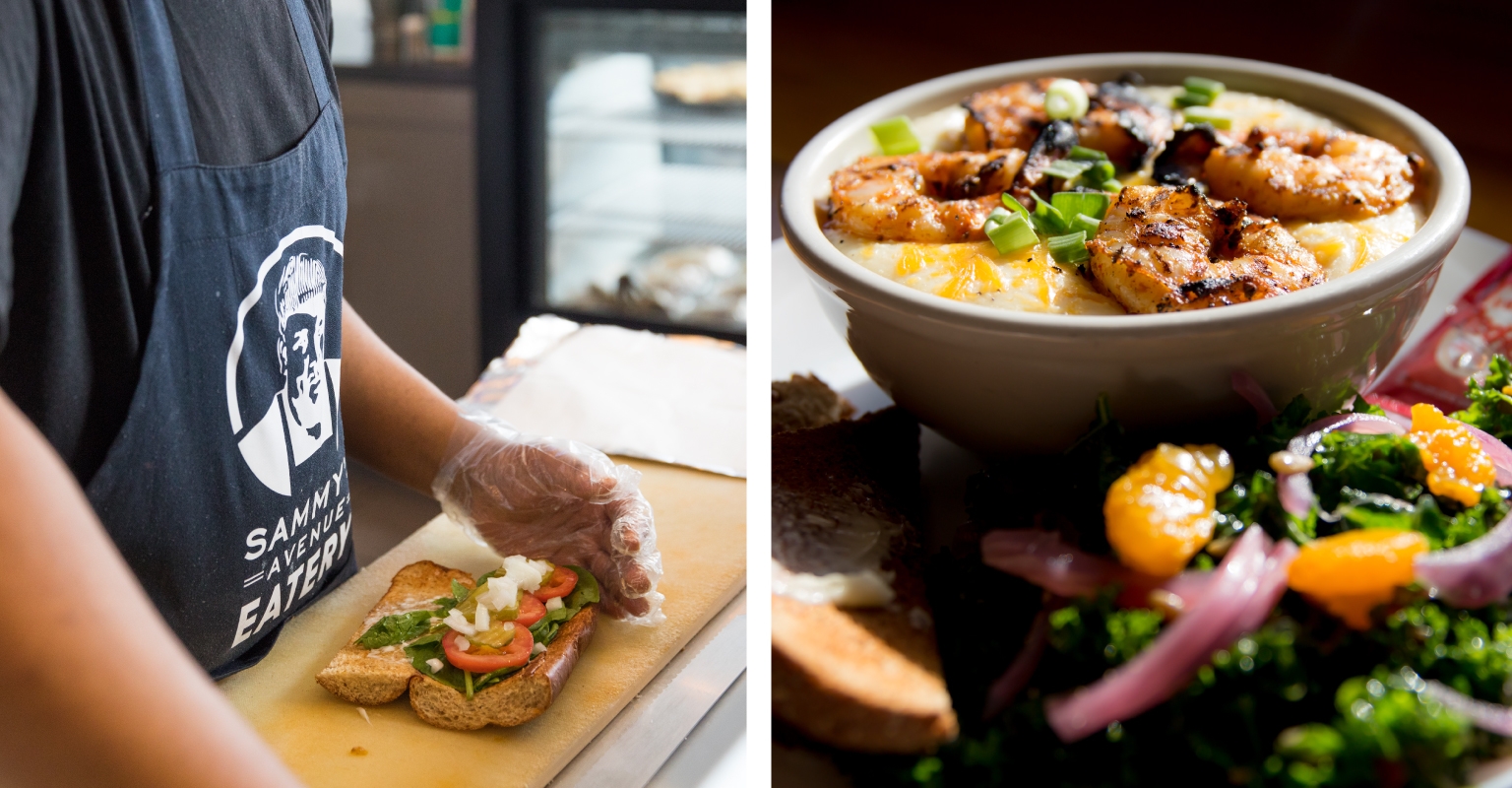 Sammy's Avenue Eatery
Beloved neighborhood corner Sammy's is a sunny spot to grab breakfast or lunch. Hearty sandwiches are king at Sammy's, with breakfast items served on garlic bread, and lunches served on satisfying whole-grain hoagie rolls. Try spicy Jerk chicken or sticky, sweet, and salty chicken teriyaki. They've got hot sandwiches covered, too, with turkey, ham, or chicken melts, perfect for cool days.

Breaking Bread
An offshoot of Appetite for Change, Breaking Bread is serving building health, wealth, and community in North Minneapolis. Their menu is designed to highlight the culinary traditions of Black Americans. It features dishes like chicken and waffles and sweet potato hash for breakfast, and mix and match chicken plates with soul food sides like collard greens, black-eyed peas, and macaroni and cheese for a mouthwatering and savory lunch.

Mini Pac Grill
Fried fish, thick, hot sandwiches, and smothered fries are signature eats at Mini Pac Grill. American and Mediterranean favorites can be found to satisfy any savory craving. Try their stir-fry-style rice dinners for a filling meal, six varieties of Philly sandwiches, gyros, and a piled-high burger.