Lowry Avenue is an important artery that carves through the primarily residential Camden neighborhood of North Minneapolis. It boasts a host of hidden gems for those visiting the area full of local flavor, outdoor activities, and a close-knit community that drew my partner and me to purchase a home here this past spring. I have to be honest, my last decade residing in Minneapolis has been in South and always near East Lake Street, but I'm no stranger to different areas of North Minneapolis.
When I initially moved to Minneapolis over a decade ago, I would cruise on my bike to Cookie Cart and pick up their delicious cookies for delivery to the University of Minnesota. I would ride on wide, smooth bike paths to get breakfast at Breaking Bread Café or cut through the neighborhoods to access the mountain bike trails at Theo Wirth Park. My band used to practice at City Sound near some of the best beer at La Doña and an incredible wine selection at Henry & Son's. Hot days were easily remedied with a dip in the Webber Natural Pool and some lunch from the new community cafe, H.E.A.L. MPLS.
When it came time to buy a home, I wanted to be in a place that reminded me of the neighborhoods I moved from in Milwaukee that were scrappy and persevering, sometimes even despite a lack of access to resources. I also craved living in a community full of other Black and Brown homeowners and renters—and current-day Camden (and especially this stretch of Lowry Avenue) is that: a community of color that has a strong sense of Northside Pride and defies the obstacles it has endured over the years. It has seen demographic changes from its inception and continues to evolve with the various communities that have settled here in the last century and before.
New Rules (shared workspace, retail and event space) | Credit: Rebecca Rabb
History of the district
Initially, the Camden area of North Minneapolis was a rural zone, from 53rd Ave all the way down to Lowry Avenue. It was not considered part of the city and was used as agricultural land to provide resources to the city. Near Shingle Creek, the northernmost part of Camden became an important industrial hub that included shingle and flour millers, brick makers, and railroad construction workers that were required for the railways from Camden into downtown Minneapolis.
In the 1880s, North Minneapolis was the landing place for many Eastern European Jews settling in Minneapolis. Due to restrictive housing policies for immigrants and minorities in other parts of the city, North Minneapolis was a place that was more welcoming to newcomers, especially those looking for work in the adjacent industrial zones such as Camden and other areas along the Mississippi River. Later, a surge of Black residents moved to the Camden neighborhood after World War II. Black and Jewish community members shared space on the Northside, developing their distinct cultural hubs until the 1960s when many Jewish residents—and the many establishments associated with them—left the area. The redlining and discriminatory housing laws via racial covenants separated Black Minneapolitans from other parts of the city. However, the area's self-sufficiency and community cooperation are still evident in the entrepreneurial spirit of Camden. Through its challenges, community members stick around, independent businesses arise, and Black and Brown joy persists. No section of Camdentown is as much of a gateway to supporting the small business owners in this community as the pulsing artery that is Lowry Avenue North—and lucky for me, it's only a few short blocks walk from my home.
Explore with Me
If you're headed to the neighborhood, you'll likely cross under the gleaming arches of the Lowry Avenue Bridge to access North Minneapolis. Initially built in 1905, this beautiful bridge has seen two renovations to keep people flowing in and out of the community. Ride your bike to meet me or rent a bike or scooter at one of the stations along Lowry Avenue North. Heads up! I have to be cautious of glass in the bike lanes when I bike along this corridor, but it's an efficient stretch when pedaling. When I'm not riding my bike, I love riding my motorcycles, and North Minneapolis is a haven for motorcycle culture. Its proximity to Theo Wirth Parkway and the Mississippi River makes it a pleasure to cruise on any kind of two-wheeled vehicle. No matter how we meet up, make sure you've already had your coffee, because I'll want to show off the beauty of Victory Memorial Parkway. This gorgeous, tree-lined boulevard is one of my favorite places to start the day with a run or bike ride.
Specialty Food & Markets
Once we've worked up an appetite, there are some delicious places to grab a freshly made snack or a complete meal along Lowry. I write about food for my day job, so I love any excuse to try a new restaurant or scope out a specialty grocery store, and Lowry has got us more than covered. If it's early enough, we can grab a late breakfast or early lunch at Lowry Cafe. They have excellent service and traditional diner fare featuring omelets, skillets, and pancakes, and a bit of Southern flavor and flair with shrimp and grits, perfect for topping with hot sauce. I'm a big fan of their biscuits and gravy, because they make for a hearty and delicious breakfast. Try one of their espresso drinks for a late-morning pick-me-up. For those ready for lunch, their menu features wraps, burgers, and sandwiches. This family-friendly restaurant also has a kids' menu to keep the little ones fed.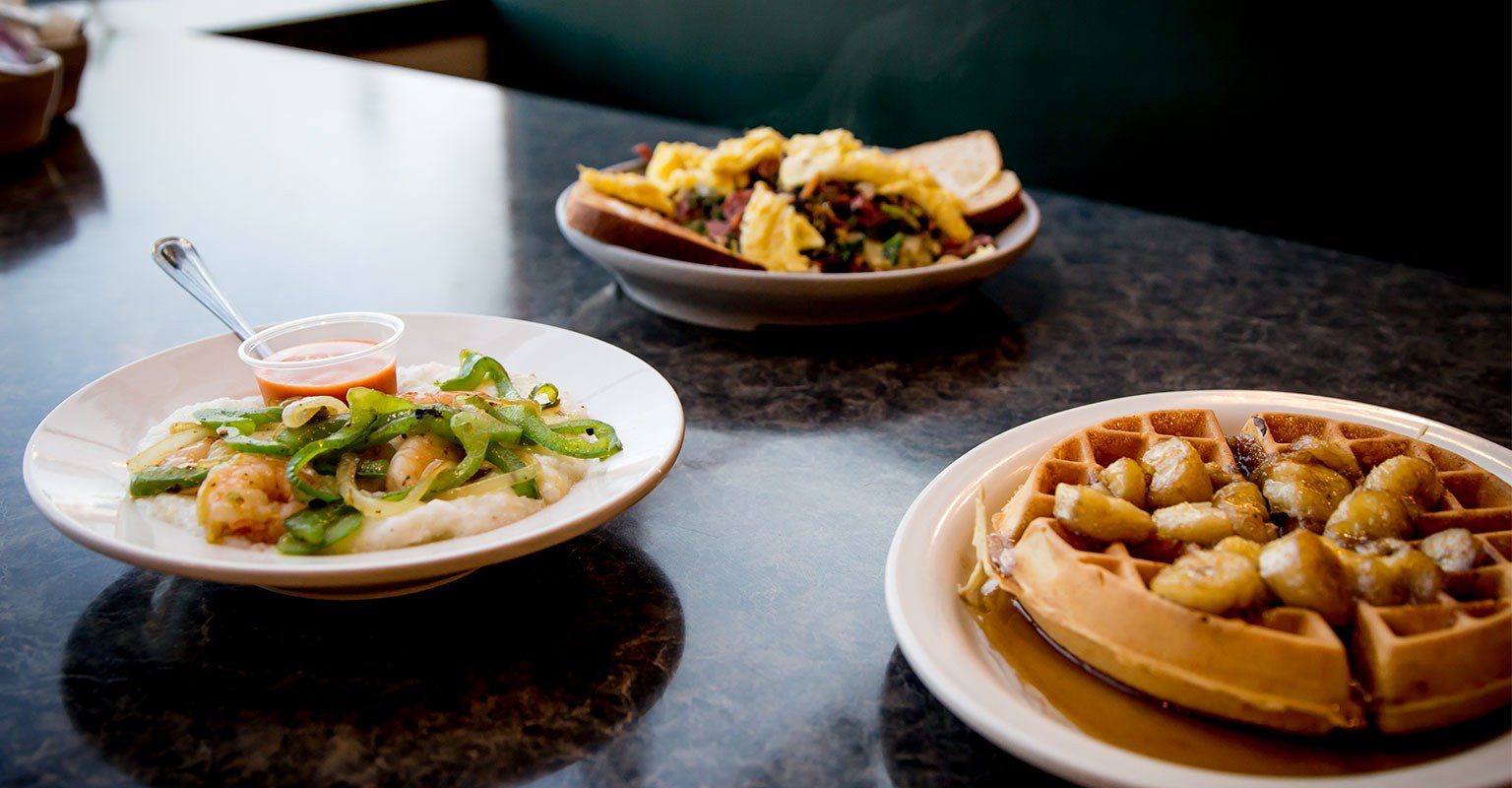 Lowry Cafe | Credit: Rebecca Rabb
Once we've refueled, we can walk to two of my favorite specialty grocery stores to browse food from around the globe. Asian market, Good Deal offers many ingredients from cuisines across the Asian diaspora, they are tied closely to the local Hmong community, providing herbs and components used in traditional recipes and herbal medicine. They use their space well and pack in fresh produce, dried herbs, sauces, and cooking supplies. Additionally, Good Deal has an impressive deli and hot bar that features fresh noodle salads, jelly desserts, whole roast ducks, Hmong egg rolls, Hmong sausage, steamed rice rolls, and more. They saved my dinner plans more than once, when I needed last-minute dumpling wrappers, tofu, or fish sauce, and their egg rolls from the hot bar are crispy and delicious. Another is So Low, a bulk grocery store that features staples and specialty ingredients from around the world. Walls of chili peppers and spices, cassava flour for fufu, curry, frozen seafood, and fresh meat (including specialty cuts like Mexican arrachera and carne al pastor) can be found at So Low.
Pamper Yourself
Not far from Good Deal is a cooperatively-owned beauty parlor, if you're tired and want a little pick-me-up. I work at a co-op, and the idea of collaboration is one that's kept North Minneapolis thriving and keeps my heart full. Taylor'd Skin & Co. Esthetic Bar is a beauty bar collectively run by five licensed beauty professionals. The services include waxing, facials, microblading, brow shading, lash extensions, body treatments, and loc maintenance services. Taylor'd Skin & Co is a one-stop shop for many beauty needs and will help relax us for whatever the evening will throw at us next.

Taylor'd Skin & Co. | Credit: Rebecca Rabb
Wrap up the Night
I think a low-key burger and game night will be the best for winding down our time here on Lowry. We can hang out at my favorite neighborhood joint, Tootie's, which is a little beyond the district borderlines but is within walking distance. Let's play some pool, darts, or pinball before ordering some food and drinks. Tootie's has bottled and tap beers—including local taps—as well as sizable burgers and seven flavors of wings. I know we're just friends, but I'll let you in on my secret that this is one of my favorite low-key date night spots.
Tootie's | Credit: Rebecca Rabb
I guess after a busy day exploring the neighborhood, you can see how it's so easy for us residents to develop a strong sense of that Northside pride. My neighbors, longtime Northsiders, have experienced the changes over the years and maintained a strong sense of ownership of our community through good times and bad. Share in our collective joy and explore the treasured small businesses. Support growing Black- and Brown-owned businesses the next time you venture to visit us here along Lowry, North Minneapolis.
More to Explore in the Lowry Avenue North Cultural District: