How the MCC Has Adopted Sustainability Efforts
We are committed to using resources responsibly and assisting customers in achieving their sustainability goals for meetings and conventions. See how the MCC has maintained high standards for sustainability.
As a 1.6 million square foot facility, the Minneapolis Convention Center (MCC) is dedicated to using resources responsibly by incorporating sustainable initiatives. As a building, our focus can be categorized by energy, water and waste, but it's so much more than that.
We also look at air quality, environmental purchasing, community partnerships and transportation through our holistic approach to sustainability. We use nearly 100% compostable food containers and utensils and provide water bottle filling stations throughout the building. We've also focused on helping clients make their event sustainable by sharing best practices and building infrastructure that makes it easy to be sustainable.
The recycling program launched in 1991, only one year after the Minneapolis Convention Center opened. This waste program established a system for recycling cardboard and paper left over from events. Now, having grown significantly past recycling, the MCC is LEED Certified, maintains a Gold Level certification from the Events Industry Council and is the first convention center to achieve a SITES certification for our Urban Meadow Plaza.
URBAN MEADOW PLAZA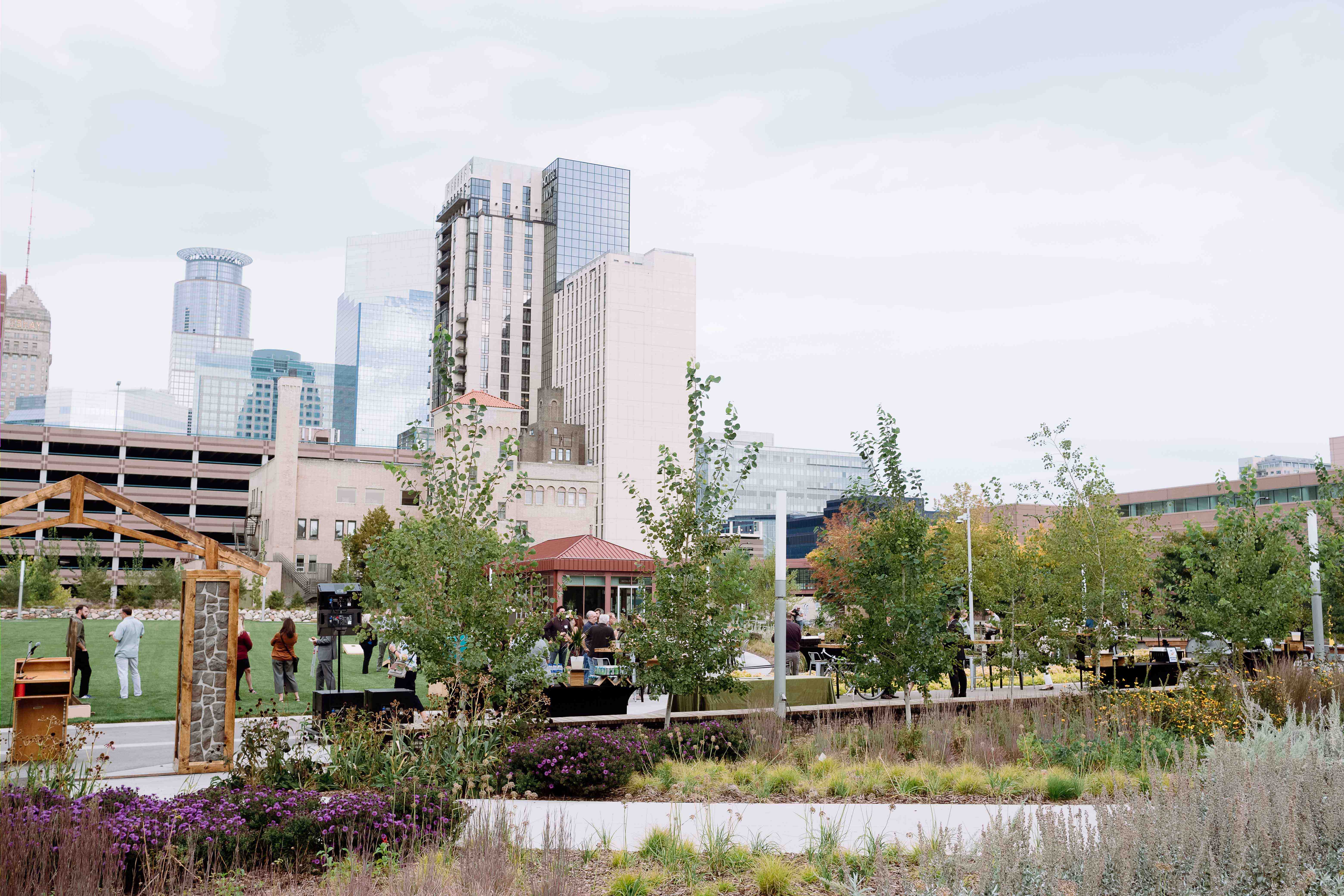 The 2.5-acre Minneapolis Convention Center Plaza is built on top of an underground parking deck, surrounded by an urban meadow planted with prairie grasses and wildflowers. It is downtown's largest pollinator refuge.
Designed by Damon Farber Landscape Architects for environmental sustainability, the Plaza also includes native tree and plant species, and irrigation utilizing the Convention Center's stormwater capture system. The Plaza received its SITES certification in 2022.
ENERGY

2,613 solar panels are located on the rooftop which supply 5% of the 100% renewable energy used – the other remaining 95% comes from Xcel Energy's locally sourced wind and solar energy.
100% of lighting has been updated to LED, saving on energy usage.
Skylights located throughout the building allow us to use natural light, reduce our energy usage, and add a calming ambiance.
High-speed roll-up doors have been installed to reduce energy loss during event load-in and load-out activity.
Building HVAC and lighting systems are continuously upgraded with efficient control and fixtures.
The stormwater catchment system prevents up to 5 million gallons of rainwater runoff from entering the Mississippi River each year by redirecting it to our underground storage system used for the facility's irrigation.
Kitchen areas and restrooms have been upgraded with fixtures that use 50% less water.
The pollinator park, located on the east side of the building, supports pollinator animals such as birds, butterflies, and bees.
The renovated MCC Plaza includes additional pollinator meadows, native tree plantings, and irrigation utilizing the MCC's stormwater catchment system.
WASTE

Water bottle filling stations throughout the building reduce plastic waste and make it easier for attendees to stay hydrated.
Kelber Catering provides 100% compostable food containers, cups, and utensils used at all food outlets within the building, including employee kitchens.
Digital displays used throughout the building reduce the need for printed signage which reduces waste.
Front-of-house recycling stations recycle cardboard, paper, organics, cans and bottles. Back-of-house systems recycle pallets, cooking oil, table cloths, sheet plastic, shrink wrap, carpet, wood, aggregate and landscape debris.
Separated waste centers in the back of house allow staff to efficiently recycle over 60% of all waste.
Any leftover meals from events are donated to People Serving People. In 2019, about 11,906 meals were donated.
Any non-consumable food from events are donated to the food-for-hogs program at Second Harvest/Barthold Farms. In 2019, over 220 tons of food were donated.
Used grease is recycled for biodiesel fuel and soap.
AIR QUALITY

The no-idling policy for all trucks loading in or out of the MCC is promoted to help reduce CO2 emissions.
Air quality is also maintained by not permitting smoking within 25 feet of any entrance.
Internal air quality is monitored and recorded to maintain a safe environment for attendees.
ENVIRONMENTAL PURCHASING

Food served at the MCC is sourced locally whenever possible.
Almost all cleaning products used are Green Seal Certified.
Floor care equipment uses Orbio Split Stream and Blended Stream Technology which converts water using electricity and a small amount of salt to clean carpeted surfaces. As well as ec-H2O which electrically converts water into a detergent-free solution for cleaning hard flooring surfaces.
TRANSPORTATION

Most staff commute to work by bike, public transportation, or carpool.
Minneapolis provides the Nice Ride bike-sharing system which has bike racks available within walking distance to the MCC.

Metro Transit provides a free shuttle to link from the MCC to downtown Minneapolis, and Light Rail Transit which connects riders to MSP Airports, Mall of America, Saint Paul, and 43 other stations.
COMMUNITY PARTNERSHIP

Leftover event items are donated to a variety of local organizations.
MCC staff members team up to raise money, collect items, and build awareness to several charitable organizations. In 2019, the staff collected 242 items for Toys for Tots, 700 school supplies for the Kids in Need Foundation back-to-school drive, and 12 boxes full of hats, mittens, scarves, and boots for Central Lutheran Church's Restoration Center. They also raised $236 for Be the Match, $105 for the Leukemia & Lymphoma Society, and $165 for Second Harvest Heartland.