What to Do Around the Minneapolis Convention Center This Winter
Come to the Minneapolis Convention Center for exciting events and then stay in Minneapolis exploring all the winter fun to be had. Check out our ideas for what to do around the Convention Center this winter.
Where to Eat and Drink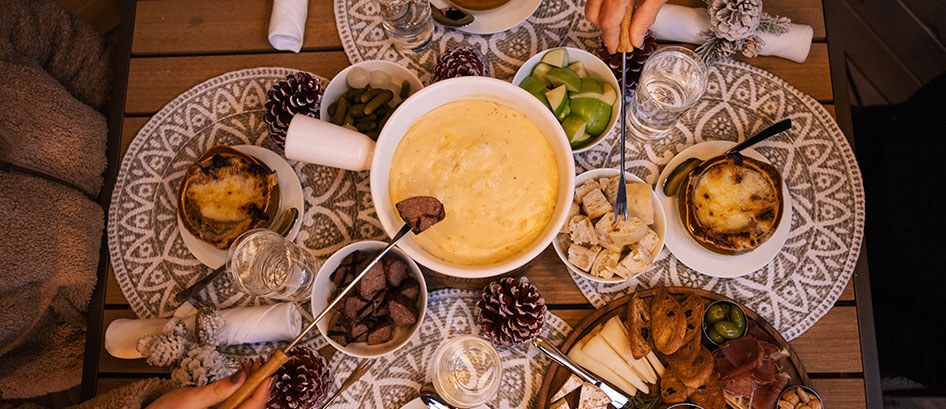 During the winter, there's nothing better than soups, pubs, and coffee shops to warm you up after being in the cold. Outside the Minneapolis Convention Center, there are plenty of options for hearty meals or cozy drinks, and most of them are within a 10-minute walk or less.
Downtown's most (in)famous spot for food and drink is Hell's Kitchen, an eclectically decorated, basement joint, serving "damn good food" all day, and a bar dedicated to one of the top winter cocktails, the Bloody Mary. If you don't have much time but want to try out some creations from this favorite spot, stop into their fast casual Hell's Cafeteria, located just above the restaurant. The menu puts a twist on an ever-changing assortment of comfort foods.

Fondue chain, The Melting Pot, offers the interactive experience of dipping food into a variety of cheeses and broth, such as beef, lobster, duck, shrimp, chicken, and mushrooms. There are, of course, chocolate dipping options for dessert. The menu caters to all budgets.
Brit's Pub doubles as an English Pub attraction (soccer and rugby fans flock here to watch matches) and a place to get a bite and a pint. They've got incredible creamy tomato soup, a filling chicken pot pie, fish and chips, and other British classics. Just a few steps down Nicollet is the Irish answer to Brit's, The Local. The long, mahogany bar that greets you is the first sign you've hit Irish pub. The menu is a treat of traditional Irish food. Try the pot roast or the steak and vegetable pie.

Pasta is also an excellent cure for cold day shivers. Monello serves wonderfully refined Italian dishes, and their pasta is one of the best parts of their menu. Try their truffle and Parmesan potato gnocchi or their ravioli. If you're in the mood for steak and chops, Ruth's Chris Steak House never disappoints. Finally, there's Manny's Steakhouse, located on the ground floor of the iconic Foshay Tower, home to the W Hotel. It's a little pricey, but absolutely worth the money. Eye-watering cuts of beef are joined on the menu by lobster, king crab, salmon and, yes, even chicken if you want to ruin your server's day.
Need a warm post-meal pick-me-up? You're in luck — there are several coffee shops near the Convention Center. Muffin Top Cafe and Zoe's Bakery and Cafe are right next door. A bit further is Gray Fox Coffee or popular chains Caribou and Starbucks findable in the skyways. If you plan on exploring more of Minneapolis, here are more of our favorite coffee shops to check out.

If you're looking for a unique-to-Minneapolis winter dining experience and are willing to splurge, treat yourself to an evening inside the Four Seasons Hotel's Nordic Village at Riva Terrace. Now through March 4, savor a cocktail around a fire and take in views of downtown, partake in a curling match with friends, then dine in a private mini cedar cabin for a four-course dinner.
In the Skyway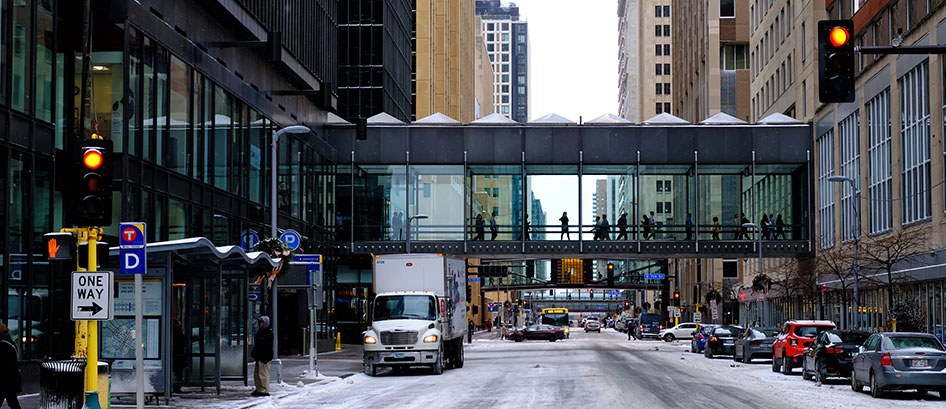 One of the more convenient features of the Minneapolis Convention Center is that it is connected to the Minneapolis Skyway System, the largest, contiguous system of enclosed, second level bridges in the world. So, if you're not in the mood to deal with the outdoor elements, know that you'll be able to roam around downtown Minneapolis without stepping a foot outside. The skyway stretches for roughly 9.5 miles and connects 80 city blocks of downtown and will connect you to innumerable hotels and places to eat, shop and drink. There may be a bit of walking involved so bring some comfortable shoes, but if staying warm and dry is a priority, it's worth it.

If you feel lost or need help getting around, look for a DID Ambassador wearing green shirts. You will find them throughout the skyways Monday-Friday from 10am-6pm. Also note that skyway hours may be limited in some buildings so check hours beforehand and plan accordingly.

Coffee Shops are a great way to start your day near the Convention Center and the skyway is full of them. A few to check out are Caribou Coffee, Gray Fox (ground level on both the AT&T Tower and 8th Street Building) and Cardigan Donuts.
For snacks and emergency shopping, the two-level, flagship Target Store at 9th Street and Nicollet has become the one-stop destination for downtown workers and residents to satisfy virtually any need. The grocery section has grown to stock a variety of items to fuel a quick family lunch or hotel room breakfast.

The skyway has many dining options as well. The closest spots to the Convention Center are Café Patten and Valentino Café (ground level) and Dave's Downtown in the Oracle building and Ginelli's Pizza in the 121 South 8th street building.

If you wander further down the skyway system you'll run into Sushi Taktasu, which offers a variety of udon soup perfect for the winter or turn up the spice level at Velle Deli for a Mexican & Asian fusion.

Another way to explore the skyway is to do a bit of shopping. Stores nearby include Hubert White (clothing), Marty Mathis Direct (men's suits), Lindskoog Florist, and Haskell's (wine, beer, alcohol), FX Store (apparel and shoes), Indulge and Bloom (floral shop), Strive Bookstore, and Sistah Co-op.
Things to Do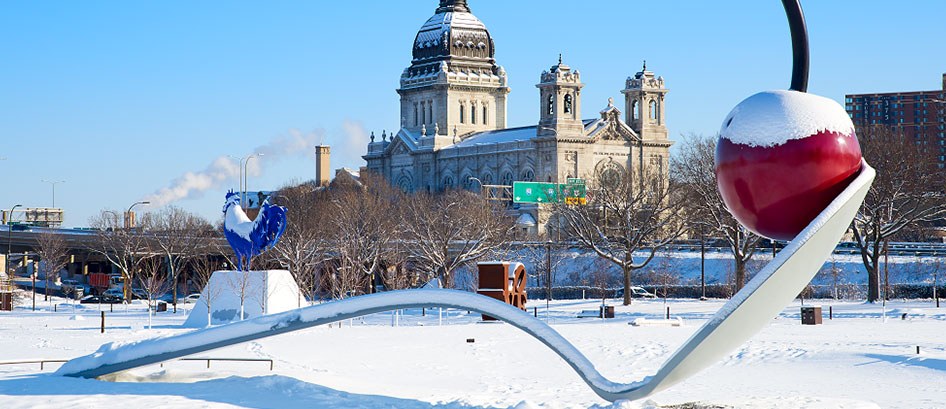 There are plenty of fun things to see and do around the Minneapolis Convention Center during the winter. You're just a couple blocks away from all kinds of activities.

While walking a few loops inside the Convention Center itself would probably get you to 10,000 steps, you can also get out for a little fresh air. One of the better strolls from the Convention Center is down the Loring Greenway. The Greenway starts just a block west of the Convention Center, leading to the famous Loring Park.

From Loring Park you can cross over the Irene Hixon Whitney Bridge, which is an Instagrammer's dream photo-op. This pedestrian bridge connects you to a Minneapolis must-see the Walker Art Center's Sculpture Garden. Here you'll discover around 40 works of contemporary sculpture art, including the iconic "Spoonbridge and Cherry." A fun way to explore the garden is by snowshoeing. Every Thursday from 5pm-8:30pm, join the Walker for their Winter at the Walker series where you trek around the different sculptures in snowshoes. Snowshoes will be available to check out from the outdoor patio on Vineland Place for free 30-minute exploration sessions courtesy of the University of Minnesota Center for Outdoor Adventure. Pre-registration is required, so sign up as soon as you can!

Don't forget to make a stop inside the Walker Art Center to warm up and browse through contemporary visual arts and design exhibitions, and sit in on film screenings, or dance, theater, and music performances. On view this season is Paul Chan's Breathers which traces the artist's return to art-making through approximately 40 works and suites of objects, including a new installation made especially for the Walker. Also check out Five Ways In: Themes from the Collection, an exhibition that features a diverse range of artists whose approaches to their subjects are often unconventional, innovative, and even surprising.

Think about doing a closet refresh and head over to the North Loop for all your shopping needs. Here you'll find local boutiques like Martin Patrick 3, D. NOLO, Jaxen Grey, Statement Boutique, Queen Anna House of Fashion and Parc Shop along with national brands like Madewell and Lululemon.

Classical music lovers, seeing the Minnesota Orchestra at Orchestra Hall is a must! The Orchestra puts on a variety of performances to satisfy all types of visitors. They often will put on film concerts where a live orchestra will play the score along with your favorite movies, including Disney classics, Harry Potter and Star Wars.

Basketball season is well underway at Target Center, just a few blocks away from the convention center. Don't miss your chance to see high flying dunks from superstars Karl Anthony Towns, Anthony Edwards and Rudy Gobert as they take on some of the best players in the NBA.
Getting Around Minneapolis