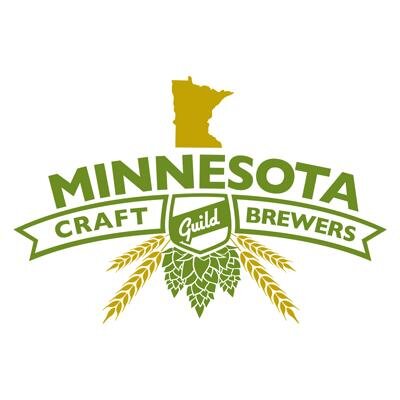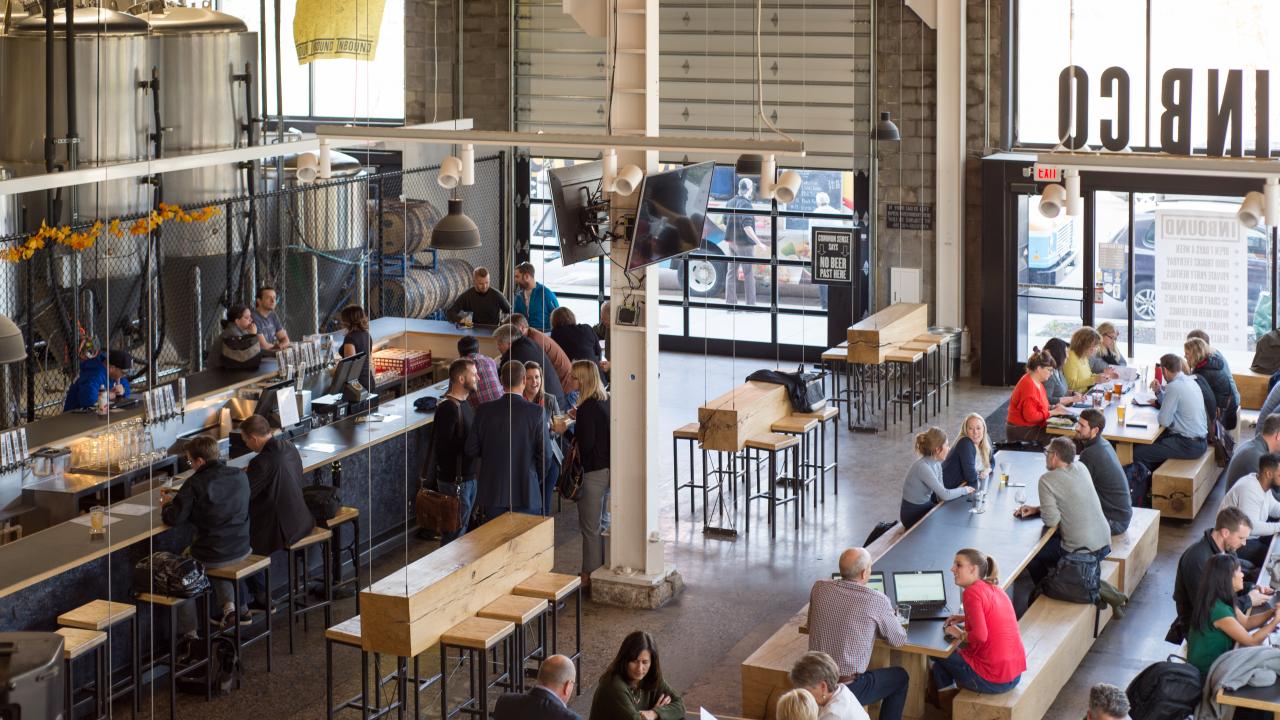 Minnesota & Minneapolis Craft Brewers
Minnesota has a long, diverse history in the brewing industry.
At one time, it boasted over 100 small breweries that serviced their local communities. Although the numbers have dwindled, a number of craft breweries have sprung up once again serving fresh, locally produced beer. The Minnesota Craft Brewers Guild was founded in 2000 to promote Minnesota breweries, create an open line of communication between brewers, and showcase local craft beer at our events throughout the year. Find breweries in and around Minneapolis:
Member Breweries
10K Brewing; Anoka, MN
Nice beer. Nice People. 10K Brewing was Co-founded by brother and sister, and now run by father and son. 10K Brewing's focus is making the Nicest beer possible' they brew a new beer each week and experiment with your favorites to brew the best beer possible.

56 Brewing; Minneapolis, MN
56 Brewing brings beer lovers together while highlighting the Northeast Minneapolis community qand culture. Their high-quality craft beer is produced at a lower volume in a micro-brewery, allowing brewers to focus on quality and consistency. 56 Brewing only provides growler purchases, but all are welcome to sample beers before deciding on a purchase.


612 Brew; Minneapolis, MN
612Brew produces small batch beers of the highest quality to satisfy the craft beer enthusiast and weekend beer drinker. The quality ingredients used in the line of beers are sourced as close to Minneapolis as possible, bringing true meaning to local beer.

Able Seedhouse; Minneapolis, MN
Able Seedhouse was started by a few guys who wanted to make things together. The brewery's name lends to one's ability to do anything. Able Seedhouse values locally sourced grains and aims to continue pushing the benefits of Minnesota small grains. Forging relationships with farmers, scientists, bakers, distillers, food companies, other brewers and their own customers is of high importance to the community of Able.

August Schell Brewing; New Ulm, MN
August Schell's is a family-owned business, and has been passed down through six generations. Schell's is dedicated to the German tradition and most brewmasters train in the homeland. Committed to produce German Craft Beer, they have crafter over 100 different varieties since opening their doors.

Bad Habit Brewing; St. Joseph, MN
Bad Habit Brewing features hand-crafter flagships brews and an ever-rotating selection of seasonal and specialty brews. Enjoy a pint while sitting in front of the brew tanks and give this Bad Habit another meaning.

Bad Weather Brewing; St. Paul, MN
Bad Weather Brewing creates craft beers that are unpredictable and unbound, similiar to Minnesota's daily weather forecast. With their lineup of beers always changing and their flagship beer keeping them anchored, brewery-goers will always have a choice of fun and seasonal ales.

Badger Hill Brewing Co.; Shakopee, MN
Badger Hill Brewing believes the best things happen over a glass of beer. Friendships begin, ideas are shared, and the best stories are told. Craft beer is enjoyed fresh at Badger Hill Brewing taproom.

Bald Man Brewing; Eagan, MN
At Bald Man Brewing, passion for fresh Artisan beer, friends, family, and rock music bring beer drinkers together in a brewery like no other; a brewery with style.

Bang Brewing Co.; St. Paul, MN
Bang Brewing is Minnesota's first dedicated organic brewery. The Bin, powered by solar energy, is just one step this brewery takes in ensuring a healthy environment both in and outside the taproom.

Bank Brewing Co.; Hendricks, MN
Located in a historic creamery building, Bank Brewing is dedicated to bringing craft beer to southwest Minnesota. Enjoy their latest beers, a game of giant jengs, or play bean bags in the seasonal beer garden outside.

Barley John's Brew Pub; New Brighton, MN
Barley John's Brew Pub is dedicated to producing the highest quality craft beer and food in their New Brighton oasis. Since opening, the brewery has added a vegetable garden for fresh seasonal produce, a fully maxed out facility for brewing production, and will soon be the only brewery in Minnesota to install a solar array to provide solar energy to the facility.



Bauhaus Brew Labs; Minneapolis, MN
Bauhaus Brew Labs flaunts a community of "forward drinkers" and celebrates the joys of art and craft in our daily lives. Bauhaus has designed their beer to ignite the drinker's senses and make their wildest dreams come true.

Beaver Island Brewing; St. Cloud, MN
Building a great community and brewing even better beer is the culture of Beaver Island Brewing. Beaver Island puts the same dedication into their beer that they do into the community that hass supported them in many ways. As the brewery says, "This beer unites us."

Bemidji Brewing Co.; Bemidji, MN
Enjoy a pint or sample paddle of Bemidji Brewing's range of beers in their taproom, order a bite to eat from their food menu, and fill up a growler on the way out. Can't make it to Bemidji? Their craft beers are sold at numerous restaurants and bars in the surrounding communities.

Bent Brewstillery; Roseville, MN
Bent Brewstillery aims to make tasty brews and powerful booze that goes against the grain of style guidelines. All of their beverages adhere to the highest standards of craft, quality, and integrity.

Bent Paddle Brewing Co.; Duluth, MN
It is Bent Paddle Brewing Company's mission to brew craft beer with a focus on sustainability for the environment, the greater community, their business and employees. With 20 different sustainability practices currently in place, Bent aims to make their craft beer a positive and unique experience for everyone.

Big Axe Brewing; Nisswa, MN
This small-batch craft brewery and taproom features a large variety of custom ales and lagers, as well as freshly made sodas for the non-alcohol drinkers. With over 20 beers on their regular lineup, new and limited releases and an eatery attached to the taproom, Big Axe has everything you need to satisfy your tastes.

Big Wood Brewery; White Bear Lake, MN
Flaunting award-winning craft beers, Big Wood Brewery produces distinctive brews with 10 on tap at all times. With something new every week, visitors are bound to choose something delicious at the edgy and welcoming brewery.

Birch's Brewing On The Lake; Long Lake, MN
Overlooking to waterfront of Long Lake, Birch's combines the comfort of a supperclub with a unique American-style brewery. The casual yet classy location touts locally sourced ingredients and a seasonal menu.

Blacklist Brewing; Duluth, MN
Specializing in Belgian style ales, Blacklist produces brews with innovative ingredient selections and bold flavors for a refreshing drink sure to satisfy.

Boathouse Brew Pub; Ely, MN
Located in the northern woods, BoatHouse Brewpub is passionately committed to making great hand-crafted beer and food. By using the freshest ingredients to ensure a satisfying experience, their commitment to excellence is apparent in everything they make.

Boom Island Brewing; Minneapolis, MN
Specializing in unique, Belgian-inspired craft brews, Boom Island's beer is like a symphony of exceptional flavors; a traditional style with an untraditional brewer. Founded by two professional French horn players, the brewery has successfully channeled their creativity into the brews they produce.

Borealis Fermentery; Knife River, MN
This small-batch brewery located on the North Shore produces Belgian-style, bottle conditioned artisan ales. Made with fresh ingredients and artesian Lake Superior water, the brews at Borealis Fermentery are sure to never disappoint.

Brau Brothers Brewing; Marshall, MN
Brau Brothers believes in locally sourced ingredients, growing eleven different varieties of their own hops. Growing and malting their own two-row barley this brewery takes responsibility of their beer from the grain to the grass.

Burning Brothers Brewing; St. Paul, MN
Claiming the title of the only dedicated gluten-free brewery in the Midwest, Burning Brothers brings the freedom of drinking beer back to everyone who is gluten-free. By using naturally gluten-free ingredients to create great-tasting and unique brews, Burning Brothers is sure to satisfy.

Canal Park Brewing Co.; Duluth, MN
The Northcoaster beer from a place you won't forget; Canal Park produces craft beer to satisfy adventurers of all types that wander up and down the North shore. With food options, consistently epic batches of beer and a beautiful location, Canal Park Brewery will not disappoint.

Carmody Irish Pub & Brewing; Duluth, MN
This nano-brewing facility features 32 craft beer taps, including six of their own in-house brews. With four core beers and two seasonals, Carmody concentrates its efforts on unique artisan style brews.

Castle Danger Brewery; Two Harbors, MN
Producing dangerously good ales for years, Castle Danger beers are all produces with a flavor profile in mind. Located on the North Shore, this brewery prefers to use traditional brewing practices to produce unique and flavorful beers.

Dangerous Man Brewing Co.; Minneapolis, MN
This destination microbrewery and taproom focuses on high-quality, small-batch production beers with ever-changing taps. This brewery is a hub beer lovers and those looking for everything from traditional to extreme in their brews.



Day Block Brewing Co.; Minneapolis, MN
For every great experience, there is a great beer. This small scale brewhouse enjoys being creative with their recipes and beer styles. Unafraid to bring their customers new experiences, it does not take a craft beer expert to appreciate and enjoy Day Block's beers.

Disgruntled Brewing; Perham, MN
One taste and you'll know this is Midwest brewing at its finest –skilled and artful. Producing one great beer after another, Disgruntled's options range from ales, lagers and stouts, to wheat beers, specialties and seasonals, to German, Belgian and Russian styles. It will be love at first taste.

Eastlake Craft Brewery; Minneapolis, MN
This brewery and taproom brews post-modern American and traditional European beers. With craftsman-brewed ales and lagers for die-hard beer fans, Eastlake also has non-alcoholic options for non-drinkers, under 21-year olds, and gluten-free individuals.

ENKI Brewing Co.; Victoria, MN
ENKI Brewing was established on the idea that remarkable beer, shared with others, leads to outstanding friendships. Starting with three 20 barrel fermenters, they have since tripled their capacity to meet the growing demand for their beer.

Excelsior Brewing Co.; Excelsior, MN
This Lake Minnetonka inspired microbrewery is a full production facility that offers unique brews. Their brews are created to honor lake life, and ultimately, to complement it.

F-Town Brewing Company; Fairibault, MN
Formed. Founded. Fermented. F-Town brewers and beer lovers are all about crafting experiences. With a love for creating great flavors that bring people together, it's all about working hard and living life with a well-crafted brew in hand.


Fair State Brewing Cooperative; Minneapolis, MN
Minnesota's first cooperative brewery puts the natural connection between the brewer and community to work. Fair State produces something great by creating infinite community and quality beers.

Finnegans; Minneapolis, MN
Drink local, give local. 100% of the profits at Finnegans Brew Co. goes to feeding the hungry. Finnegans believes in turning beer into food.

Fitger's Brewhouse; Duluth, MN
Fitger's handcrafted, award-winning brews are produced in small batches using all-natural ingredients and fresh Lake Superior water. From their tanks to your glass, the result is a refreshing and delicious beer that pairs perfectly with their food options in the Brewhouse Grille.

Flat Earth Brewing Co.; St. Paul, MN
Drink local, Drink fresh! This microbrewery is on a mission to produce the finest craft beers worth talking about. Dedicated to its St. Paul roots, Flat Earth continues to create some of the freshest beer in the Twin Cities.

Forager Brewery; Rochester, MN
This brewery and restaurant specializes in wood-fired pizza and craft beer. Their brews are produced from a combination of locally sourced ingredients, regionally native grains, and wild hop varieties. While supporting local farms and businesses, Forager believes in offering a large selection of carefully crafted beers made through sustainable brewing methods.

Foxhole Brewhouse; Willmar, MN
Foxhole is bringing fresh, local and handcrafted beer back to Willmar, MN. This small batch brewery produces flavorful, aromatic beers of amazing varieties.

Freehouse Brewery; Minneapolis, MN (above)
Giving their customers the freedom of choice, Freehouse Brewery serves their beer side-by-side with their competition –with the belief that the quality of ingredients paired with the care and craft of their brewmaster will set their brews apart. Freehouse's commitment and love for their craft makes it a worthy choice.

Fulton Beer; Minneapolis, MN
Claiming the title of Minnesota's first legal taproom, Fulton Beer has produced some of Minnesota's most popular beers, including Sweet Child of Vine IPA, The Lonely Blond, and The Libertine.

Goat Ridge Brewing Co.; New London, MN
This brewery and taproom give off an old-school rock-and-roll meets bachelor farmer vibe. A come-as-you-are atmosphere pairs well with their unique craft beers.

Grand Rounds Brewpub; Rochester, MN
The roots of good beer lies in good ingredients. Grand Round sources the best malts, hops and yeasts to make their delicious craft beers. Adding fresh and local ingredients, like honey, and producing their beer in small batches on site keeps the brews fresh and local.

Great Waters Brewing Co.; St. Paul, MN
Saintly beers and food made from "holy" waters. Brewed on sire using the highest quality ingredients, Great Waters Brewing boasts award winning cask conditioned ales and pushed beers. Their beers provide a unique dining experience for couples, families and foodies, with fully stocked bar if you decide to skip the brews.

Gull Dam Brewing; Nisswa, MN
Your beer drinking taste demands bigger flavors and more variety. At Gull Dam you can be sure to experience good times and drink exceptional craft beer. Their event center is available year-round.

Gun Flint Tavern; Grand Marais, MN
Known for having a definitive style and flavor profile, Gun Flint Tavern is the perfect place to try one of six craft-brewed selections or other eighteen micro-brews on draft. If you're looking for a place to enjoy a flavorful craft beer, nice glass of wine, organic food, and live music year-round, Gun Flint is the place for you.

Hammerheart Brewing Co.; Lino Lakes, MN
The Hammerheart Brewing Co. was built in recognition of the old Nordic and Celtic cultures, rich with life, literature, experience and wisdom. The brewery has 16 year-round beers and different seasonal selections and specials to keep their selections fresh and diverse.

Hayes Public House; Buffalo, MN
Hayes' Public House is a gathering place for all walks of life looking to enjoy good company, delicious craft beer and the occasional live music. Hayes' brews mostly traditional British ales, with added twists, taking those traditional ales to new levels.

The Herkimer; Minneapolis, MN
The Herkimer Pub and Brewery boasts small-batch craft beer, award-winning food, and the title of a local neighborhood favorite. Tending to everyone's needs, Herkimer offers a full-service bar with craft beer brewed on site, an espresso bar, and a full-service kitchen open late night-close. Brunch is served 7 days a week, with two daily happy hours and games and events to keep the atmosphere outstanding.


Inbound Brew Co.; Minneapolis, MN
In the heart of Minneapolis' North Loop, Inbound believes in the beer, and their taproom is a result of listening to the beer. Experimenting with and refining the most drinkable craft beer around, Inbound is all in on the beer.

Indeed Brewing Co.; Minneapolis, MN
Nestled along train tracks in the heart of the Northeast Minneapolis Arts District, Indeed is a full-scale production brewery with an eclectic line-up of distinctive flagship brews, well-loved seasonal releases, and adventurous specialty beers. They don't just brew beer, they craft experiences. "We Are Thirsty Creatures Indeed."



Insight Brewing; Minneapolis, MN
Globally inspired, and locally brewed –Minneapolis style- Insight's brewmaster creates distinctive craft beers influences by his travels around the world. Five year-round beers each tell a different tale, with seasonal brews and more coming from the brewmaster's vault.

Jack Pine Brewery; Baxter, MN
From light to dark, malty to hoppy, and even an award-winning pepper beer to spice things up, Jack Pine has something you are bound to love. With a goal to bringing customers a quality brew across a wide spectrum of flavors, the brewery is filled with tasters and pints as well as refillable growlers to go.

Joseph Wolf Brewing Co.; Stillwater, MN
The great-granddaughters of Joseph Wolf, responsible for the first steam-powered brewery in the state, are reviving the legacy of their predecessor. Build inside a series of caves, customers can take a cave tour while enjoying a nice pint of craft beer.

Junkyard Brewing; Moorhead, MN
Junkyard Brewing Co. is a small, nanobrewery. Serving ten taps at the brewery taproom with a weekly rotation of experimental beer styles and featuring live music every night, Junkyard will not disappoint.

Kinney Creek Brewery; Rochester, MN
With fifteen beers and an assortment of seasonal ales, Kinney Creek's retro style taproom satisfies the craving for a great Midwest brewed beer. Sourcing many ingredients from local neighbors, the brewery aims to produce the freshest and most eco-friendly beer on the market.

Lake Monster Brewing; St. Paul, MN
10,000 lakes, and only one lake monster. Crafting unique versions of classic beer styles, Lake Monster puts their own subtle twist on the flavors craft beer drinkers have come to love. Their beers adhere to the philosophy that there is always something more to be discovered.

Lakes and Legends Brewing Co.; Minneapolis, MN (above)
A relaxing and comfortable home away from home, Lakes and Legends brewery and taproom is the perfect place to socialize over community tables or a game of hammerschlagen. Live music, food trucks, performances and fundraisers regularly add to the atmosphere.

Lakeville Brewing Co.; Lakeville, MN
Lakeville Brewing Co. features a restaurant in conjunction with their onsite brewery. Their warm and welcoming dining, patio and bar areas are yet another home away from home. Their dedication to freshness shows through their handcrafted beer and homemade American food.

Lift Bridge Brewing Co.; Stillwater, MN
Lift Bridge is on a mission to create fine beers for all to enjoy. Brewing it their own way, they hope that through every bottle and pull tap beer drinkers can taste the history of the city and the uncompromising natural ingredients and brewing process.

LTD Brewing Co.; Hopkins, MN
Limited batches, unlimited possibilities. LTD brews are beer for people who dare to dream differently. Believing that beer is an art, a craft and a passion that can only be inspired by challenging the way it is brewed, LTD is committed to brewing with their heart and soul and defying the standard experience.

LTS Brewing Co.; Rochester, MN
LTS Brewing makes it their goal to create amazing beer, have fun and take care of their customers and community. The taproom features a great line up of craft beers and delicious sodas for any non-alcohol drinkers.

Lupine Brewing Co.; Delano, MN
Lupine Brewing is the product of a long-time friendship turned into a business partnership striving to make great beer. From their award-winning cranberry oatmeal stout to over twenty other brews offered throughout the year, Lupine has a taste that you are sure to love.

Lupulin Brewing; Big Lake, MN
A company with a philosophy of community involvement, access to the public, and a little splash of idiocrasy along the way, Lupine is dedicated to making unique beers with attention to quality and flavor.

LynLake Brewery; Minneapolis, MN
LynLake Brewery features a lineup of high-quality flagship craft beers, with seasonal rotations and specialties. With beers crafter to bring out bold flavors and aromas of quality ingredients, LynLake also offers a rooftop patio for relaxation when the weather is right.

Mankato Brewery; North Mankato, MN
Focused on crafting authentic brews that reflect the heritage of the region and its people, this brewery invites all to try their local flavor. Suitable for all ages, their taproom features twelve draught lines, bottled Craft Soda and great views of their brew house and tanks.

Maple Island Brewing Co.; Stillwater, MN
This microbrewery and taproom thoughtfully creates full flavored craft beer using unique and often local ingredients.

Minneapolis Town Hall Brewery; Minneapolis, MN
Town Hall is a gathering place, a space to spend time with friends –both old and new. Their award-winning brews and comfortable atmosphere make Town Hall a brilliant stop for a pint.

Modist Brewing; Minneapolis, MN
Named one of the best new breweries in the Unites States by BeerAdvocate in 2016, Modist's brewhouse allows them to make beers that are traditionally impossible. With a philosophy of creativity, their Head Brewer starts with a flavor and experience in mind, then works backward. Every beer crafted creates a new experience.

Montgomery Brewing; Montgomery, MN
At Montgomery, they believe in the little things that make every day special. Brewing approachable and full flavored beers for everyday celebrations, this brewery will remind you of something to cheers to.

Moose Lake Brewing Co.; Moose Lake, MN
Moose Lake Brewing boasts a wide variety of brews. With beers craft-brewed with the world's finest barley malt, hops, yeast and water, this brewery has the perfect traditional brewpub feel.

Northbound Smokehouse & Brewpub; Minneapolis, MN
Unlike most brewery taprooms, Northbound is a full-service brewpub with a restaurant and full bar. Consistently crafting adventurous top-notch beers, Northbound is an award-winning brewpub with mentions in the City Pages 'Best Of' issues, USA Today's 'Top 20 Brewpubs' and a Silver Medal from the World Beer Cup.

NorthGate Brewing; Minneapolis, MN
British inspired, proudly traditional, and Minnesota brewed. NorthGate provides beer drinkers with approachable varieties, crafter with passion, creativity and consistency. Their high standards produce tasteful quality beers.

Nutmeg Brewhouse; Burnsville, MN
A cultural fusion of Americana and British Colonial, Nutmeg Brewhouse is cultural experience. With internationally themed cuisine and delicious beers paired with a fun and comfortable atmosphere, this brewhouse has got you covered.

Omni Brewing; Maple Grove, MN
Omni created all kinds of beer for all kinds of people. Consistently experimenting with new flavors, this brewery loves to please everyone. From session and scotch ales to IPAs and stouts; from ginger to habanero and blackberries, Omni loves exploring and sharing their brews.

Reads Landing Brewing Co.; Reads Landing, MN
With a delectable menu and handcrafted beer brewed on-site, there is something for everyone at Reads Landing Brewing Co. A beautiful view of the river pairs well with the food and brews offered at this brewing company.

Red Wing Brewing Co.; Red Wing, MN
This small brewhouse makes about 6-7 barrels per week, managing to keep up with a thirsty public. Three of their year-round beers are historic brands made for the people of Red Wing since the late 1800's. New and favorite brews continue in rotation throughout the year.

Rock Bottom Brewery; Minneapolis, MN (above)
Rock Bottom is passionate about pints and maniacal for malts. While they pride themselves on their remarkably consistent qualities of beer, they're just as dedicated to letting the personality, experience and expertise of each Brewmaster shine through. With a food menu to pair with your brew, Rock Bottom has everything you need.

Roundhouse Brewery; Brainerd, MN
Roundhouse Brewery crafts superior beers in a historic setting. Using the highest quality ingredients and a passion for the perfect pint, the brewers aim to produce unsurpassed beer. Strongly believing in community, Roundhouse strives to make great beer and create a great experience.

Schram Vineyards Winery and Brewery; Waconia, MN
Schram brings vineyard wine and craft beer drinkers together in Minnesota. Their award-winning wine and custom brews pair well with the beautiful landscape and charming setting. Always aiming to have eight brews on tap, including four flagships, Schram includes rotating specials to their taps.

Sisyphus Brewing; Minneapolis, MN
Craft beers, brewed without a purpose, for a greater purpose. Sisyphus features eight beers on tap, with live comedy and events to keep the atmosphere lively.

Socialable Cider; Minneapolis, MN
Sociable ciders are to be enjoyed like a great draught beer. Their ciders are well carbonated, dry and always made from real apples. Sociable is not just cider, they're so much more.

South Fork Brewing; Delano, MN
South Fork produces four flagship beers, with space for rotating selections throughout the year. With the brewery situated right off the taproom, you can enjoy a delicious pint while watching the brewers at work.

Spilled Grain Brewhouse; Annandale, MN
With an extensive beer selection, frequent live music, and a menu with numerous delectable options, Spilled Grain is a perfect place to sit back, relax, and enjoy a craft brew.

Steel Toe Brewing; St. Louis Park, MN
This small Minnesota craft brewery has big dreams of staying small. Steel Toe has four year-round brews, two barrel aged monsters that are featured one a year, and several seasonal options.

Summit Brewing Co.; St. Paul, MN
Summit Brewing painstakingly brews beer as stimulating, complex, and rich in character as the people who share it. Seven year-round beers occupy Summit's taps with limited releases and seasonal brews bubbling up alongside. Engaging in several environmentally friendly practices, Summit is committed to sustainable production and resources.



Surly Brewing Co.; Minneapolis, MN --
Surly Brewing Co.'s philosophy is better poured than written. The beer is what matters most, above everything else. With food options, a beautiful patio and outdoor fires and games when the weather complies, Surly is the perfect place to spend any evening.

Take 16; Luverne, MN
Committed to producing high quality beer, using local ingredients whenever possible. Take 16 takes pride in their attention to detail while giving you the great tasting brews you will come to expect and enjoy!

Talking Waters; Montevideo, MN
A great atmosphere and unique brews makes Talking Waters a good choice to craft beer drinkers. Even avid non-beer drinkers will find something to love!

Third Street Brewhouse; Cold Spring, MN
A beautiful taproom and wonderful weather-permitting patio supplement Third Street Brewhouse's affordable $4 pints and $5 flights. 7 year-round beers lay the foundation for other seasonal and specialty brews. With a great facility, great brewers, and great ingredients, Third Street is all about the great craft beers.

Tin Whiskers Brewing Co.; St. Paul, MN
The craft brews at Tin Whiskers Brewing Co. are artfully engineered in Minnesota – from the grain right to your glass. The people of Tin whiskers utilize their electrical engineering background in the production of beer names, listing of ingredients, and their scientific approach to the brewing process and branding.

U4IC; Belle Plaine, MN
At u4ic Brewing, quality does matter. With 24 taps, they hope to fill them all with a variety of different beers, hard cider, and handcrafted root beer. Nestled on the bluffs of the Minnesota River Valley, u4ic brews great beer better.

Urban Growler; St. Paul, MN
Urban Growler Brewing is the first woman-owned microbrewery in the state of Minnesota. They brewery makes traditional beers and a variety of specialty brews with a local twist. Open 6 days a week at 11am (yes you can come in for lunch!) and featuring live music every Wednesday night, Urban Growler is ready to satisfy.

Urban Lodge Brewery and Restaurant; Sauk Rapids, MN
Once known as Urban Moose Brewing Co., the Urban Lodge is all about craft beer, artisan food, and mad hops. Comfortable, classy and casual sum up the atmosphere at this brewery. A place of authenticity, people come to Urban Lodge to enjoy quality food, drinks and camaraderie.

Utepils Brewing; Minneapolis, MN
At Utepils, good living comes from good brewing. This full-scale craft brewery gets its name from the Norwegian word which refers to "the longing and anticipation for the first beer enjoyed in the sunshine." Minnesotans near and far can relate to the anticipation of spring and enjoyment of the first pint outdoors –making a perfect name for an outstanding Minnesotan brewery.

Vine Park Brewing Co.; St. Paul, MN
Vine Park is distinctly unique in that it is the only brewery in the Midwest where individuals can brew their own beer and make their own wine on Vine Park's equipment with the help of their staff. This brewery is the perfect place for craft beer and wine lovers to try their hand in the brewing processes!

Voyageur Brewing; Grand Marais, MN
Voyageur Brewing Company has a beer –and an adventure –with your name on it. Every North Shore adventure should include a trip to the brewery, with a taproom that flaunts a beautiful view of the Grand Marais Harbor. With a perfect location, Voyageur uses Lake Superior water to create the finest craft beer in Grand Marais.

Wabasha Brewing; St. Paul, MN
Just a stones-throw from the famous Wabasha Caves, this brewery strives to produce quality, smooth and easy-drinking craft beers for every palette and occasion. There is a beer for everybody at Wabasha Brewing Co.!

Waconia Brewing Company; Waconia, MN
Approachable brews from approachable people. Waconia's taproom features four flagship beers always in supply, with seasonal and specialty beer selections. Featuring music and food trucks in constant rotation, this cabin-esque brewery is perfect for a one, two, or the whole family!

Wayzata Brew Works; Wayzata, MN
With a beautiful view of Lake Minnetonka from inside the taproom and outdoors on the patio, Wayzata Brew Works is a micro-production facility in the perfect location. Fresh pizza and soft pretzels pair well with the brewery's delicious craft beer.

A Timeline of Minnesota
Beer History
1823 —A soldier named Schillinksy, stationed at what is now Fort Snelling, is first person to sell beer in the area.
1858 — At statehood, Minnesota has more than 20 breweries.
1880s-1890s — Most Minnesota cities were served by a local brewery.
1919 — Many breweries begin producing sodas and other drinks due to Prohibition.
1920-1970s — Smaller breweries close, leaving only four by the 1970s: Schmidt, Cold Spring Hamm's and Schell's.
1990s — Several brewpubs pop up in Minnesota.
2011 — "Surly Bill" becomes law, allowing breweries to sell pints on their premises.
Today — Nearly 100 brewery members of the Minnesota Craft Brewers Guild — more than quadruple the count from 2011.