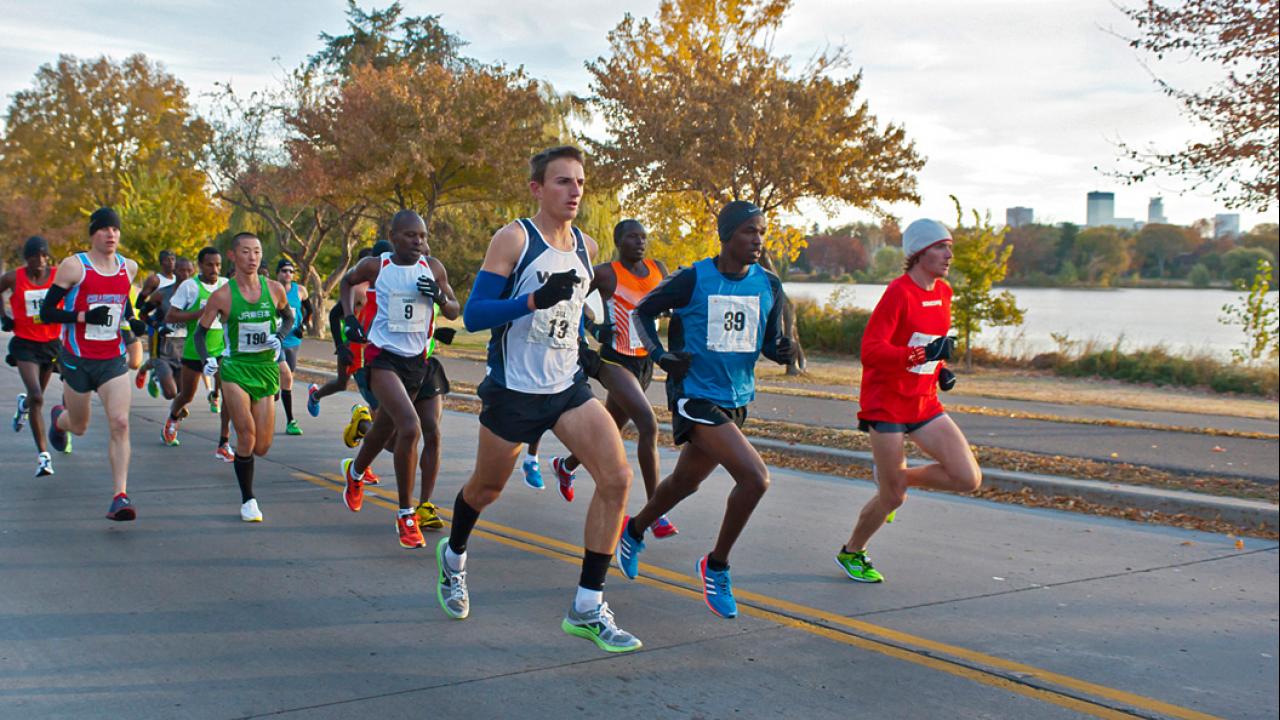 Twin Cities Marathon Itinerary
"Vehicles are unnecessary. We have surpassed them."
These are the words (we think) the elite Twin Cities Marathon runners must be thinking as they put one foot in front of the other consecutively for a grueling 26.2 miles; a feat no normal human could even comprehend doing in under two and a half hours (the expected finish time of the lead runner) without the aid of a motorized transportation unit.
For the rest of us that enjoy the thought of long-distance running more than the actual practice of it, we've compiled the best places to eat and play at during your visit to Minneapolis. Keep this handy guide on you at all times and your Twin Cities Marathon experience will be spectacular from start to finish (pun intended).
Starting Line to Mile Marker 1 | Mile Markers 2-3 | Mile Markers 4-5
---
Starting Line to Mile Marker 1
Restaurants:
Brit's Pub & Eating Establishment- There's nothing quite like the atmosphere of a British pub, and everything here is identical to the experience over the pond. Relax on the patio, shoulder up to a stool at the bar or play a little lawn bowling on the roof (with real grass fields up there). And, since it's a Sunday, you'll be able to experience Brit's in full swing as Premier League soccer occupies every screen. Fish and chips washed down with Guinness, anyone?
Solera- The motto is "Spanish cuisine served simply and sumptuously," and Solera completely lives up to that promise. They take fresh, locally-sourced ingredients and transform them into the most authentic Spanish cuisine in the Twin Cities. Come up to their famous rooftop for a cocktail and light dinner, or enjoy a leisurely evening of paella with a bottle of Spanish wine (from one of the largest collections in the U.S.).
Fogo de Chao Churrascaria- The story of Fogo de Chão® began in the mountainous countryside of Rio Grande do Sul in Southern Brazil, where its founders were born. Growing up, the founding brothers were immersed in the centuries-old Gaucho culture, a rich blend of traditions from European immigrants and Brazilian natives.
The young boys would learn how to grill the meats the Gaucho way from their fathers, becoming the caretakers of a culinary tradition passed down from generation to generation for over three centuries.
CRAVE- CRAVE Restaurant was built out of a passion to create a dining experience unlike any other. A dining experience where quality, locally sourced food, chic atmosphere, and diverse choices offer guests the opportunity to create their own unforgettable dining experience.
Executive Chef Bill King and his expert culinary team have crafted a menu evoking the tastes of the new American palate featuring fresh and innovative cuisine with Mediterranean and Asian influences. They proudly support locally owned, independently operated farms and businesses. Plus, whenever, possible they use local, organic or all natural products.
Attractions:
Brave New Workshop- The Brave New Workshop (BNW) Comedy Theatre has been writing, performing and producing original sketch comedy, music and comedy improvisation longer than any other theatre in the United States. Now in their 54th year of crafting audacious, hilarious, and thought-provoking original comedy and satire in Minneapolis, the BNW is a Twin Cities comedy institution, and if you're a fan of comedy you can't miss a show here.
Historic Theater Group, LLC- Minneapolis is one of the top art hubs in the nation, and the theatre scene is coveted in thespian circles. The Trust is made up of four different theatres within the "Theater District" of downtown Minneapolis: The Orpheum Theatre, Pantages Theatre, State Theatre and New Century Theatre.
During your stay in Minneapolis, you can catch Ben Folds Five on Saturday at the Orpheum Theatre, as well as the musical Deer Camp: The Musical Friday-Sunday at the New Century Theatre.
Nicollet Ave- Considered the heart of downtown Minneapolis, Nicollet Avenue is where you can experience the best of Minneapolis. Considered a "Top 10 Shopping Street in the US," this is a place where you can literally do it all. Shop-til-you-drop with tax-free shopping on all apparel, spoil your tastebuds and relax in luxury all in this one convenient street.
---
Mile Markers 2-3
Morning Coffee:
Caribou Coffee, Lunds- The marathon starts early, so grab a cup of Joe and some snacks at the Caribou Coffee located in the brand-new Lunds on Hennepin Avenue. Nothing feels better on a cool-crisp morning than that warm cup between the hands.
Restaurants:
Café Lurcat- This is hands-down one of the best patio/burger/wine bar combos in Minneapolis, which are three important things you've always wanted in a restaurant are all in the same place. Café Lurcat holds all these distinctions, and for good reason; they've held accolades for their revered patio/burger/wine bar combo. This is one of the most booked, most romantic settings in Minneapolis.
Attractions:
Walker Art Center-The scenery may change as the race progresses to miles 2-3, but the artistic influence of Minneapolis will be plainly abundant. The Walker Art Center is along this stop, which features new and contemporary visual and performing art exhibits and programs. While you're there, you may notice a rather large spoon and cherry sculpture. That's the so-aptly-titled "Spoonbridge and Cherry" sculpture, the centerpiece of the Walker Sculpture Garden. Walk around, snap some pictures and indulge in some very cool art.
Loring Park-There's a reason Minneapolis is nicknamed the "City by Nature," and Loring Park is the direct personification of that saying. Loring Park is the largest park in downtown Minneapolis, and features a beautiful lake that is complimented by biking and walking paths. Whether the race is coming or has come by already, Loring Park is a great place to sit back and take in nature set in an urban environment.
Basilica of Saint Mary- History lovers already know the significance of this building, but for those of us that missed that episode on the History Channel; we'll elaborate.
The Basilica of Saint Mary was the first basilica established in the United States. The Basilica of Saint Mary is the Co-cathedral of the Roman Catholic Archdiocese of Saint Paul and Minneapolis and is one of the finest examples of Beaux-Arts architecture in the country. Open the doors and literally step into history when you visit the Basilica.
---
Mile Markers 4-5
Morning Coffee:
Caribou Coffee, Lake Street- Help get through those next couple of miles by grabbing some coffee from the company that started right here in Minnesota: Caribou Coffee.
Restaurants:
Chino Latino- Maybe it was Lamma Island salty squid. Maybe pescado ahumado, bulgogi, or popocatepe. All you know is you loved it, everyone else still smells it, and you can't wait to repeat it. Chino Latino serves Street Food from the Hot Zones – the tropical belt that extends from the Caribbean to the Americas to Polynesia, on to Southeast Asia, India, Africa and back again. What unites their offerings is the power of the flavors, the emphasis on freshness and the embrace of ingredients and cooking styles common to the Hot Zones.
Libertine- If you're looking for a unique and satisfying meal, check out Libertine. Created by Time McKee, Libertine reflects a diversity of talent united by a belief that the public should be able to drink and eat as they wish, and that creativity thrives in an atmosphere of freedom. Grab a table by the window, and you'll have beautiful views of Lake Calhoun, Uptown and the downtown Minneapolis fall skyline.
Burger Jones- Straight from their website, "Because no one can satisfy a jones for burgers like Burger Jones." One burger from Burger Jones will have you wondering how you ever got by eating anything else. On top of their jaw-dropping burger selection, the menu also features items like the Tri-Fry Tasting Tower, Beer Battered Cheese Curds, Bison Burger, Chicago Dog and the Salted Caramel Malt. Indulge a little bit. Satisfy that jones.
Attractions:
Bakken Museum- What more could you want in an attraction only STEPS from the race? The Bakken Museum is a beautiful mansion surrounded by gardens and complimented by the neighboring Lake Calhoun. Get a shock from a 100-year-old machine, play spooky electronic music on the theremin, experience Mary Shelley's Frankenstein in their immersive object theater and test out some of Ben Franklin's favorite static electricity experiments. It's all here for a break for the kids during the race.
Lake Calhoun- You may notice a very large body of water that the racers are running around between mile markers 3-4. This place is known as Lake Calhoun, and it is the source of all water fun in Minneapolis. You'll be able to kayak, paddleboard, paddle boat and even windsurf if you're feeling so adventurous. For those who aren't so inclined to be on the water, you can walk around the 3.4 mile trail and enjoy the beautiful fall tradition of the changing of colors.
Nice Ride- Minneapolis is the best biking city in the nation. What contributes to that success is the extremely-popular Nice Ride system. You can grab a bike at one of their 145 locations and hit the trails around Lake Calhoun and the Chain of Lakes. You'll be hard-pressed to find a trail system that's as beautiful, smooth and expansive as this in the entire nation, so take advantage of it while you're here.