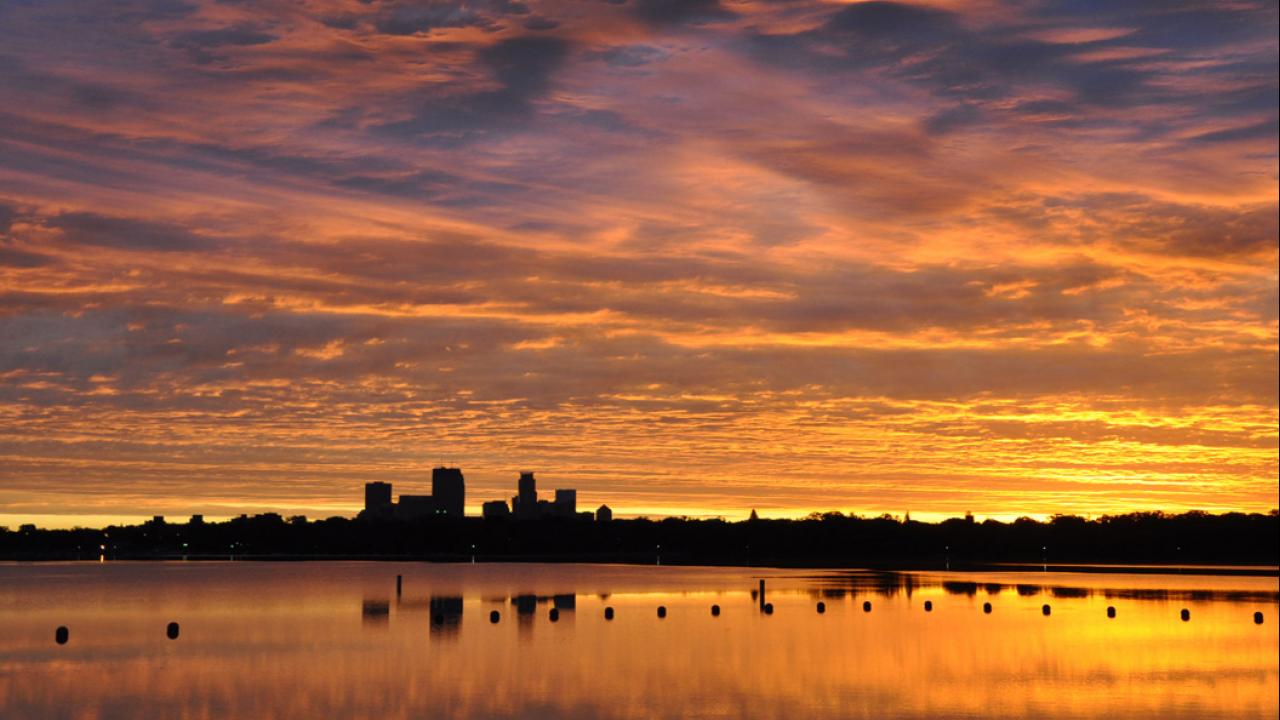 Rivers and Lakes
Minnesota is the land of 10,000 lakes, and Minneapolis is known to house a few, too. The mighty Mississippi roars through our city, and our lakes are 24/7 ready for fun: liquid or frozen.
Morning
Enjoy breakfast downtown at any one of our fabulous restaurants—from celebrity chefs to local favorites and ethnic specialties—we're sure to have something for every taste. Or savor breakfast at Nicollet Island Inn, surrounded by panoramic views of the Mississippi River.

By car or by bike, tour the Grand Rounds National Scenic Byway and discover the beauty of the Mississippi River and our Chain of Lakes. The Grand Rounds is the only National Scenic Byway in the United States that is located within an urban area. Stop at the free Frederick R. Weisman Art Museum to enjoy the beauty of the Mississippi River and the building designed by architect Frank Gehry. Then visit Minnehaha Falls for another stunning display of the mighty Mississippi and the only waterfalls in the United States that is located within a metro area.

Afternoon
Stop for lunch on the Mississippi River bank at Pracna on Main Historic Dining Saloon, the oldest restaurant on the oldest street in Minneapolis. After lunch, take a stroll across the Stone Arch Bridge to Mill City Museum. Located within the ruins of the historic milling district, the museum is packed with interactive exhibits, an eight-story Flour Tower and fun for visitors of all ages.

Or, enjoy lunch in the heart of Uptown at Barbette, just blocks from Lake Calhoun. Then tour the Bakken Science Museum & Medicinal Garden on the west side of Lake Calhoun.

Take a ride back in time on a Como-Harriet Street Car Line at Lake Harriet. Stroll along the lake or visit the bird sanctuary, rose gardens (second oldest public rose gardens in the U.S. with 60,000 blooms in peak season) and peace gardens near Lake Harriet.

Evening
Savor dinner as you cruise down the Mississippi River aboard the Minneapolis Queen Paddlewheeler, which provides a beautiful look at historic Minneapolis. Or, relax on the patio of Spoonriver in the Riverfront District. Next door at the Guthrie Theater, take in an amazing view of the riverfront area from a bridge-like cantilever that suspends from the lobby over the Mill Ruins Park.