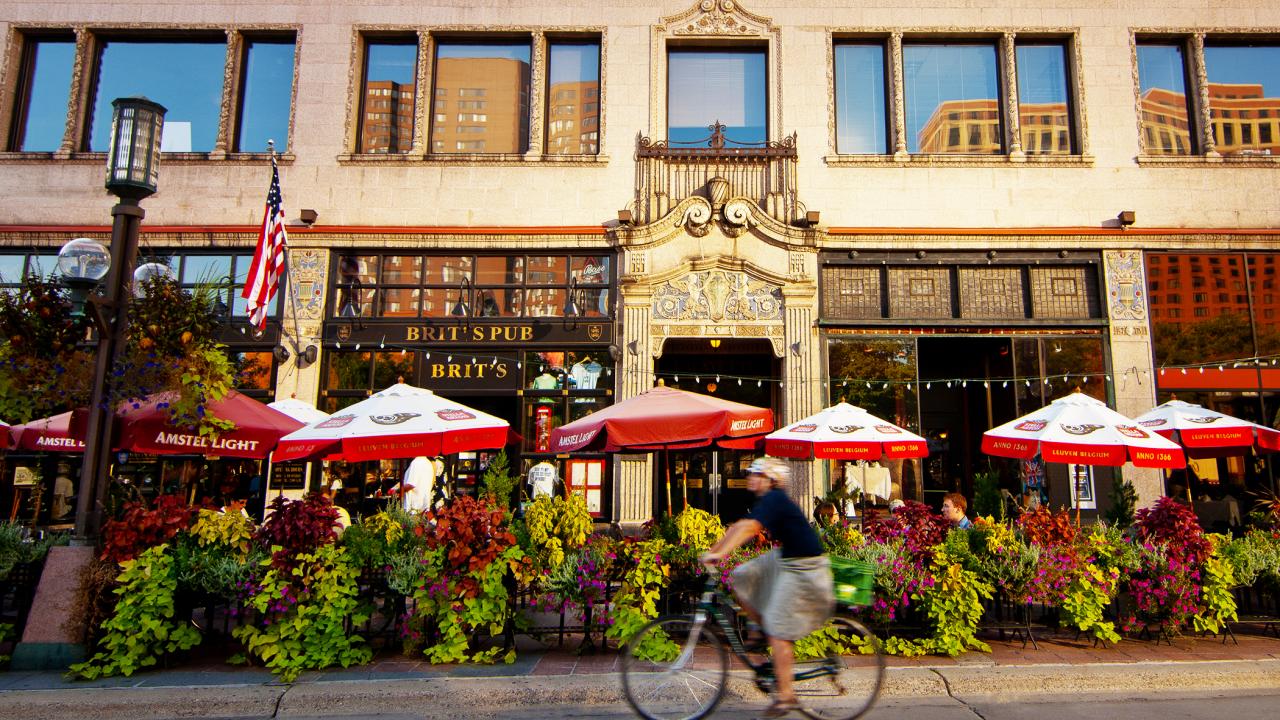 Minneapolis Patio Dining
Explore our favorite outdoor dining spots in Minneapolis
Great food and warm sunshine make for a wonderful dining experience. Minneapolis combines both to create one of the best outdoor dining scenes in the nation. The restaurants here love outdoor dining just as much as you do, which is why the numerous outdoor patios and rooftops offer significant deals on their food and beverage selections. It's their way of thanking you for being part of this wildly popular dining phenomenon.
Check out the map below to see where you can enjoy outdoor dining in Minneapolis.
Minneapolis Patios
What Type Of Patio Are You Looking For?
Brit's Pub has a unique Lawn Bowling Green on their roof that is open from the end of May to the end of September.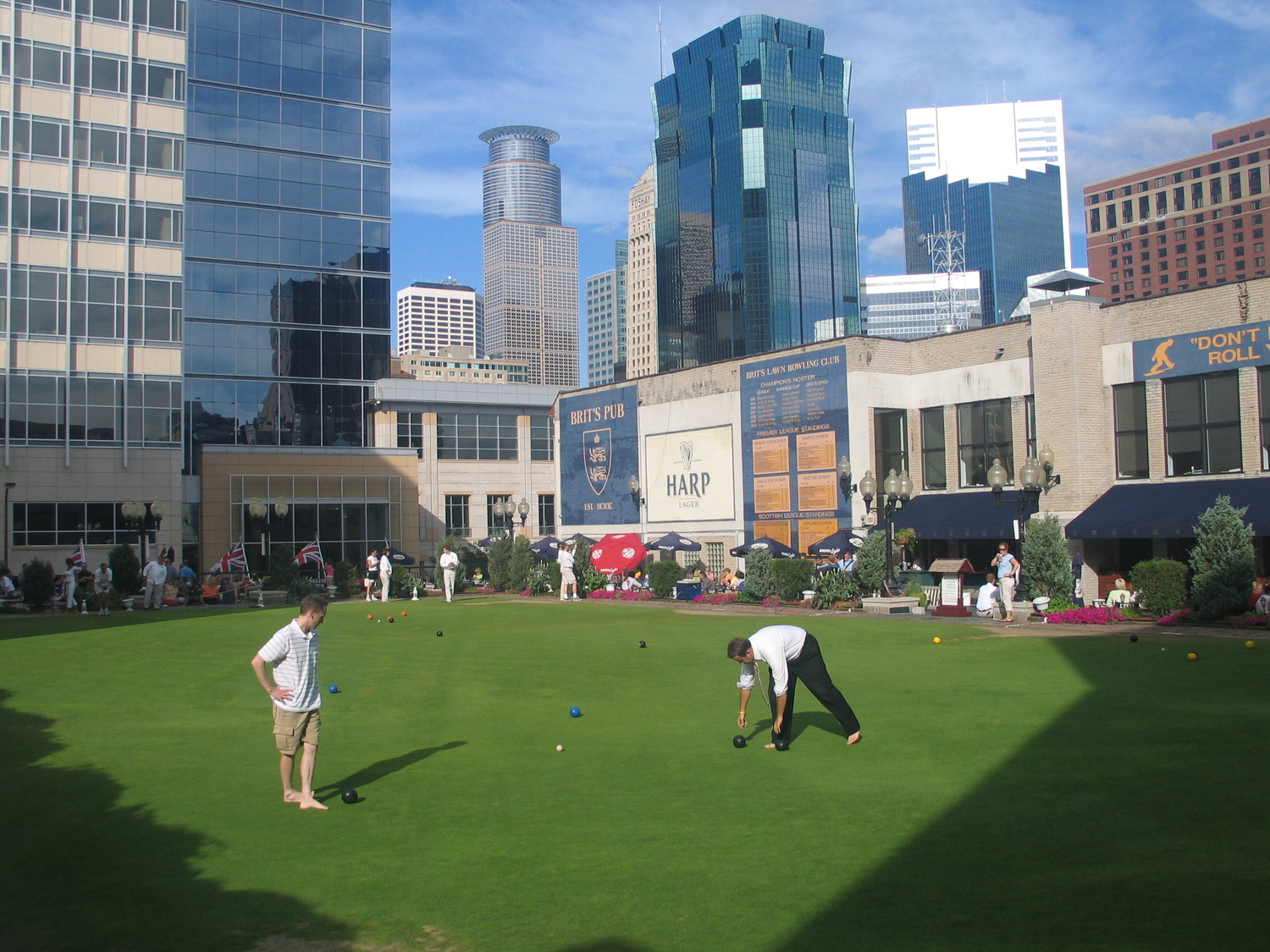 Crave's extensive rooftop patio provides a view of Downtown Minneapolis where you can have a drink in the casual seating or enjoy a meal at a table under own of their tents.
Seven Steakhouse and Sushi offers a rooftop patio overlooking bustling Downtown Minneapolis. Customers can now enjoy Seven's new Premium Steak cuts on the rooftop.
Features the only year-round rooftop in Minnesota with breathtaking views of the downtown Minneapolis skyline. Soak in the morning sun and take in Solar Brunch, every Sunday from 10am to 3pm.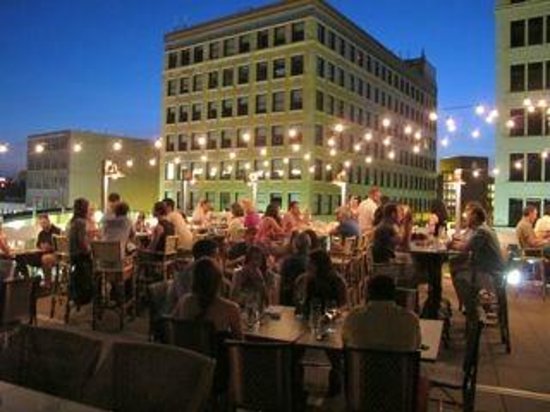 In the heart of Minneapolis' trendy Uptown neighborhood, Stella's is a rooftop dining force to be reckoned with. Located close to shopping boutiques, theaters and music venues, this spot is within walking distance of it all. Enjoy some delicious eats then spend a day perusing the shops!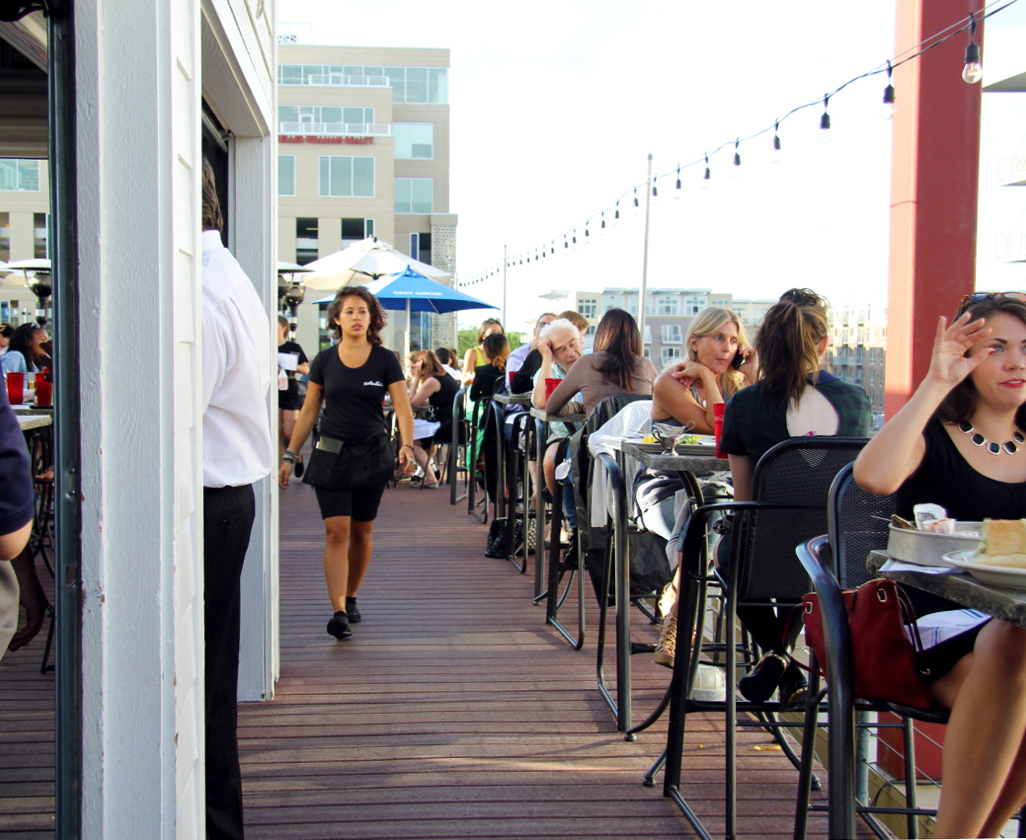 Sip some wine and feast on fresh Italian food! Amore Uptown features old world, immigrant style Italian dishes with a fun & elegant uptown twist.
Beacon Public House's patio features comfortable seating around fire pits as well as dining tables for customers to enjoy their meals outdoors.
Betty Danger's energetic patio atmosphere gives guests the opportunity to ride a ferris wheel or mini golf, while enjoying one of the restaurant's beloved margaritas.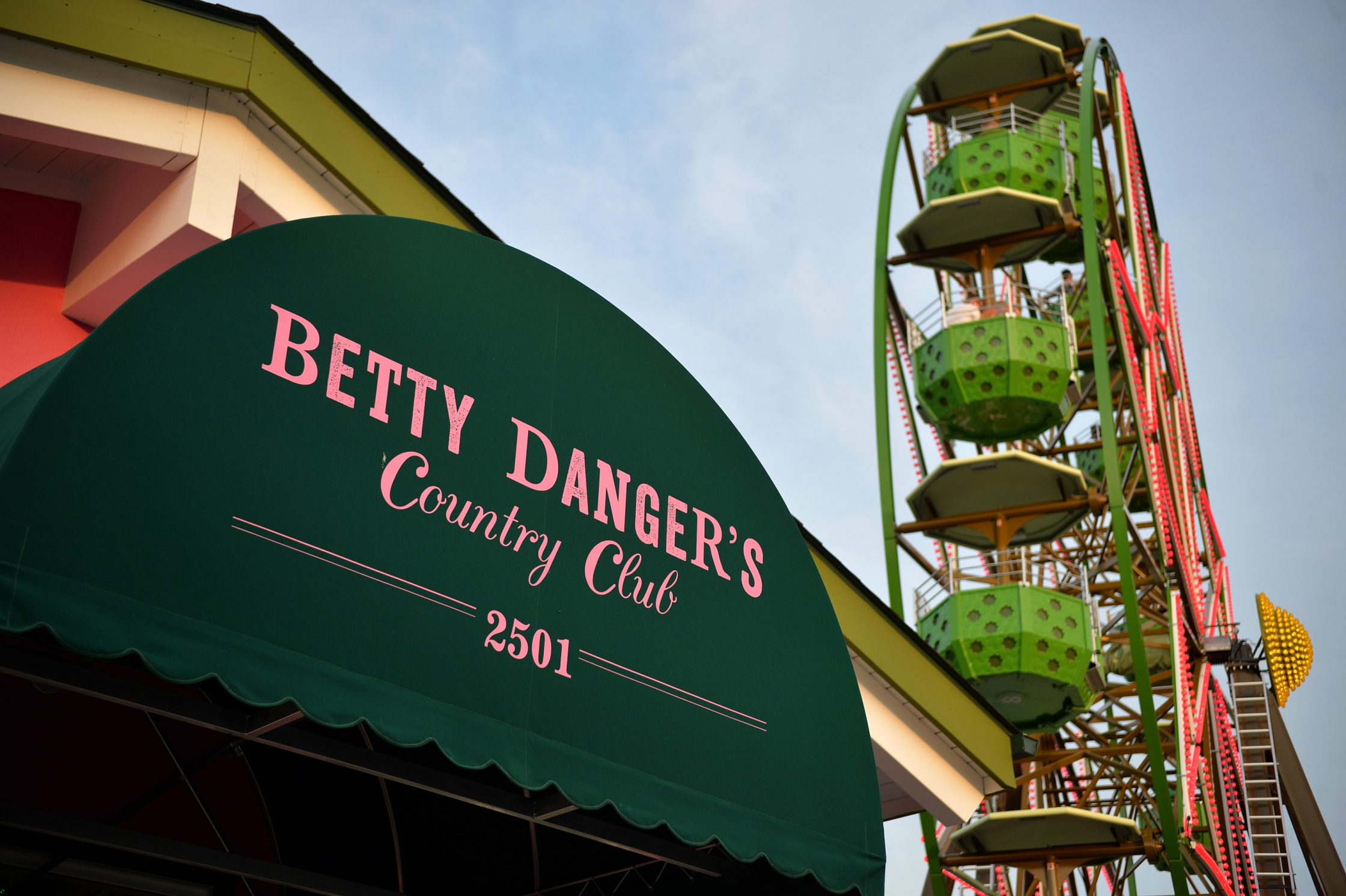 The Black Forest Inn's patio's pergola's provide shade for the hottest summer days, so you can enjoy your meal outdoors on any summer day.
BLVD's secluded patio is the perfect space to share drinks with friends on the restaurant's cosy seating.
Skyline views are guaranteed at the Aster Cafe! They create delicious fresh fare with small plates to share. Featuring free live music several nights a week!
The Tattersall folks blend science and art seamlessly in their inventive and delicious cocktails. They were voted the best distillery in the region by The Growler and continuously exceed expectations. If you desire a custom, crafted experience look no further than Tattersall.
The smart and stylish restaurant and bar was created for the neighborhood. With both lower and upper level patios, Coup D'etat offers plenty of outdoor seating surrounded by the upbeat Uptown atmosphere.
The Freehouse's patio is decorated with greenery and provides a relaxing space to enjoy one of their in-house brewed beers.
Put your money where the trendy cocktails are! This hip spot exudes an accommodating vibe and some of the best crafted beverages this side of the Mason-Dixon line.
The Great Room at the Sheraton Minneapolis Midtown:
Seasonally, you can gather with your friends and family on our outdoor patio where you can enjoy views of our garden.
Eat, drink and dine amazing at this unique alley patio. A love of Thailand informs every facet of this experience - from the hospitality, authenticity of food to hosting Thai events and celebrations throughout the year. Take a pit stop to inhale a vibrant culture, right here in Minneapolis.
Grab your friends and retreat to the bustling oasis in the theater district. Mercy's patio has lush greenery and an outstanding fire pit! The food and crafted cocktails are as amazing as the atmosphere.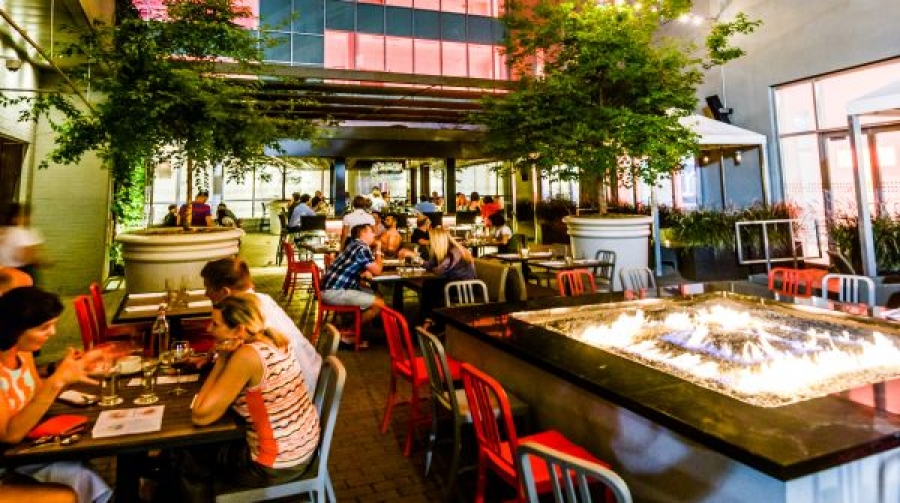 Pinstripes' outdoor patio includes a fire pit with extensive seating, a covered area (for shade on extra hot days), and tables with tents. There is a place for everyone to relax.
Sidewalks
Milwaukee Road at Renaissance Minneapolis Hotel, the Depot:
By historic train shed this large outdoor escape has fire pits and lots of seating options.
Club Jager is the oldest continually operating bar in Minneapolis! Take a large gulp of history on their beautiful outdoor patio.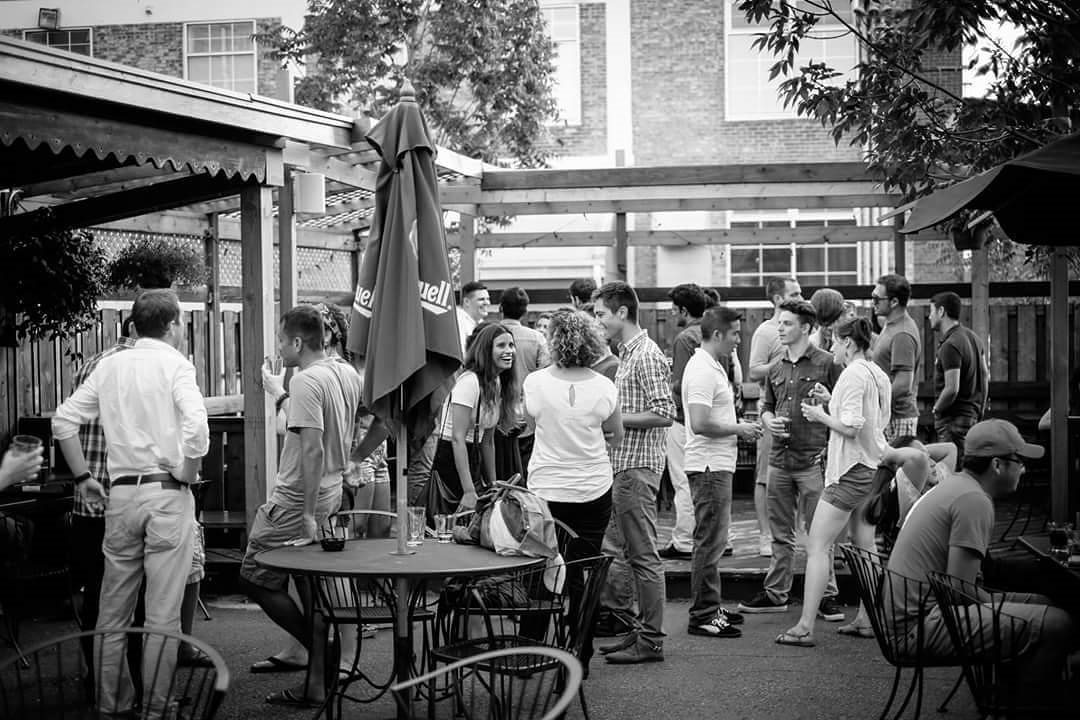 Location, location, location! Kieran's is next door to the legendary First Avenue concert venue, across the street from the Target Center and mere walking distance from Target Field. Not only are they the trifecta for geo placement but they also have the best Big Ginger in town!
Expect a festive communal experience when you arrive at Butcher & the Boar - handmade sausages, charcuterie and plenty of sides to go around! Their outdoor beer garden is partially enclosed with transparent skylights all around. This spot is perfect for an intimate gathering of family and friends.
Psycho Suzi's has a sprawling patio overlooking the Mississippi river, decorated with tiki statues, fecund gardens and straw umbrellas. This is the place if you're looking for a staycation, featuring, custom island inspired drinks, declicious eats and a million dollar view!
Themed after the great riverboat days of the Mighty Mississippi – Tuggs Tavern at St. Anthony Main, serves the tastiest burgers, homemade chili and sandwiches – fun along the Minneapolis Riverfront.