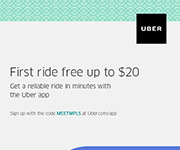 Must See Holiday Shows
Let us entertain you after dark this holiday season in Minneapolis!
The holiday theater scene in Minneapolis is bustling with classics like The Nutcracker and A Christmas Carol, but also those unique gems you may not find elsewhere. Think Hip Hop Nutcracker or It's A Wonderful Life radio play (this show sells out by the way). From shows that push the limits to family-friendly traditions, theater is all the rage in Minneapolis during the holidays. Check out the must-see shows of the season.
You've gathered your friends, made reservations and purchased tickets to an awesome show! But wait, who's driving? Metro Transit is! Don't worry about getting around downtown this winter, they have you covered.
With so many holiday shows, it may be hard to pick and choose. Why not make a weekend out of it so you don't have to? Stay at Renassance Minneapolis Hotel and you'll be just minutes from the action!
When: November 7, 2017 – January 7, 2018
Where: Children's Theatre Company, 2400 3rd Avenue S, Minneapolis, MN 55404
Cost: $15 - $80
Whoville is experiencing a seemingly unstoppable crime wave - and who, oh who will save Christmas? CTC's all-time audience favorite musical brings alive the songs, the story and the Seuss in mega-doses of spirited storytelling and fanciful rhymes. Come boo the most loathed Christmas villain - and woo-hoo! for a beloved holiday tradition guaranteed to grow anyone's heart three sizes.

When: Opens November 10
Where: Brave New Workshop Theatre, 824 Hennepin Ave, Minneapolis, MN 55403
Cost: $20 - $38
Next stop – the holidays! Forget about the snowy traffic, the ever-changing shipping times of Amazon packages, and what you're going to say to those memebrs of your family determined to recruit you for their political party, and get onboard for the Brave New Workshop's holiday show, "The Polarizing Express: Dysfunction Junction." There will be laughter, there will be adult beverages of your choice, and of course, there will be "The Twelve Days of Christmas."
When: November 14 – December 30, 2017
Where: Guthrie Theater, 818 S 2nd St, Minneapolis, MN 55415
Cost: $15 - $114
A miserly and miserable man, Ebenezer Scrooge greets each Christmas with a "bah humbug," until he is visited one Christmas Eve by the Ghosts of Christmas Past, Christmas Present and Christmas Future. Through a restless night, the spirits show him happy memories from his past, cruel realities from the present and the grim future should he continue his cantankerous ways. Charles Dickens' A Christmas Carol is a perennial favorite that continues our holiday tradition for the 43rd year. Now is the time to experience this cherished production with your loved ones!
When: November 17, 2017
Where: Pantages Theatre, 710 Hennepin Ave, Minneapolis, MN 55402
Cost: $26 - $170
A Drag Queen Christmas – The Naughty Tour, starring contestants from RuPaul's Drag Race on VH-1, performing live on stage and rocking the catwalk. It's an evening of holiday songs and outstanding drag performances with your favorite queens, including Shea, Aja, Latrice, Bebe, Farrah, Chi Chi, Eureka and hosted by Trinity Taylor! All ages welcome.
When: November 21 – 22, 2017
Where: Ordway Theater, 345 Washington Street, St. Paul, MN 55102
Cost: $28 - $69
A holiday mash-up for the entire family, The Hip Hop Nutcracker, a contemporary re-imagination of Tchaikovsky's timeless music, sets out on a third national tour following the success of two previous sold-out tours.The Hip Hop Nutcracker is an evening-length production performed by a supercharged cast of a dozen all-star dancers, DJ and violinist. Through the spells cast by the mysterious Drosselmeyer, Maria-Clara and her Nutcracker prince, travel back in time to the moment when her parents first meet in a nightclub. Digital scenery transforms E.T.A. Hoffmann's story of sugarplums into 1980s Brooklyn. The Hip Hop Nutcracker celebrates love, community and the magic of New Year's Eve. The Hip Hop Nutcracker is directed and choreographed by Jennifer Weber, artistic director of the Brooklyn based theatrical hip-hop dance company Decadancetheatre. It was adapted to contemporary New York City by Mike Fitelson, executive director of United Palace of Cultural Arts (UPCA) and includes hip-hop interludes remixed and reimagined by DJ Boo as well as an on-stage electric violinist.

When: November 25 – December 3, 2017
Where: Mystic Lake Casino Hotel, 2400 Mystic Lake Blvd., Prior Lake, MN 55372
Cost: $20 - $30
In its 10th season, the critically-acclaimed holiday stage extravaganza is a cirque spectacle, Broadway musical and family show all in one. It's filled with over 300 imaginative costumes, 20 world-class astonishing acts, the finest singers, original music and seasonal favorites. Cirque Dreams Holidaze mesmerizes audiences everywhere with soaring acrobatics, gravity defying feats, elaborate production numbers and illusions.
When: November 29 – December 30, 2017
Where: Theater Latté Da, 345 13th Ave NE, Minneapolis, MN 55413
Cost: $35
There's no denying the power of the holidays to bring out the best and worst in all of us. Acclaimed storyteller Tod Petersen reflects on the yuletide season with his family in Mankato, Minnesota, and pays particular tribute to the show's namesake—his mother Carole. Join us for another year of this hilarious and heartwarming Latté Da original!
When: November 30 – December 24, 2017
Where: Penumbra Theatre, 270 N. Kent St, St. Paul, MN 55102
Cost: $15 - $40
This timeless holiday tradition is treasured by families across the Twin Cities. Today, kids who grew up with Black Nativity are returning with their own families. Under the direction of Lou Bellamy and the musical direction of Sanford Moore, this homegrown Christmas show returns with exceptional lead vocalists, the outstanding Kingdom Life Church Choir, and the stirring choreography of Uri Sands of TU Dance. Join us for an experience full of joy, community, and spirit.

When: December 1, 2017
Where: Orchestra Hall, 1111 Nicollet Mall, Minneapolis, MN 55403
Cost: $25 - $60
Put extra fa-la-la in your holidays as trumpeter Charles Lazarus and friends fill Orchestra Hall with the sounds of the season from Latin, jazz and lounge to gospel and caroling classics.
When: December 1 – 2, 2017
Where: State Theatre, 805 Hennepin Ave, Minneapolis, MN 55402
Cost: $25 - $110
For more than ten years The New Standards and friends have been dazzling audiences with their soulful, funny and spectacular Holiday Show. Chan Poling (The Suburbs), John Munson (Trip Shakespeare, Semisonic) and Steve Roehm act as ringleaders for a merry troupe of musicians, dancers and an all-star lineup of surprise special guests featuring local and not-so-local music pals. Expect the unexpected at what will surely become your new holiday tradition.
When: December 1 – 17, 2017
Where: Howard Conn Fine Arts Center, 1900 Nicollet Ave, Minneapolis, MN
Cost: $7 - $15
Based on C.S. Lewis' "The Lion, the Witch, and the Wardrobe." Follow us through the wardrobe into the enchanting world of Narnia to meet unforgettable characters who demonstrate lessons of courage, love and giving. It's a thrilling adventure in which good triumphs over evil, family bonds are strengthened, and everyone experiences the wonder of the winter holiday spirit.
When: December 7 – December 24, 2017
Where: The Saint Paul Hotel, 350 Market St., St. Paul, MN 55102
Cost: $69 - $79
It's A Wonderful Life: A Live Radio Play, performed at The Saint Paul Hotel, presents playwright Joe Landry's acclaimed take on the classic 1946 Frank Capra film, It's a Wonderful Life. The shows are accompanied by a three-course luncheon for afternoon performances and a three-course dinner for evening performances.
When: December 7 – 31, 2017
Where: Ordway Theater, 345 Washington Street, St. Paul, MN 55102
Cost: $34 - $126
Leapin' lizards! Annie is coming to the Ordway! One of the best-loved musicals of all time brings to life the extraordinary story of an orphan who ends up in the lap of luxury. Driven by her eternal optimism and spunky demeanor, Annie and her dog Sandy greet presidents, escape the clutches of the greedy Miss Hannigan, and search for a family to call their own. Filled with unforgettable songs like "It's the Hard-Knock Life," "Easy Street," and "Tomorrow," you won't want to miss this revival of a classic, timeless tale!

When: December 9 – 11, 2017
Where: Ted Mann Concert Hall, 2128 4th St S., Minneapolis, MN 55455
Cost: $32 - $53
It's that most wonderful time of the year when we ooh and aah over the twinkling lights and festive decorations that bring out the holiday cheer in all of us. TCGMC and Copper Street Brass will perform your favorite holiday tunes against a backdrop of your favorite TV variety show holiday specials featuring surprise cameos, a cavalcade of stars, special guests, and more!
When: December 12 – 13, 2017
Where: Chanhassen Dinner Theatres, 501 West 78th Street, Chanhassen, MN 55317
Cost: $40 - $55
At Christmas returns for its fourth year to Chanhassen's Fireside Theatres. A unique, intimate family-fueled comedy and drama, At Christmas features unforgettable improvisational and scripted moments about the holidays, accompanied by a terrific 6-piece band performing Christmas musical classics. Written and performed by Brave New Workshop alums Michelle Cassioppi, Jim Robinson and Shanan Custer, this show is musically directed by current Brave New Workshop Musical Director Peter Guertin and features the lead vocals of Mick Sterling. At Christmas is a night of stories and music that will ring true with all families during the holidays. One of the most unique and entertaining shows in the Twin Cities during the holidays, At Christmas is like seeing a show being performed in your own living room with stories that happened in your own family.
When: December 13 – December 31, 2017
Where: Orpheum Theatre, 910 Hennepin Ave, Minneapolis, MN 55403
Cost: $39 - $145
Cameron Mackintosh's spectacular new production of Andrew Lloyd Webber's THE PHANTOM OF THE OPERA will make its triumphant return to Minneapolis. Hailed by critics as "bigger and better than ever before," this production boasts many exciting special effects including the show's legendary chandelier, new scenic and lighting designs, new staging and choreography. The beloved story and thrilling score will be performed by a cast and orchestra of 52, making this PHANTOM one of the largest productions now on tour.
When: December 15 – 23, 2017
Where: State Theater, 805 Hennepin Avenue, Minneapolis, MN 55402
Cost: $55 - $65
Once again, imaginative minds everywhere are flocking to Minnesota's outlandish holiday favorite. Experience the beautiful choreography of Loyce Houlton danced by MDT company, guest artists, and children of the MDT school, with the brilliant music of Tchaikovsky in the 44-piece Nutcracker Orchestra led by Philip Brunelle. Continuing its tradition of enchanting audiences, Loyce Houlton's Nutcracker Fantasy remains one of Minnesota's most treasured holiday events.

When: December 16 – 17, 2017
Where: The Metropolitan Ballet, 2533 Fernbrook Ln, Plymouth, MN 55447
Cost: $39 - $59
Don't miss the holiday tradition featuring Metropolitan Ballet & Hopkins Youth Ballet. Minnesota's only nutcracker with a full symphony! The classic story comes to life with fresh choreography and a cast of talented artists under the direction of Erik Sanborn and music director Yuri Ivan with The Kenwood Symphony Orchestra. See Marie explore her fantasy as she takes a magical journey with her Nutcracker Prince!
When: December 23, 2017 at 8pm
Where: The Fitzgerald Theater
Cost: $25 - $50
Minnesota's three-time Grammy Award-winning Sounds of Blackness returns with their annual performance of The Night Before Christmas – A Musical Fantasy. "The Night Before Christmas – A Musical Fantasy" is a contemporary adaptation of the beloved poem,
A Visit From St Nicholas. This family-friendly musical production brings Santa, Mrs. Claus, and Rudolph the Rappin' Reindeer to life in hilarious song and dance, as they learn the true meaning of Christmas. The music ranges from R&B/Hip-Hop to Jazz, Blues and Gospel and features Sounds of Blackness singers and band in show-stopping, roof-raising songs and scenes.
When: December 30, 2017
Where: Xcel Energy Center, 199 W Kellogg Blvd, St. Paul, MN 55102
Cost: $33 - $75
Over the past 20-plus years, Trans-Siberian Orchestra has become a critically-acclaimed, multi-platinum, musical powerhouse, and its annual winter tour is a beloved, multi-generational holiday tradition. 2017's tour is a completely updated presentation of TSO's unforgettable "The Ghosts of Christmas Eve."
When: Through February 17, 2018
Where: Old Log Theatre
Cost: $40
Return to Springfield High (where "The Marvelous Wonderettes" matriculated) and meet the "Crooning Crabcakes," the boy group banned from the senior prom. The singing foursome is headed for fame and fortune by trying to win the local radio contest on Big Whopper Radio. Songs from this musical journey to the past include "Runaround Sue," "Tears on My Pillow," "Earth Angel," and "The Glory of Love." The show won L.A. Drama Critics Circle Awards as Best Production of the year in 2011.