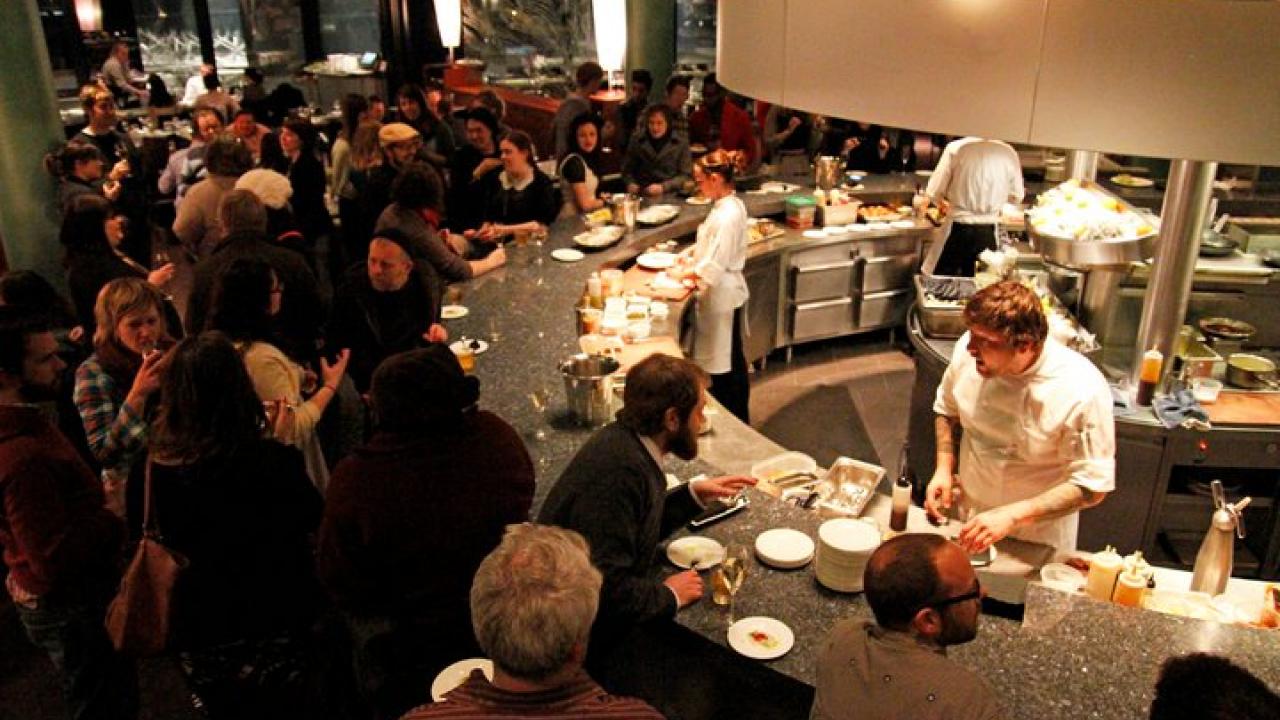 Downtown Dining
With four distinct seasons and dozens of international culinary traditions, Minneapolis restaurants offer farm-to-table experiences you won't find anywhere else. Enjoy the multitude of dining options that will spoil your tastebuds.
Morning
Set the mood for food and kick off the day with a sumptuous breakfast or weekend champagne brunch at Cosmos in the Loews Hotel. From there, stroll down Nicollet Mall to Macy's, where the lower-level Marketplace selection of cookware beckons your inner foodie. Sample recipes and check out trends from Macy's Culinary Council, a national authority on all things tasty. Or, ease into the day with brunch at Spoonriver, headed by local culinary star Brenda Langton.
With your taste buds' interest piqued, take in the sights, smells and tastes of the Mill City Farmers Market. Mingle with the growers themselves as you discover the variety of local, organic and sustainable foods available. If you're a bread lover (and who isn't?), get a taste of history and tour the Mill City Museum. Find out why Minneapolis was, for decades, flour-milling capital of the world as you ride the Flour Tower and explore hands-on exhibits.

Afternoon
Take a break and wet your whistle at The Local, an Irish pub with a patio that's tops for people watching. Take in the spectacular downtown view while you savor the locally sourced and globally inspired American cuisine by executive chef Josh Brown.
With your palate inspired, venture through the Walker Art Center, hailed by Newsweek as "possibly the best contemporary art museum in the country". Work up an appetite in the outdoor Sculpture Garden and find magnificent art around every hedge.
Or, for more theatrical flavor, slide into a table at Sea Change. Inside the Jean Nouvel-designed Guthrie Theater, this savory spot has a flair for the dramatic as well. The sleek atmosphere sets the stage for award-winning head chef Tim McKee's imaginative menu. Take in a matinee show at the Guthrie, and stop to marvel at the amazing Riverfront views.
Evening
Dinner at the D'Amico Kitchen, led by internationally recognized star chef Jean-Georges Vongerichten, is a must.
Feast on sublime Mediterranean-inspired cuisine. Save room for drinks and live jazz at the Dakota Jazz Club and Restaurant. Raise a glass and toast to the delicious culinary and cultural flavors you've enjoyed. Cheers!