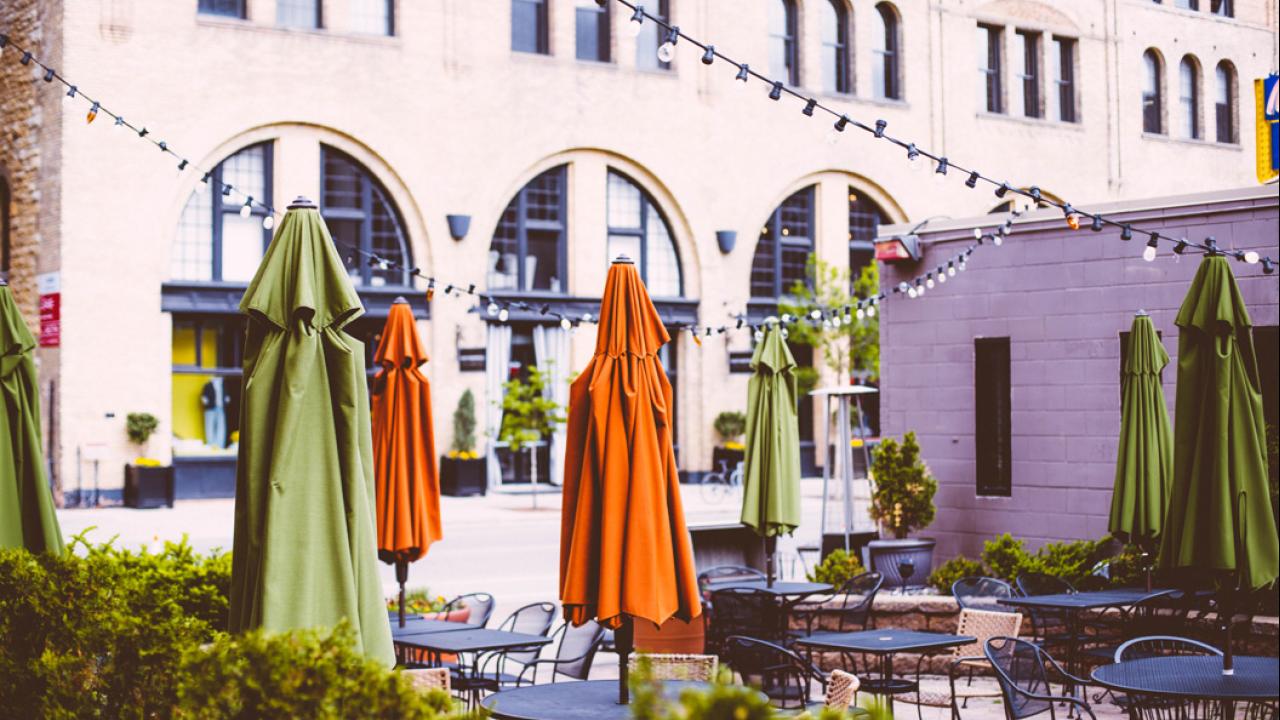 After the Show: Minneapolis/Saint Paul International Film Festival
If you're reading this, you probably just got done watching the future David Fincher tell a story with emotionally-angsty characters and black and white/grainy footage. Powerful stuff. How do you follow that up? With a less-angsty yet equally-awesome night in the artsy and electric Northeast neighborhood. Here are some of the best spots in Northeast; all within walking distance, each offering a different atmosphere for whatever your taste may be.
For a Google Map of all these locations, CLICK HERE.
FOR BREATHTAKING RIVERFRONT VIEWS: VIC'S
Google Map Link
Located on the shores of the Mississippi River, Vic's offers one of the most stunning views of Minneapolis. Relax out on their patio and sip on some wine as you view the lit-up Minneapolis skyline, historic St. Anthony Falls and the Stone Arch Bridge in the chilled-out environment that's perfect for discussing the influence post-modern literature had on the movie you just saw.
FOR A NIGHT YOU'LL TELL YOUR GRANDKIDS ABOUT: NYE'S POLONAISE ROOM
Google Map Link
"The Best Bar in America." "The World's Most Dangerous Polka Band." "Top Ten Bar You Must Experience Before You Die." We bet you'd never think to see these three accolades describing the same place, but that just means you've never been to Nye's. Simply put: if you haven't been, go.
FOR THE SOPHISTICATED LOCAL SECRET: MONTE CARLO
Google Map Link
Downtown Minneapolis' oldest and most popular restaurant for locals and visitors, the Monte Carlo offers award-winning patio-dining with a menu unlike any you've seen before. Quiet and laid back, you'll find it tough to leave once you're settled in.
FOR THE ADVENTUROUS SOCIALITE: NORTHEAST SOCIAL CLUB
Google Map Link
Northeast Social is an American contemporary style restaurant with a farm-to-fork agenda. The Social is inspired by a love for travel, which is why you may feel a touch of Paris, a little southern hospitality and a whole lot of socialite comradery.
FOR OVER-THE-POND AUTHENTICNESS: THE ANCHOR FISH AND CHIPS
Google Map Link
People can wait up to two hours for a table. Why? The fish in those fish and chips is sustainably sourced, wild-caught Alaskan cod—big, fat, luscious pieces the likes of which will leave you questioning all other fish and chips you've ever had.
FOR THE "I WANT TO BE CLASSY, BUT I ALSO WANT TO DRINK A LOT" PLACE: PEACOCK LOUNGE
Google Map Link
The Peacock Lounge is the kind of place artists go to drink the classiest of classy drinks in order to feel some strong "inspiration." With drinks named "Dirty Bird," "Flirtini," "Almond Joy" and "Blue Aqua" it sounds like Derek Zoolander named these creations. But, these flavorful drinks are just as illustrious and delicious as their names hint at.
FOR THE PERSON WHO WANTS TO SHOW OFF THEIR DANCE ARSENAL: 331 CLUB
Google Map Link
For those of you that looked at all the previous establishments and thought, "That's all great, but me and my significant other/friends/dance crew just want to DANCE," then this is the place for you. Local music frequents this place, and drink specials are always abundant.