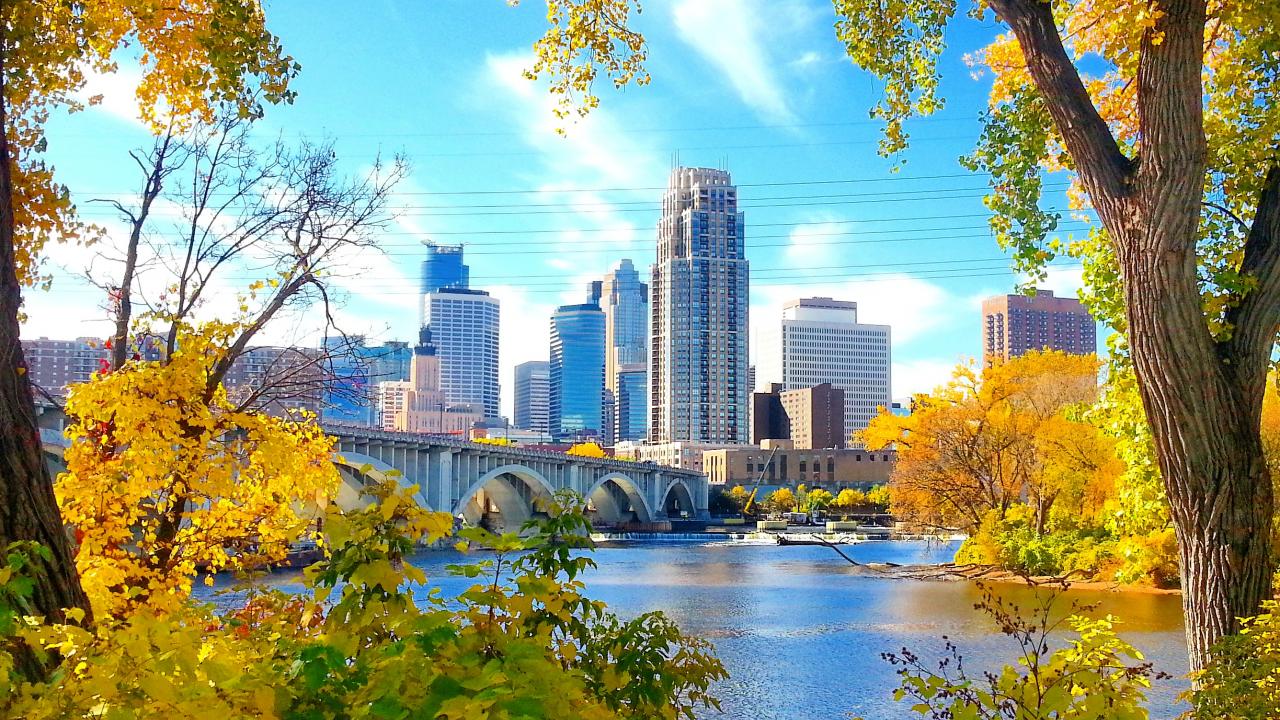 Fall Itineraries
Put down that pumpkin spice latte and get ready for fun in Minneapolis this fall – we're going beyond #basic with sophisticated itineraries that will jump start your plans and give you Instagram-ready opportunities at every turn. But that may be too #basic, so choose another social medium and go for it.
If you are a Sports fan/Brewery-goer…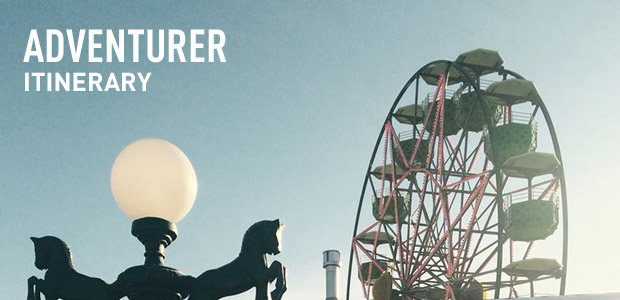 Adventurer itinerary
Stay
You will want to be close to the action, so priority one is dropping your bags at The Depot Renaissance Minneapolis Hotel, where you'll return after your active day to rest your weary head and enjoy the comforts of this historic hotel in the Mill District near the Mississippi Riverfront. First, stop for a snack and a nightcap at the Stone Arch Bar. If you're booking for November, make time for a spin on the Depot's indoor ice rink.
Play
Biking is great and all, but pretty #basic, so we suggest going beyond: What better way to explore the City by Nature and its fall colors than to get out there like the early explorers did – in a canoe. Wilderness Inquiry Voyageur canoes are 24-foot wooden boats, locally hand built, that accommodate nine passengers plus an experienced guide or National Park Service Ranger. Because, unbeknownst to many, you'll be right in the middle of a national park where you'll see nature at its finest in the Mississippi National River & Recreation Area. In the middle of a bustling urban setting, this 72-mile river park offers quiet stretches for fishing, boating and canoeing. Other spots are excellent for birdwatching, bicycling and hiking.
Dine
It's a restaurant, it's a food truck, it's a lifestyle. Crazy delicious flavors from Asia to the Caribbean to the Mediterranean and everything in between are yours at the World Street Kitchen. Global street food like the Bangkok Burrito served by famous chef Sameh Wadi (you may recall him from TV) in your choice of a food truck downtown or a casual dining experience in South Minneapolis. Maybe both.
Drink
Drinks on the patio is a #basic in Minneapolis, but your adventurous spirit begs for more. So we give you Betty Danger's Country Club, where your patio is revolving (it's an actual Ferris wheel) and your refreshments are refined. May we suggest you show your allegiance with the Hail My Alma Mater Margaritas? Cheers. Then board the Tiki Tram to one of Betty's other destination bars for more cheeky fun.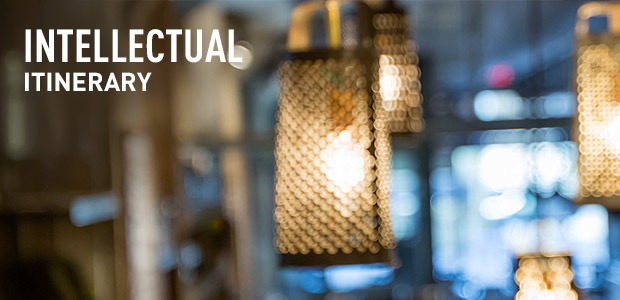 Intellectual itinerary
Stay
It's elementary that you'd stay in a hotel with a book butler, smarty pants. Good thing The Commons Hotel has that and more to cater to your higher intellect. This geek yet chic East Bank hotel caters to people like you who expect and know more. They also have autumn covered like the fall leaves -- from the perfect s'mores spot at the roaring fire pit in the front drive to the warm fireplace, apple cider and library lounge in the lobby. All this, and complimentary wireless internet.
Also, you're in just the right place for a comfortable, easy and sustainable METRO Transit Green Line light rail ride -- west to downtown or east to Saint Paul – because you're smart enough to save your pennies on this inexpensive transport that gives you time to take in the sights of University Avenue or read that book the butler dropped off. You can easily take the train to all the sights and to and from the airport (or the Mall of America) and also access the fabulous bus system throughout the area.
Play
Life-long learning comes naturally to you and the Science Museum of Minnesota will get your motor neurons moving with Future Earth and Math Moves, along with the other regular exhibits (don't miss the dinosaurs & fossils, folks). The Omnitheater will reopen after the first phase of its renovation to digital technology in October with Humpback Whales on Oct. 9, and special exhibitions RACE, Are We So Different? and Sherlock Holmes and the Clocktower Mystery both open Oct. 14.
When you also want to exercise your left brain, head over to the Walker Art Center, Internationally recognized as a leading arts venue, Walker Art Center presents contemporary visual arts and design exhibitions; dance, theater and music performances as well as film screenings. Don't miss exhibits like Liz Deschenes – Gallery 7 before it closes November 22, or the regular and First Free Saturdays if you're smart with your wallet.
Dine
All this learning has made you really hungry so you had better eat well. Make reservations for a night at Murray's, where since 1946, the Silver Butter Knife steak, a legendary 28-ounce strip sirloin for two has been hand cut by their in-house butcher, Boyd (who has been doing this for 37 years right on Sixth Street South). The original 1954 neon sign beckons you to Dine-Dance, Cocktails and Good Food and the third-generation family business retains all of the traditions and legacy that Murray's built its reputation on, including the in-house baked garlic toast.
Drink
Your thirst for knowledge quenched, you now want something for the rest of you. To pique your interest, we suggest hitting up the North Loop's Borough and Parlour Bar (one of Bon Appetit's Best New Restaurants of 2013) where they build creative new craft cocktails and even have cocktail classes (though they fill up fast so you may want to plan far ahead).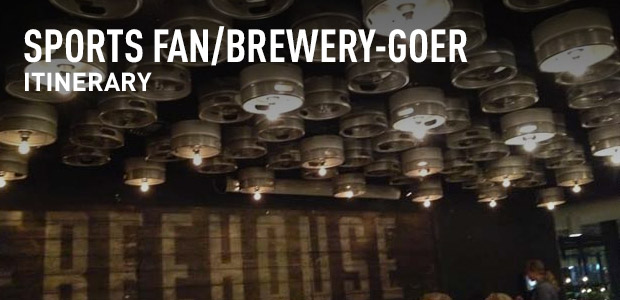 Sports fan/Brewery-goer itinerary
Stay
Start out with a weekend getaway package or Military Family Rate at the Hilton Minneapolis where you'll get digital check-in, no booking fees, HHonors® Points & lowest price* from $89 in the largest hotel in the city. The Hilton is on the famous skyway system and a short walk from the METRO Blue and Green Line trains and numerous bus routes that will take you to all the stadiums, fields, courts and pools in town. The Hilton's fitness center, pool and hot tub & sauna are at your disposal for pre- or post-game workouts and relaxation.
Play
Let's not play games – you're here for the action on the field and court. With all the major league sports you can handle, Minneapolis has the #basics down:
Target Field - Enjoy the autumn sunshine and a cool breeze as you take in a Minnesota Twins game as the boys of summer wind up another season at one of the best ballparks in the nation.
Saturdays at TCF Bank Stadium- The Bank opens on Saturday afternoons for deposits in the form of touchdowns and some maroon and gold attire and a little good, old fashioned college football.
Sundays at TCF Bank Stadium – the final outdoor season for the Minnesota Vikings before transferring to a new bank – U.S. Bank Stadium (opens July 2016) -- is one not to be missed. Nothing like a crisp fall day and cheers of "Skol!" to make a purple heart beat faster.
Target Center - The Wolves home opener is Monday, Nov. 2 at 7 p.m., against the Portland Trail Blazers. Get your tickets now for what's sure to be an exciting season highlighted by forward/center Karl-Anthony Towns, the first overall selection in the 2015 NBA Draft out of the University of Kentucky, and guard Tyus Jones, the 24th overall selection in the 2015 NBA Draft out of Duke University (and hometown guy).
TWINS SCHEDULE >>> | VIKINGS SCHEDULE >>> | GOPHERS SCHEDULE >>> | TIMBERWOLVES SCHEDULE >>>
However, beyond #basic means you want something not everyone else has seen, so you should absolutely plan your trip around the annual excitement of the US Open Racquetball Championships, celebrating its 20th anniversary in Minneapolis Oct. 7-11 at a renovated Minneapolis Life Time Fitness at Target Center. Not only will you see the best racquetball in the world through a crystal clear acrylic court that's "made for TV," but all spectators and players have free admission to the US Open Players Village.
Dine
With a salad bar that nearly fills you up before the authentic Brazilian gaucho chefs carve unlimited servings of beef, chicken, lamb and pork right at your table, Fogo de Chao Churrascaria on Hennepin Avenue is just blocks from Target Field, Target Center and the downtown hotels, and sure to fill up the hungriest fan after hours spent cheering your team on to victory.
Drink
Dan Kelly's Pub serves craft beers and contemporary pub cuisine, and is anchored by a 44 foot, pre-prohibition mahogany bar filled with stained glass. For more prohibition-era fun, The PourHouse is a sports bar in the historic Lumber Exchange Building on Hennepin at 5th Street, steps from the METRO stop, with $4 specials during Minnesota games.