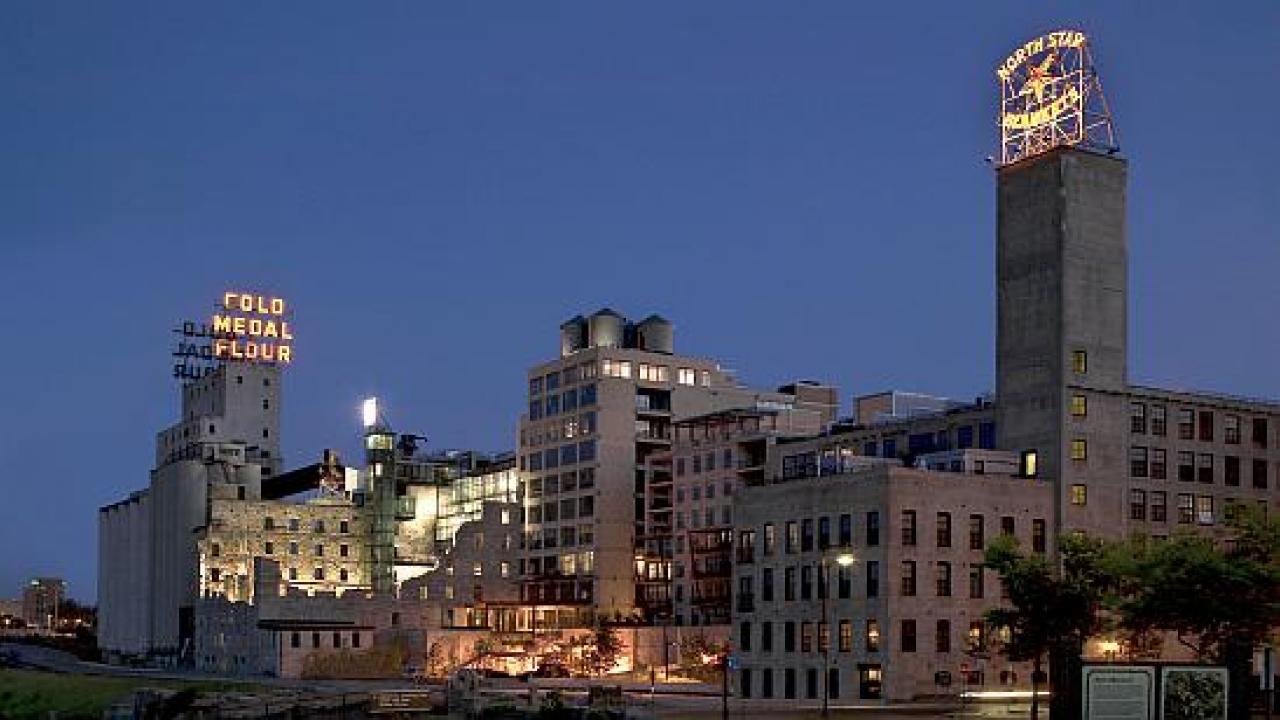 Riverfront
Where past and present unite along the banks of the Mississippi. From Boom Island to Bridge Square, Historic Main Street to the Mill Quarter, a visit to the Minneapolis Riverfront is an experience to remember.
Explore its historic landmarks, scenic parks, cultural venues, dining, shopping, lodging, and recreation that make the Minneapolis Riverfront a world-class destination.
The story of Minneapolis begins at the Falls of St. Anthony, the only major waterfall on the Mississippi River. A place of beauty and spiritual significance, the falls lured entrepreneurs in the 19th century who harnessed its water-power for sawmills and flour mills that built the city, which became the flour milling capital of the world in 1880.
Today, the Mill District is many things to many people. To some it is a giant archaeological find, to others it's a playground of dining and nightlife. And yet to others it is a maze of beautiful parks and trails. Learn about history, relax aboard a paddle boat cruise, sip drinks overlooking the river. No matter what you are into, the Riverfront District has something for you.
MILL DISTRICT
With the booming industrial era now over the Minneapolis Riverfront has retained its heritage and been reborn with a new kind of energy, capitalizing on the spectacular beauty of the river and creating a rich mix of experiences for people to enjoy. Minneapolis' Mill District is the historic "birthplace of Minneapolis" that celebrates and entertains with an eclectic collection of historic buildings, scenic parks, cultural venues, dining, shopping and lodging. Home to the inspiring St. Anthony Falls on the Mississippi River as a dramatic backdrop, as well as the "Most Explosive Museum in America" in the Mill City Museum. Breezy and tree-lined, this park setting in downtown Minneapolis is the perfect place to unwind, explore and entertain.
NORTHEAST RIVER DISTRICT
Across the Stone Arch Bridge, the first railroad bridge to cross the Mississippi River, you'll find Old Main Street. A cobblestone road lined with restaurants and entertainment venues with spectacular views of the Minneapolis skyline and the Mississippi. Today, the Stone Arch Bridge is a bike and walking path.
Check out what other travelers say about Minneapolis on tripadvisor