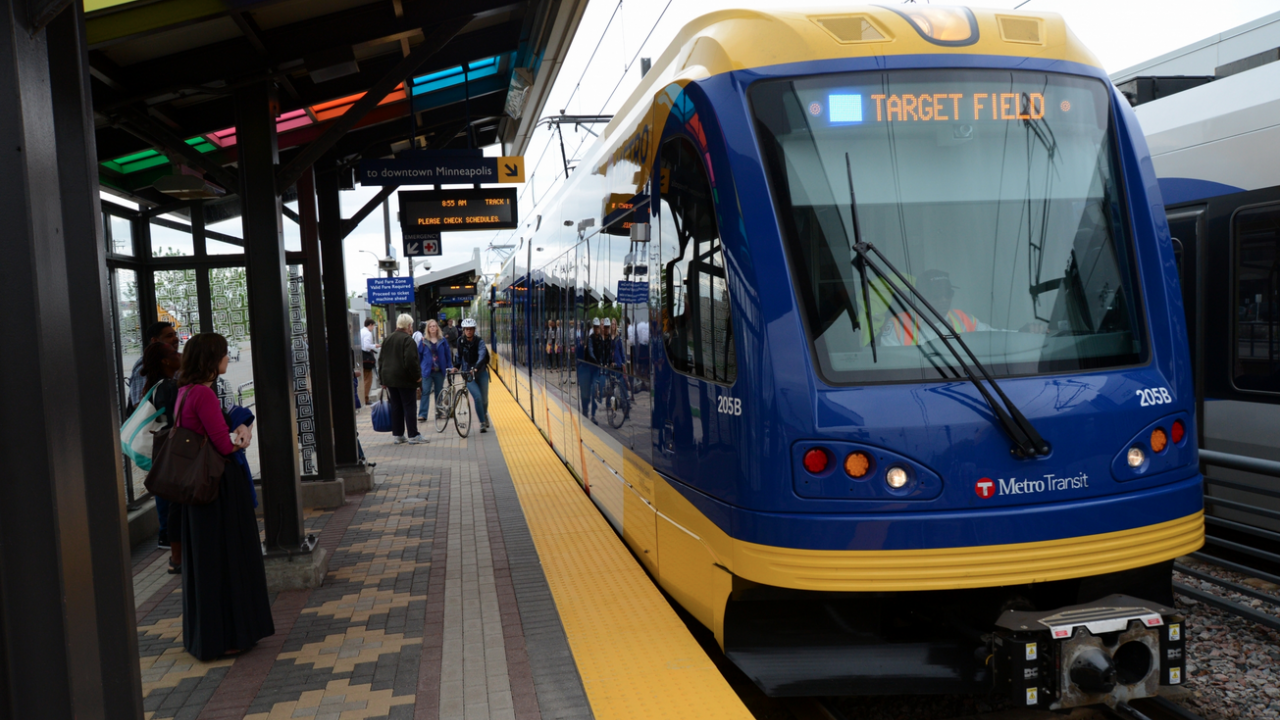 View Light Rail and Bus Schedules
Light Rail & Bus Schedule
Metro Transit operates one of the largest public transportation systems in the country.
Metro Transit operates one of the largest public transportation systems in the country. Riding public transit is a convenient and inexpensive way to get around. Fares range from $1.75 to $3.00, depending on time of day. If you're already downtown and need to hop a ride a few blocks, the fare is 50¢ in the Downtown Zone. Look for buses marked "Free Ride" and pay no fare when boarding along Nicollet Mall.
For an extremely efficient way to travel, zoom around town on the Hiawatha Line. Light- rail transit (LRT) connects downtown Minneapolis with the airport, Mall of America and 18 other stations.
Metro Transit Multi-Day Pass
For just $6, enjoy an entire day of touring with a Day Pass. It's good for unlimited rides on Metro Transit buses and light rail (not valid on Northstar).
Metro Transit offers fast, frequent service to both downtowns, Mall of America and hundreds of other popular attractions.
A Day Pass is easy to use. Simply insert it in the card reader on the farebox as you board the bus or use it as proof of payment on light rail. It's valid for 24 hours from first use. Simple!
Day Passes are available online or at any Metro Transit store. You also can purchase a Day Pass (valid upon time of purchase) from your bus driver and from ticket machines at light-rail stations.
Event 6-Hour Pass: Taking the Train to a Game or Event?
Make it easy to get there and back. Buy an Event 6-Hour Pass for an easy return trip.
For one low price, you get unlimited rides on buses or light rail. It's enough time to take in a game, a movie or another event. When you're ready to come back, you won't have to wait in line to buy a return ticket - no waiting, just hop on!
Adults can buy an Event 6-Hour Pass for $4 on weekdays, $3.50 on weekends. Prices are $3 on weekdays, $1.50 on weekends for youth, seniors, Medicare card holders and Mobility customers.
To get your Event 6-Hour Pass for the train, press Key G on the ticket machine at the light-rail station before you insert your credit card or cash. Note: all tickets from the ticket machine are valid from time of purchase. For example, an Event 6-Hour Pass purchased at 4:45 p.m. will expire at 10:45 p.m.
Light Rail Tranist
The METRO Blue Line offers fast, quiet light-rail service to 19 stations between downtown Minneapolis and Mall of America.
Dozens of bus routes are timed to connect with trains at Blue Line stations, making it easy to get to work, to shopping or wherever you need to be. Beginning June 14, the Blue Line will share five downtown Minneapolis stations with the new METRO Green Line, with service to the University of Minneapolis and St. Paul.
The METRO Blue Line has many destinations to choose from: the history of the Capitol City, the cuisine along University Avenue, the energy of the University of Minnesota campus, the bustle of downtown Minneapolis.
METRO Green Line trains charge the same fares as the METRO Blue Line and operate 24 hours a day, seven days a week. Trips operate every 10 minutes throughout the day, every 10-15 minutes evenings and every 30-60 minutes overnight.
Free Ride Buses

Look for buses marked "Free Ride" and pay no fare when boarding along Marquette and 3rd Avenues. You'll have an easy ride between the Convention Center and the METRO Blue and Green lines on 5th Street.
Ride for free from the Minneapolis Convention Center here:
- board a Route 18 at the stop on northbound Alice Rainville at Marquette Avenue
- get on a Route 10 or Route 59 bus at the stop across the street from the Convention Center
Free Ride buses travel north into downtown Minneapolis and end at Washington Avenue.
Free Ride buses are available Washington Avenue and Grant Street on Marquette and 3rd avenues seven days a week from 5 a.m. to 1 a.m. between. Pay just 50 cents if you ride within the Downtown Zone on other routes.
Click here for more info >>>