Unique Venues
These venues are something out of the ordinary. If you want something different, something unique, something that you and your guests will remember forever then check out these extraordinary places to host your special day. These are the best places to get married in Minneapolis.
FREE Personalized Wedding Planning Assistance
Provide your guests with FREE Welcome Bags and let us help you with: Hotel & Venue Search, Visitor Information, Hotels, Venues, Formalwear and much more.

Looking to save a little cash? Our wedding partners are offering discounts on venue space and complimentary add-ons to make your wedding celebration perfect.
You need stunning views to compliment your stunning and chic wedding. These venues will drop some jaws to the floor with their absolutely gorgeous views of Minneapolis.
Calhoun Beach Club
Whether your group is 12 or 1000, whether the occasion is business or personal, this posh spot promises to dazzle.
Campus Club of the University of Minnesota
Beautiful views of the University of Minnesota campus.
Hotel Ivy: A Luxury Collection Hotel
On top of their fantastic rooms, you can actually get married in the skyways here!
Millennium Hotel Minneapolis
See downtown Minneapolis like you never have before.
Windows on Minnesota: Marquette Hotel
The elegance of the Marquette Hotel is hard to match, and the views compliment it fully.
Sometimes you want a wedding setting that gives you the opportunity to go wild after you get hitched. These venues do just that, with the kind of people in mind that want a non-traditional venue with built-in entertainment.
The Fine Line Music Cafe
Get married on the same stage as Prince, Maroon 5, and Lady Gaga for the ultimate wedding dream!
Minnesota Renaissance Festival
For those looking for the more "Hear Ye, Hear Ye" feel, the Renaissance Festival offers wedding services.
Minnesota Zoo
Man and animal unite to see YOU unite with a marriage at the Minnesota Zoo.
Mystic Lake Casino Hotel
There's no better wedding gift than hitting the jackpot with a huge payout at Mystic Lake.
Pinstripes
After you've witnessed their spectacular views, head inside for some bowling (of the lane and lawn variety).
Target Field
That's right. You can get married on the same field the Minnesota Twins play on.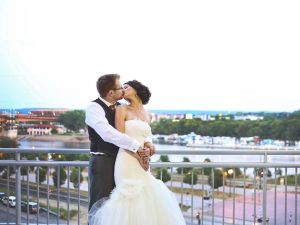 The Science Museum of Minnesota
History and science combine to give your wedding an air of sophistication.
Treasure Island Resort and Casino
The Island is calling for your next wedding.
Weddings are part of a chapter in your ongoing story. With these historic venues, you'll feel a certain gravitas as you make your way through places with treasured and storied histories.
317 on Rice Park
Old charm and hospitality highlight this 1914 landmark.
Lafayette Club
Enjoy the views of Lake Minnetonka at this historic country club.
The Fountain Room
Located in the Lumber Exchange Building built in 1885. Vaulted ceilings and an exposed brick-and-glass fountain bring the room to life.
Landmark Center
The warmth of culture and history will surround you in this Minnesota historical landmark.
Minneapolis City Hall
Marble and stone, brick by brick, this monument of Minneapolis is a strong statement to highlight your wedding day.
The Minneapolis Club
Since 1883, the Minneapolis Club has served as the region's premier gathering place for politics and weddings.
Minnesota History Center
Celebrate your wedding in this time-honored tradition of wedding celebrations with the stunning architecture and contemporary styling of the Minnesota History Center.
Minneapolis Event Center
Historic meets modern to encompass every wedding vision.

The Depot Renaissance Hotel
Find yourself wrapped up in history at what used to be the main railroad station in Minneapolis.
Minneapolis Institute of Arts
Artistic on the inside and out, this iconic building will leave strong memories of your wedding in the minds of everyone in attendance.
Looking for the perfect way to merge a marriage and your love of water? These wedding venues take advantage of the Land of 10,000 Lakes.
Al and Alma's Charter Cruises
Enjoy breathtaking sights and sunsets as you traverse Lake Minnetonka.
Minneapolis Queen Authentic Paddlewheeler Cruises
Float along the Mississippi on this beautifully-rustic throwback paddlewheeler boat.
Minnesota Boat Club
Founded in 1870, the Minnesota Boat Club is home to Minnesota's oldest athletic institution.
Padelford Packet Boat Company, Inc.
Offered in Minneapolis and Saint Paul, these riverboats offer a classy feel to your wedding.
Ah, the great outdoors. There's nothing quite like being married under the great open sky of Minnesota. These venues give you some of the best outdoor scenes in Minneapolis.
Como Park Zoo and Conservatory
With options ranging from animal onlookers to more floral surroundings, the Como Park Zoo and Conservatory can fit every outdoor need.
Earle Brown Heritage Center
Hosting over 100 weddings a year, the people at Earle Brown Heritage Center know how to bring out the best in your wedding.
Mill City Museum
Literally get married in the place that made Minneapolis the city it is today.
Minneapolis Parks and Recreation Board
Normally, you wouldn't think of a board when planning a wedding. You should now, because the Minneapolis Parks and Recreation Board can find you the best outdoor venues in Minneapolis.

Minnesota Landscape Arboretum
With more than 1,100 acres of gardens and landscapes, you'll definitely be able to find your perfect setting at the Minnesota Landscape Arboretum.
Nicollet Island Pavilion
With a view of downtown Minneapolis across the Mississippi River, there are few outdoor venues that can offer downtown views like Nicollet Island Pavilion.
Oak Ridge Hotel and Conference Center
Situated on 130 acres of lush meadows and miles of peaceful woodland trails, Oak Ridge offers a serene feel to your wedding.
Sky Garden at Crowne Plaza Northstar
Get heart of downtown views while still maintaining an outdoor ambiance at Sky Garden.
The solid lines. The experimental centerpieces. The more "in-it-now" feel. These venues offer that modern look that you want out of the 21st century.
American Swedish Institute
Where elegant and traditional early 20th century architecture meets contemporary, Nordic-inspired design. American Swedish Institute.

ARIA
Their spacious rooms, crystal chandeliers, and rich patina exude a glamour and decadence that will inspire you and delight your guests.
Guthrie Theater
Known for modern architectural feats and phenomenal plays, the Guthrie Theater is every theater lover's dream venue.

Le Meridien Chambers
A hotel so upscale and sophisticated that it hosts it's own rare art collection inside.

McNamara Alumni Center
If you're looking for something modern AND a University of Minnesota setting, this is hands-down your venue.
Radisson Blu Minneapolis
Iconic. Stylish. Sophisticated. An Unforgettable Setting. In the heart of downtown Minneapolis. Perfectly planned. Exquisitely arranged. Say "I do" at Blu.
The Venue
Marriage should be a party. Why not make it the biggest one of the year?
W Minneapolis - The Foshay
This is where professional athletes stay before games because it's just that classy.
Walker Art Center
Whether you're looking for a romantic, contemporary, quirky, or classic wedding, the Walker has the space for you.
Weisman Art Museum
A building as beautiful on the inside as it is the outside.
If you'd like to receive information directly from ceremony sites, just fill out the wedding form and Mandy Stifter, the wedding expert, will send out a lead to potential sites on your behalf.
Check out what other travelers say about Minneapolis on tripadvisor